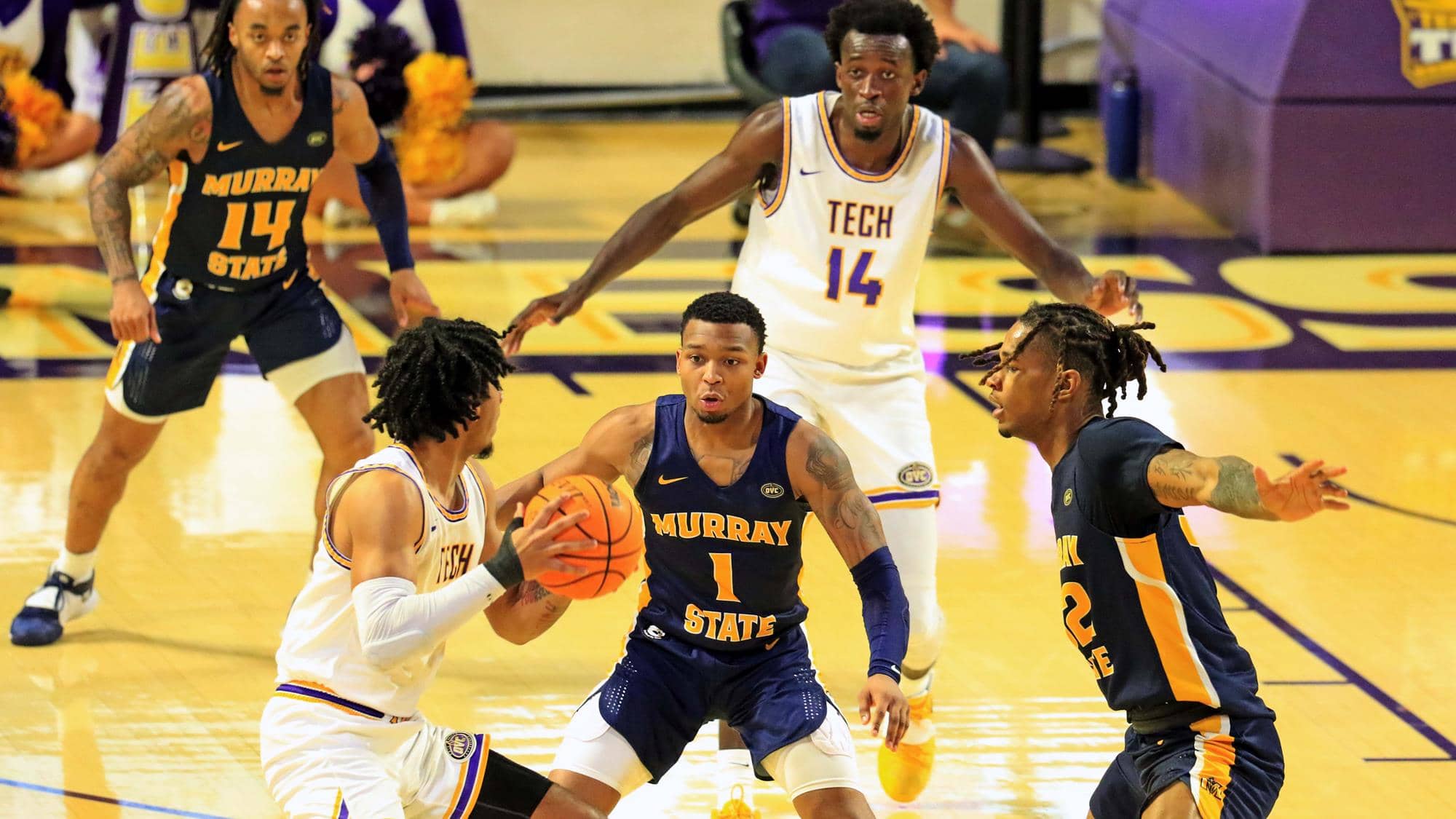 Racers Keep Winning
K.J. Williams scored 20 points and pulled down 13 rebounds, while Juice Hill also scored 20 and added 10 assists as Murray State rallied from 2 down at the half for an 80-75 win over Tennessee Tech at the Eblen Center in Cookeville. The Racer led by nine with under 3 minutes remaining in the first half before the Gold Eagles rallied to close the half on 11-0 run for a 36-34 halftime lead. Hill said head coach Matt McMahon provided some motivational comments at the half that rallied the team…(SB). With the win, the Racers improve to 19-2 overall and 9-0 in the OVC as they host Morehead State tomorrow at 4 in a battle between the OVC's top two teams. Airtime will be at 3:30 on Froggy 103.7 with the women's game with Morehead airing at 1:30 on 104.5 WBZB.
Ja Morant Named All-Star Starter
(Undated) — Ja Morant will be on the court when this year's All-Star game tips off. Morant was named an All-Star starter yesterday. LeBron James was named to his 18th straight All-Star game and will serve as the Western Conference's team captain. He and Morant are joined by Nikola Jokic , Andrew Wiggins and Steph Curry in the starting lineup. Kevin Durant, Giannis Antetokounmpo , Joel Embiid , Trae Young and DeMar DeRozan are the starters for the East.
Vrabel Named PFWA Coach Of The Year
(Nashville, TN) — Mike Vrabel is getting some recognition for the Titans' 12-and-5 season. The Pro Football Writers of America selected Vrabel as the 2021 NFL Coach of the Year. Vrabel led Tennessee to the AFC's one seed in a season where Tennessee dealt with widespread injuries and COVID-19 issues.
Kentucky To Face Kansas In Lawrence
(Lawrence, KS) – This year's Big 12/SEC Basketball Challenge features a matchup of two of the college game's most storied programs. Number-13 Kentucky will play fifth-ranked Kansas in Lawrence tomorrow evening. The Wildcats are 23-and-10 all-time against the Jayhawks. The game is set for 6 o'clock Eastern.
Grizzlies Host Jazz And Wizards
(Memphis, TN) — The Grizzlies host the Jazz and the Wizards, but not at the same time. Memphis welcomes the Jazz to town tonight. The Grizzles host the Wizards tomorrow night. Memphis enters this weekend's action at 33-and-17.
Predators Lose To Oilers In Shootout
(Edmonton, AB) — The Predators' three-game winning streak came to an end in Alberta. Nashville lost to the Oilers 3-2 in a shootout in Edmonton. Filip Forsberg and Matt Duchene both scored for the Preds. Juuse Saros  made 44 saves and allowed two goals as Nashville dropped to 27-14-and-4. The Predators host the Vancouver Canucks on Tuesday.
Blues Split Home-And-Home With Flames
(St. Louis, MO) — The Blues earned a split in their home-and-home with the Flames after topping Calgary 5-1 in St. Louis. Brandon Saad scored twice to lead the offense for the Blues, who have won seven of their last nine. They welcome Winnipeg to town tomorrow.
Hoops Round-up
The Murray Tigers move on in the All-A State tournament after defeating Danville Christian yesterday morning 54-45, they play Pikeville this afternoon, with airtime at 3:45 on WNBS.
THURSDAY'S SCOREBOARD
NBA
——-
Philadelphia 76ers 105, Los Angeles Lakers 87
Golden State Warriors 124, Minnesota Timberwolves 115
NHL
——-
Columbus Blue Jackets 5, New York Rangers 3
Anaheim Ducks 5, Montreal Canadiens 4
Carolina Hurricanes 3, Ottawa Senators 2 (SO)
Tampa Bay Lightning 3, New Jersey Devils 2
Florida Panthers 4, Vegas Golden Knights 1
Los Angeles Kings 3, New York Islanders 2
Seattle Kraken 2, Pittsburgh Penguins 1 (OT)
St. Louis Blues 5, Calgary Flames 1
Vancouver Canucks 5, Winnipeg Jets 1
Edmonton Oilers 3, Nashville Predators 2 (SO)
Men's College Basketball (Top-25 Coaches Poll)
——-
#1 Gonzaga Bulldogs 89, Loyola Marymount Lions 55
#6 Purdue Boilermakers 83, Iowa Hawkeyes 73
#8 UCLA Bruins 81, California Golden Bears 57
#11 Wisconsin Badgers 73, Nebraska Cornhuskers 65
Stanford Cardinal 64, #15 USC Trojans 61
#16 Ohio State Buckeyes 75, Minnesota Golden Gophers 64
PGA
——-
Farmers Insurance Open (at San Diego, CA)
T1. Adam Schenk (-13)
T1. Justin Thomas (-13)
T1. Jon Rahm (-13)
4. Cameron Tringale (-12)
NFC, AFC Championships Set For Sunday
(Undated) — It's conference championship weekend in the NFL. The Bengals and Chiefs will square off on Sunday in the AFC Championship Game in Kansas City. The Chiefs are hosting the title game for the fourth straight year and are seeking a third straight trip to the Super Bowl. Out west, the rival 49ers and Rams will meet in the NFC Championship Game in Inglewood. Sunday's winners will meet in the Super Bowl on February 13th in Inglewood.
Ben Roethlisberger Officially Announces Retirement
(Pittsburgh, PA) — Long-time Pittsburgh Steelers quarterback Ben Roethlisberger is officially announcing his retirement from football. Roethlisberger took to Twitter to make the announcement in a video and said the time has come to "clean out" his locker. The quarterback played nearly two decades and was a six time Pro Bowl selection for Pittsburgh. "Big Ben" won two Super Bowls with the Steelers and played in a third.
Broncos Hire Hackett As New Head Coach
(Denver, CO) — The Denver Broncos have found their next head coach. Denver announced Thursday that it has hired Green Bay Packers offensive coordinator Nathaniel Hackett. He canceled an interview with the Jacksonville Jaguars scheduled for Thursday in order to make a deal with Denver. It will be Hackett's first job as a head coach and he will be Denver's fourth different leader since the start of 2016 season.
Bears Hire Eberflus As Next Coach
(Chicago, IL) — The Chicago Bears have named Matt Eberflus [[ E-buhr-fluus ]] the 17th head coach in franchise history. Eberflus heads to Chicago after spending the last four seasons as the defensive coordinator of the Indianapolis Colts. The 51-year-old has 30 years of coaching experience including 13 in the NFL. Eberflus replaces Matt Nagy, who was fired after four seasons. The Bears went just 34-and-31 under Nagy.
Report: Mike McCarthy Told He Will Be Back
(Frisco, TX) — The Cowboys aren't planning to make a change at head coach for the 2022 season. ESPN reports Mike McCarthy was told by Dallas management that he will return next season. This comes after the Cowboys were eliminated by the 49ers in the Wild Card Round, sparking reports that the coach could be on the hot seat. McCarthy has led Dallas to an 18-and-15 record through two seasons, but has yet to win a playoff game.
NBA Announces All-Star Starters
(Undated) — The NBA is releasing its starters for this year's All-Star game. LeBron James was named to his 18th straight All-Star game and will serve as the Western Conference's team captain. He is joined by Nikola Jokic  and Andrew Wiggins in the West frontcourt. Steph Curry and Ja Morant round out the backcourt. Kevin Durant was named the team captain for the Eastern Conference, despite being sidelined with a knee injury. Giannis Antetokounmpo [[ YAHN-iss ah-dedo-KOON-bo ]], Joel Embiid [[ em-BEAD ]], Trae Young and DeMar DeRozan round out the East's starters.
Report: Blazers' Nassir Little Likely Out For The Year
(Portland, OR) — One of the Trail Blazers' best young players is on the mend. ESPN is reporting that Portland forward Nassir Little is likely out for the season with a left shoulder labral tear. The 21-year-old suffered the injury in the Blazers' loss to the Minnesota Timberwolves on Tuesday night. Little was averaging 9.8 points and 5.6 rebounds per game in his third year out of North Carolina. There was no timetable set for his return.
Report: Evander Kane Set To Join Oilers
(Undated) — Evander Kane has a new home. ESPN is reporting that Kane reached a verbal agreement to sign with the Edmonton Oilers for the rest of the season. This comes as the NHL cleared Kane for potential violations of COVID-19 protocols. The veteran winger's deal with Edmonton is worth 2.1 million dollars for one year and has a no-movement clause. Kane has not played this season but is reportedly in game shape.
Australian Open Day Twelve Recap
(Melbourne) — The year's first Grand Slam continues at the Australian Open. On the men's side, Rafael Nadal defeated Matteo Berrettini in a four-set thriller to advance to the men's final. Daniil Medvedev and Stefanos Tsitsipas  square off today, with the winner moving on to face Nadal. On the women's side, the final is set for Saturday. Top-ranked Ashleigh Barty rolled into the title match with a straight set win over American Madison Keys. She will face American Danielle Collins, who took down Iga Swiatek to continue her run to a first Grand Slam win.
USA Tops El Salvador In World Cup Qualifier
(Columbus, OH) — The United States Men's National Soccer Team is celebrating another victory in the World Cup qualifiers after topping El Salvador 1-0 in Columbus. After a scoreless first half, Antonee Robinson scored the lone goal of the match in the 52nd minute for the U.S. With the victory, the United States secured another three points and is second behind Canada. The U.S. Men's National Team takes another step towards qualifying for the upcoming World Cup when they face Canada on Sunday.
>>Three-Way Tie For First At Farmers Insurance Open
(San Diego, CA) — It's a three-way tie atop the leaderboard at the Farmers Insurance Open in San Diego. Adam Schenk, Justin Thomas, and Jon Rahm are 13-under par through the first two rounds of the tournament. Schenk and Thomas shot up the leaderboard on day two after Schenk shot a 62 and Thomas shot a 63. Cameron Tringale is in fourth place at 12-under par. Peter Malnati rounds out the top five.