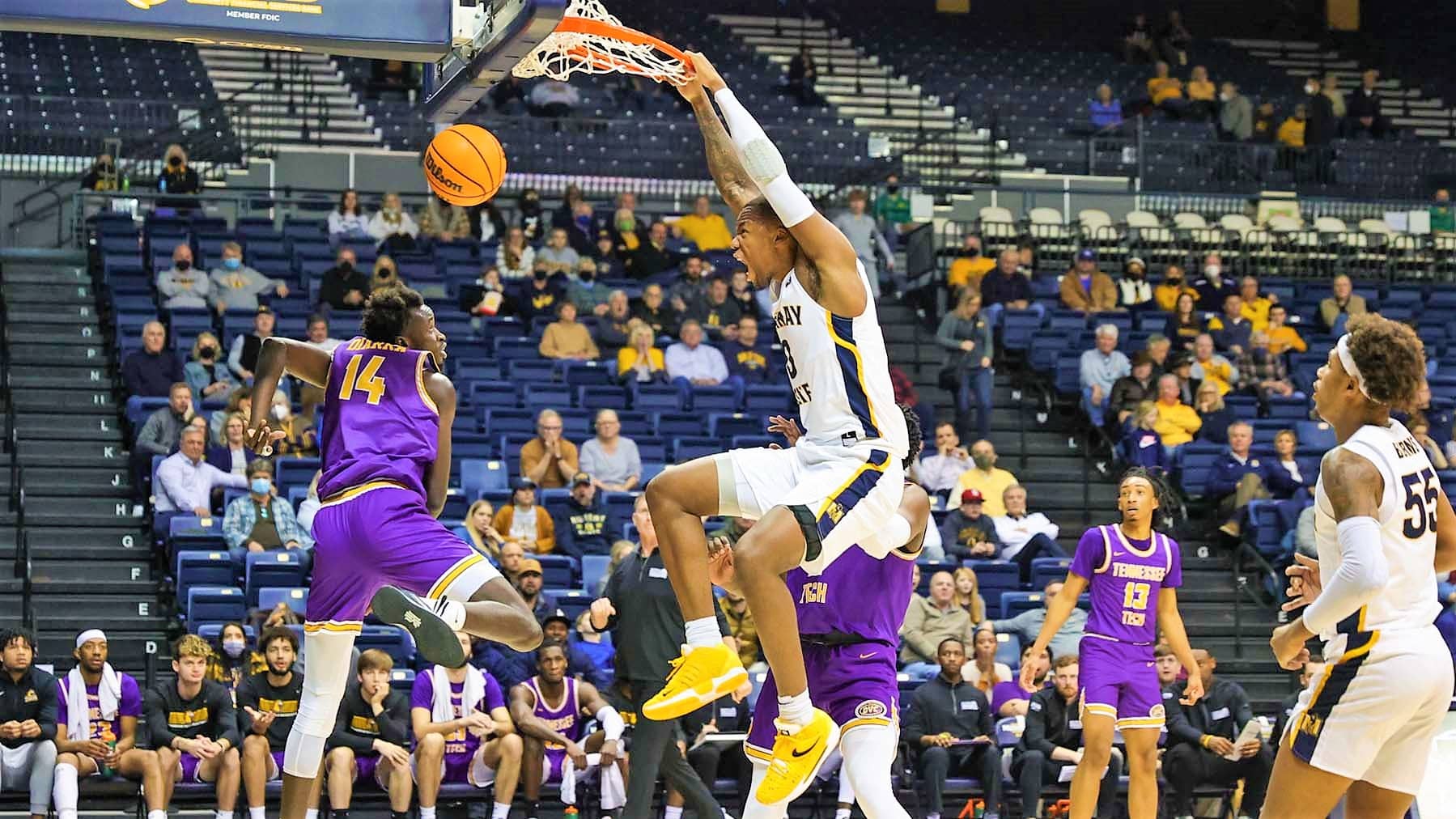 Racer Recap
K.J. Williams scored 21 points and snagged 11 rebounds as Murray State overcame a poor start and coasted to a 79-53 win over Tennessee Tech last night at the CFSB Center. The Golden Eagles exploded out of the gate with an 11-2 lead before Racer head coach Matt McMahon called a timeout to voice his displeasure. Tevin Brown added 14 points for the Racers, who improved to 18-2 overall and 8-0 in the OVC. Murray State will put its 8 game winning streak on the line at Tennessee Tech for a 6 pm game on Thursday.
The Racer women got a Macey Turley layup with 5 seconds left and held on for an 84-82 win over SIUE at the First Community Arena in Edwardsville. Turley finished with 19 points while Katelyn Young led Murray State with 20 points and 10 rebounds. Alexis Burpo added 17 points as the Racers improved to 14-6 overall and 6-3 in the OVC heading into Saturday's home game with Morehead State.
Cats Fall One Spot In Coaches Poll, Face MSU Tonight
(Lexington, KY) – The UK basketball team is down one spot in the latest coaches poll. The Wildcats fell from 12th to 13th in the poll released yesterday. The 'Cats lost to number-two Auburn on the road on Saturday. They'll play Mississippi State at Rupp Arena tonight at 8 o'clock.
Blues Get Crushed By Flames
(Calgary, AB) — The St. Louis Blues defense couldn't put out the Flames offense in a 7-1 loss at Scotiabank Saddledome. Jordan Binnington gave up all seven goals on 35 shots before he was pulled for Ville Husso. Tyler Bozak scored St. Louis' only goal early in the first period. The Blues fall to 25-12-and-5, and they host the Flames on Thursday.
Predators Play Kraken In Seattle
(Seattle, WA) — The Predators are heading up to the Pacific Northwest. Nashville plays the Kraken in Seattle tonight. The Preds improved to 26-14-and-3 after beating the Red Wings on Saturday night. Seattle sits at 13-24-and-4.
Grizzlies Play In San Antonio Tomorrow
(Dallas, TX) — The Grizzlies are staying in Texas on their road trip. Memphis plays the Spurs in San Antonio tomorrow night. The Grizzlies are 32-and-17 after losing to the Mavericks in Dallas on Sunday.
High School Hoops Round-up
The Laker Boys fell to University Heights on the road last night 58-63. The Lady Lakers are in action tonight at Paduah-Tilghman, that game can be heard on WNBS at 7:15.
The Murray High Tigers continue their winning ways with a strong road win over Paducah-Tilghman last night 62-55. The Lady Tigers take on Mayfield tonight that game can be heard at 7 on WNBS
Sports Scoreboard
MONDAY'S SCOREBOARD
NBA
——–
Cleveland Cavaliers 95, New York Knicks 93
New Orleans Pelicans 117, Indiana Pacers 113
Chicago Bulls 111, Oklahoma City Thunder 110
Phoenix Suns 115, Utah Jazz 109
NHL
——-
Vegas Golden Knights 1, Washington Capitals 0
Anaheim Ducks 5, Boston Bruins 3
New York Rangers 3, Los Angeles Kings 2 (SO)
Dallas Stars 3, Philadelphia Flyers 1
Minnesota Wild 8, Montreal Canadiens 2
Colorado Avalanche 2, Chicago Blackhawks 0
Calgary Flames 7, St. Louis Blues 1
Men's College Basketball (Top-25 Coaches Poll)
——–
#7 Kansas Jayhawks 94, #19 Texas Tech Red Raiders 91 (2OT)
#15 USC Trojans 78, Arizona State Sun Devils 56
MLB And Players' Association Plan To Meet Again
(New York, NY) — Major League Baseball and the MLB Players' Association are planning to meet again today after a productive bargaining session on Monday. During the two-hour meeting, the union gave a broad proposal to drop the request for age-based free agency and lowered the revenue sharing number it was asking the league to move away from small-market clubs. Players are requesting such things as raising the minimum salary and a draft lottery. Negotiations continue to be time-sensitive, as spring training starts in a little under a month, with the regular season starting March 31st.
Baseball HOF To Announce Voting Results Tuesday
(Cooperstown, NY) — We'll know today if some big names are elected to the Baseball Hall of Fame. Barry Bonds, Roger Clemens, Curt Schilling and Sammy Sosa will all be waiting to see if they join the hall of the greats. However, they will be eligible for consideration this fall by the Today's Game Era Committee if they aren't elected this year. Analysts are predicting a potential shutout of all eligible players or at the very most former Boston Red Sox star David Ortiz getting in by himself on the first try. The 2022 Baseball Hall of Fame class announcement will happen at 6 p.m. Eastern.
Packers Leadership Wants Rodgers Back
(Green Bay, WI) — Packers head coach Matt LaFleur is confirming that the entire organization is in agreement in wanting Aaron Rodgers to return as the starting quarterback. During his season-ending press conference on Monday, LaFleur said that he and management are "all on the same page" and that "there's no debate" in bringing Rodgers back. LaFleur also said that he met with Rodgers on Monday and won't rush the QB into a decision.
Saints Owner Acknowledges Sean Payton's Uncertain Future
(Metairie, LA) — Even the owner of the New Orleans Saints doesn't know if Sean Payton will be back. New Orleans owner Gayle Benson said Monday that Payton is uncertain to return as the Saints' head coach in 2022. Benson told local reporters, "I don't think any of us know, but he'll let us know soon enough." The NFL Network reported Sunday that the 58-year-old Payton has not committed to return to the Saints next season.
Report: Chiefs Hope To Keep Gordon Despite Release
(Kansas City, MO) — The Chiefs are hoping to keep Josh Gordon, despite his recent release from the team. ESPN reports Kansas City plans to sign the veteran receiver to its practice squad if he clears waivers. Gordon was reportedly waived on Monday in order to activate defensive tackle Khalen Saunders from the injured reserve. Gordon has been inactive for the Chiefs' postseason so far.
Anthony Davis Set To Return From Knee Injury
(Undated) — The Lakers are getting their star big man back. Los Angeles upgraded the status of forward Anthony Davis to probable for Tuesday night's game against the Nets. Davis has missed the past five weeks with a sprained M-C-L in his left knee. His absence took its toll on the Lakers as they were down their second-leading scorer for 17 games. Davis is averaging 23.3 points and 9.9 rebounds per game this season.
Latest College Basketball Coaches Poll
(Undated) — The latest college basketball coaches poll is being released and the top three teams remain unchanged. The Gonzaga Bulldogs are still the number one team in the country, the Auburn Tigers are second, and the Arizona Wildcats round out the top three. Baylor and Kansas both rose two spot in the rankings. The Bears are now ranked fourth in the nation while the Jayhawks sit in fifth.
Dick Vitale To Take Off Remainder Of College Basketball Season
(Undated) — A college basketball icon is stepping away from the microphone for a while. ESPN college basketball analyst Dick Vitale is not returning to airwaves this season as he prepares for surgery to treat dysplasia and ulcerated lesions of the vocal cords. Vitale wrote in a story posted to ESPN Front Row that a throat specialist told him to give his voice "an even longer T.O., baby!" Once inflammation in his throat heals, a surgery date will be set.
At Least Eight Dead In Stampede At African Cup Of Nations Match
(Yaounde, Cameroon) — At least eight people are dead after a stampede at an African Cup of Nations soccer match in the Cameroon capital of Yaounde. The tragedy happened when fans tried to enter Olembe Stadium to watch Cameroon play Comoros Islands in a knockout match in the tournament. CNN is reporting that at least 50 people were injured in the stampede as well.
Australian Open Day Nine Recap
(Melbourne) — The year's first Grand Slam continues at the Australian Open. On the men's side, 4th-seeded Stefanos Tsitsipas eliminated the last American standing with a five-set thriller over Taylor Fritz. Number-6 seed Rafael Nadal became the first to advance to a Semifinal with a five-set win over Number-14 Denis Shapovalov. On the women's side, American Madison Keys pulled off the upset of the day with a dominant win over Number-4 seed Barbora Krejcikova. Keys is the first woman into the Semifinals. 2nd-seeded Aryna Sabalenka was upset by Kaia Kanepi in three sets.