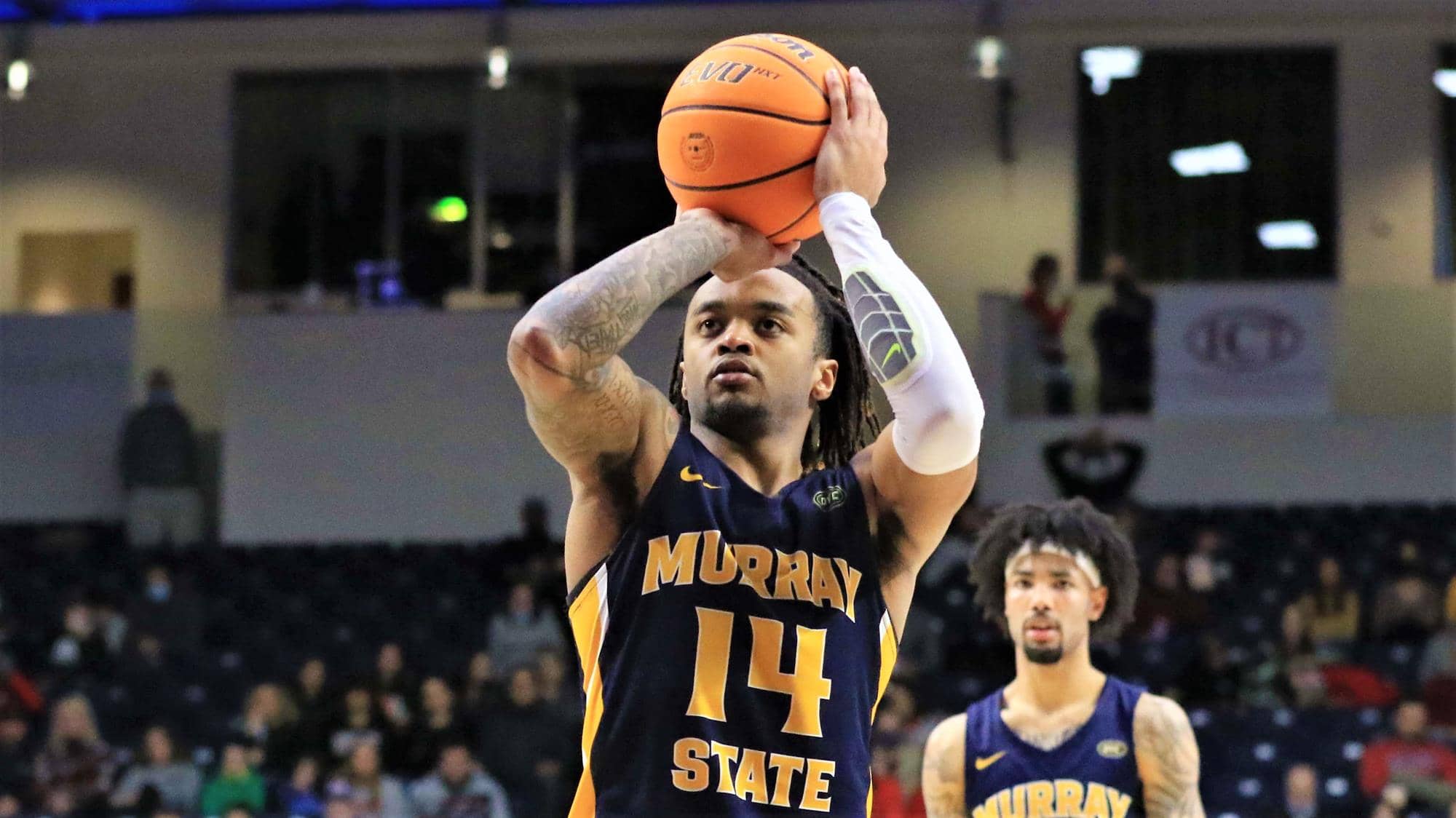 Hill Brings The Juice As Racers Knock Off Belmont
The Murray State Racers stayed undefeated in Ohio Valley Conference play Saturday with an 82-60 victory over the Belmont Bruins at the Curb Event Center in Nashville, Tennessee. The win moved MSU (14-2) to 4-0 in conference play and stopped the Bruins' 19-game home win streak and gave them their first loss in conference play (13-4, 3-1). The Racers continue their busy two weeks with eight games in 16 days. Today The Racers take on the Eastern Illinois Panthers You can hear the game on Froggy 103.7 with airtime 3pm with voice of the racers, Neal Bradley.
Big Belmont Fourth Dooms Racers
The Murray State women's basketball team could not withstand a fourth quarter onslaught by Belmont and fell Saturday, 52-67. Murray State returns to action Today in Charleston against Eastern Illinois airtime at 12:30 on WNBS.
Titans To Host Bengals In Divisional Round
(Nashville, TN) — Tennessee knows who it will play in the divisional round. The Titans host the Cincinnati Bengals on Saturday in their playoff opener. Cincinnati beat the Raiders this weekend to advance to the Divisional round. Tennessee is the number one seed in the AFC after finishing the regular season 12-and-5.
Predators Play Blues In St. Louis
(St. Louis, MO) — The Predators stay on the road to play the St. Louis Blues tonight. Nashville lost to the Bruins 4-3 in overtime on Saturday in Boston. The Preds enter tonight's game at 24-12-and-3, while St. Louis is 22-11-and-5.
Wildcats Remember Legacy Of Joe B. Hall
(Lexington, KY) — Kentucky Wildcats are remembering the legacy of Joe B. Hall. Many people came to campus Saturday to take pictures next to the statue of Hall across the parking lot from Memorial Coliseum, where he spent time as Kentucky's men's basketball head coach. Saturday's rivalry game against Tennessee took on new meaning after Hall's death Saturday morning. The 'Cats slammed the Vols by a score of 107-79 as Big Blue Nation paid tribute to Hall. Hall was 93.
High School Hoops round-up
The Tiger boys once again dominate the All-A, winning the regional tournament with big wins over St. Mary Friday 68-23, and Saturday 67-40 over Mayfield. The Tigers play a Boys/Girls twinbill tomorrow against CFS with airtime at 5:30 on WNBS.
The Calloway boys take on CFS today in a matinee against CFS at 3:30.
SUNDAY'S SCOREBOARD
NFL Playoffs
——-
Tampa Bay Buccaneers 31, Philadelphia Eagles 15
San Francisco 49ers 23, Dallas Cowboys 17
Kansas City Chiefs 42, Pittsburgh Steelers 21
NBA
——-
Phoenix Suns 135, Detroit Pistons 108
Houston Rockets 118, Sacramento Kings 112
Minnesota Timberwolves 119, Golden State Warriors 99
Utah Jazz 125, Denver Nuggets 102
NHL
——-
Vancouver Canucks 4, Washington Capitals 2
Edmonton Oilers at Winnipeg Jets (Postponed)
Men's College Basketball (Top-25 Coaches Poll)
——-
#14 Villanova Wildcats 82, Butler Bulldogs 42
#15 Ohio State Buckeyes 61, Penn State Nittany Lions 56
PGA
——-
Sony Open in Hawaii (Waialae Country Club in Honolulu, HI)
1 H. Matsuyama -23
2 R. Henley -23
T3 K. Kisner -19
T3 S. Power -19
National Sports Headlines
Bucs, 49ers, Chiefs All Advance To Divisional Round
(Undated) — The Buccaneers, 49ers, and Chiefs are joining the Bengals and Bills in the next round of the NFL Playoffs. The defending champion Bucs blasted the Eagles 31-15 in Wild Card action on Sunday to advance. The Niners upset the third-seeded Cowboys in Big D 23-17, while the Chiefs cruised past the Steelers 42-21. Cincinnati and Buffalo both advanced with wins on Saturday. The Wild Card round wraps up with the Cardinals facing the Rams in the first-ever Monday night playoff game. The winner visits Tampa in the divisional round. In other divisional round action next weekend, the Niners visit the Packers, the Chiefs host the Bills, and the Bengals travel to Tennessee.
Cardinals Visit Rams In First-Ever Monday Night Football Playoff Game
(Inglewood, CA) — History will be made as the Cardinals visit the Rams in Inglewood in the NFC Wild Card Round. The two NFC West rivals will meet in the first-ever Monday Night Football playoff game. The Rams held on to take the NFC West in the final week edging out Arizona. The two teams split their games this season, with each winning on the other's field. It's the first playoff game for Matthew Stafford in a Rams' uniform, while its the playoff debut of Cardinals quarterback Kyler Murray.
Report: Pete Carroll Staying With Seahawks
(Renton, WA) — Seahawks head coach Pete Carroll isn't going anywhere. ESPN is reporting that Carroll's job status was not a topic of discussion in the end-of-season meeting he had with team owner Jody Allen. The 70-year-old Carroll is under contract through the 2025 season. Seattle general John Schneider is signed through the 2027 draft. The Seahawks finished 7-and-10, the team's first losing season since 2011, but it appears Carroll has good job security.
Durant Out With MCL Sprain
(Brooklyn, NY) — The Nets are expecting star-forward Kevin Durant to be out four-to-six weeks with a sprained MCL. Durant left Saturday night's game after teammate Bruce Brown fell into his knee. An MRI on Sunday confirmed the injury to be a sprained MCL. It is likely that Durant will not return until after the All-Star break in late February. Brooklyn expects to have Kyrie Irving available for much of the upcoming schedule with 11 of its next 14 games on the road.
Warriors' Green Will Miss More Time With Calf Injury
(Undated) — The Warriors are going to be without Draymond Green for an extended amount of time. The team announced Sunday that the forward will miss at least two more weeks due to his left calf injury. Green underwent an MRI last week and was evaluated by multiple specialists that determined the injury is connected to "the involvement of a disc in his lower back". Golden State plans to re-evaluate Green in two weeks.
Texas Lands TE Transfer Jahleel Billingsley
(Undated) — The Longhorns are adding a big receiving threat via the transfer portal. Tight end Jahleel Billingsley pledged his commitment to play at Texas next season. Billingsley comes over from Alabama and reunites with former offensive coordinator Steve Sarkisian. The tight end comes off a disappointing season after he was named to the preseason All-SEC team back in August. He ultimately finished with 17 receptions for 256 yards and three touchdowns.
Hideki Matsuyama Wins Sony Open
(Honolulu, HI) — Hideki Matsuyama is celebrating another tournament victory after winning the Sony Open in Hawaii. Matsuyama joins Isao Aoki as the only two Japanese players to claim the title. After finishing four rounds 23-under par, Matsuyama outdueled Russell Henley with an eagle on the playoff hole to win the tournament. Kevin Kisner and Seamus Power tied for third place at 19 under, and Michael Thompson and Lucas Glover finished tied for fifth at 18 under.
Australian Open Day One Recap
(Melbourne, AU) — The Australian Open is officially underway. On the men's side, 6th-seeded Rafael Nadal advanced to the second round with a straight set win over Marcos Giron. Also moving on was 7th-seeded Matteo Berrettini, who beat Brandon Nakashima in four sets. Novak Djokovic [[ JO-kuh-vitch ]]notably won't compete after he was denied a medical exemption, resulting in him being deported from Australia. On the women's side, defending champion Naomi Osaka took care of business with a straight set victory over Maria Camila Osorio Serrano. 5th-seeded Maria Sakkari took down Tatjana Maria to punch her ticket to the next round.