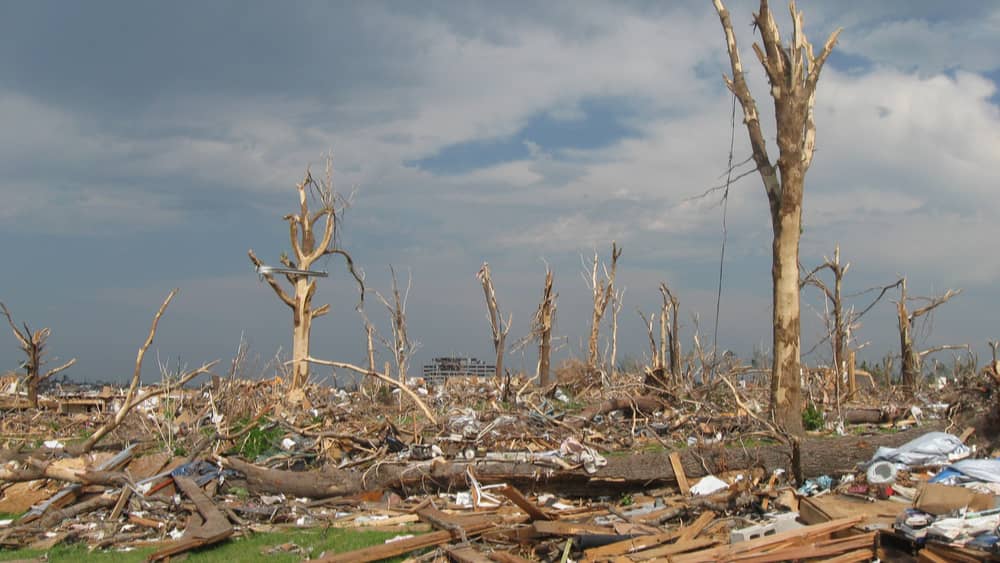 Mayfield Candle Factory Closes, 250 Workers Laid Off
The Mayfield candle factory hit by last month's deadly tornado is shutting down. The decision means more than 250 people are facing getting laid off. The company says they still plan to keep operations in Kentucky and will transfer some Mayfield employees to another location, but those who can't be relocated will be laid off. The Kentucky factory was one of the most devastated sights of the disaster, where eight people lost their lives.
The National Guard returns to Baptist Health Paducah in a support role
The 2113th National Guard Transportation Company in Paducah has been called back to assist at Baptist Health Paducah in various support roles as the Omicron variant becomes the new threat. Baptist Health Paducah plans to welcome National Guard members this next week. Some of the duties they will assist with include visitor and entrance screening, meal delivery, materials management and various logistical jobs that will allow clinical staff to revert back to their patient-care duties.
The National Guard are scheduled to be on campus until April 1st, with length of stay reevaluated based on demand.
Kentucky State Police Arrests Western Kentucky Correctional Officer
On Tuesday, Jan. 11 Kentucky State Police (KSP) Post 1 received a call from the Western Kentucky Correctional Complex in reference to a report of a sexual relationship between an inmate and a correctional officer.
A KSP Post 1 Trooper responded to the facility and opened an investigation. The investigation resulted in the arrest of Correctional Officer Jonathan Hackney, age 35, of Marion, KY. Hackney was charged with Rape 3rd degree and four counts of Sexual Abuse 2nd degree. Hackney was lodged in the Crittenden County Jail.
Public Announcement of Crisis Staffing Standards
MCH Implementing EOP Due to Covid
Calloway County, Kentucky and the surrounding area is experiencing a significant increase in new cases of COVID 19 and associated hospitalizations. Current incidence rates are four times higher than the threshold for the county to be considered a High Transmission area. Effective January 14, 2022, Murray-Calloway County Hospital activated the Emergency Operations Plan and is implementing Crisis Standards for staffing per CDC guidelines.
They ask for your continued patience as possible cancellations could occur with elective surgeries, and clinic schedules could be disrupted in an effort to focus staff on inpatient care.
Visitation to inpatients at Murray-Calloway County Hospital is limited to one (1) visitor per patient and masks are still required at all times; no visitors are allowed for COVID positive patients in isolation.
Kentucky State News Brief
Sen. Warnock To Speak At MLK Day Event At UK
(Lexington, KY) — The University of Kentucky's annual celebration of Martin Luther King Jr. Day will feature a special speaker. Democratic Senator Raphael Warnock of Georgia will deliver a virtual keynote address at the Central Bank Center. Senator Warnock has served as the senior pastor of Ebenezer Baptist Church, which was the spiritual home of Dr. King, since 2005.
JCPS Expected To Make A Decision Today On Returning To Classrooms
(Louisville, KY) – The state's largest school district is expected to announce this afternoon if students will return to classrooms this week. Jefferson County Public Schools used a few non-traditional instruction days last week due to COVID concerns. JCPS said last week "it's a fluid situation" and it's hard to know how many absences it will have.
GRDHD Updates COVID-19 Numbers
(Owensboro, KY) – The Green River District Health Department is updating its COVID-19 numbers. The GRDHD reported over 12-hundred new confirmed cases on Friday. There were nearly 470 cases in Daviess County alone. There have been over 47-thousand-470 cases in the seven county district since the start of the outbreak. During that time there have been more than 700 COVID-19-related deaths.
Kentucky Transportation Officials Advising Against Unnecessary Travel
(Undated) — Kentucky transportation officials are advising against unnecessary travel as the commonwealth fights through another round of winter weather. Snow moved into central and eastern Kentucky yesterday, bringing several inches of accumulation along with icy roads. Western Kentucky saw up to two inches, while central Kentucky could get two to six inches before the system moves completely through. Most of eastern Kentucky will likely see four to eight inches. Snowfall is expected to continue this morning.
Owensboro NAACP Chapter Holds MLK Remembrance At Church
(Owensboro, KY) — Daviess County is remembering the contributions of Doctor Martin Luther King Junior. The Owensboro Chapter of the NAACP [[ N-double A-C-P ]] held a service of remembrance yesterday afternoon at the First Presbyterian Church. Speakers at the service highlighted Doctor King's accomplishments and legacy as a pastor and activist. The service was attended by several city and county officials, including Daviess County Judge-Executive Al Mattingly and former Sheriff Keith Cain.
Fire An Lexington Ice Center Causes Damage
(Lexington, KY) — The Lexington Ice Center is damaged after a fire. Crews responded to the center on Eureka Springs Drive last night and found a small fire inside. One person was treated at the scene for injuries. The cause of the fire is still under investigation.
Man Injured After Henderson ATV Crash
(Henderson, KY) — One man is injured after a single ATV crashed in Henderson. The crash happened yesterday afternoon on Burbank Road near Gray-Aldridge Road. Officials say the vehicle flipped, temporarily trapping the man underneath. He was quickly freed. The extent of his injuries isn't known.
Tennessee State News Brief
Tennesseans Urged To Stay Off Roads Following Wintry Weather
(Nashville, TN) – The Tennessee Department of Transportation is encouraging Tennesseans to stay off the roads if they can. Many roads, bridges and overpasses are slick due to ice following yesterday's snow. Crews worked 16-hour shifts over the weekend to keep roads safe. TDOT says it prioritizes interstates first and then moves on to primary state routes, and then the secondary state routes.
NCRM Honoring MLK
(Memphis, TN) – The National Civil Rights Museum at the Lorraine Motel in Memphis is celebrating Doctor Martin Luther King, Junior Day. The NCRM is hosting King Day: An All-Day Hybrid Celebration. The virtual celebration will feature musical performances and tributes starting this morning at 8 o'clock Central. Visitors can tour the museum from 8 o'clock this morning until 6 this evening, though capacity is being limited over COVID-19 concerns.
Shelby Co. Updates COVID-19 Numbers
(Memphis, TN) — The state's largest county is updating its COVID-19 numbers. The Shelby County Health Department reported over two-thousand new cases yesterday. Health department officials say there have been over 28-hundred COVID-19-related deaths since the start of the outbreak. There are nearly 25-thousand active cases in Shelby County.
Dollywood Hiring
(Pigeon Forge, TN) – Dollywood is hiring. The park says it will post its 2022 job openings list today at Dollywood.com/jobs. The park will also hold a hiring event later this month. It will be held at Sevier County High School on January 29th from 9 o'clock in the morning until 3 in the afternoon.
National/World Headlines
Winter Storm Leads To Flight Cancellations, Delays
(Undated) — A winter storm impacting much of the southern and eastern U.S. is causing problems for air travelers. FlightAware shows over 13-hundred flights within, into, or out of the U.S. already cancelled today. This comes as winter weather alerts covered nearly a thousand miles from Georgia to Maine Sunday, with up to 80-million affected. In Florida, a tornado touched down in Fort Myers yesterday, destroying over two dozen homes and causing a few injuries. Meanwhile on the West Coast, a tsunami advisory has been lifted after an undersea volcano erupted near the South Pacific island of Tonga. However, first responders had to rescue dozens of swimmers and surfers who flocked to beaches over the weekend for an up close looks at the waves.
Schumer: Senate Will Debate Voting Rights Bill Tuesday
(Washington, DC) — The nation is marking Martin Luther King Jr. Day today as the Senate prepares to take up voting rights legislation tomorrow. Dr. King's family has been calling for "no celebration" of today's MLK Day holiday without the passage of voting rights legislation. Senate Majority Leader Chuck Schumer was hoping to hold a vote on the matter sooner. He was forced to push it back due to a winter storm and a senator testing positive for COVID-19.
Rabbi Held Hostage Says He's Grateful To Be Alive
(Colleyville, TX) — A Texas rabbi is thankful to be alive after an armed man held his Dallas area synagogue hostage for hours on Saturday. Rabbi Charlie Cytron-Walker was leading services at Congregation Beth Israel when Malik Faisal Akram, a British citizen, barged in claiming to have bombs. He was eventually killed by authorities. The rabbi says he's extremely grateful to law enforcement and credits active shooter drills for helping save the lives of his congregation.
Trump Promises To Take Back The White House
(Florence, AZ) — Former President Trump is hinting at a potential bid for a 2024 presidential run. At a rally in Florence, Arizona, on Saturday, Trump said "we are going to take back the White House" in 2024. It's unclear if he was referring to personally running or if he was pushing for another Republican to take office. He slammed the Biden administration, pointing out the recent surge in inflation and the rapid spread of the Omicron variant, while promising to ban critical race theory, and to once more "make America great again."
Surgeon General Says Omicron Surge Not Over Yet
(Washington, DC) — The Omicron surge is not over yet. That word yesterday from the U.S. surgeon general. Appearing on ABC's This Week, Vivek Murthy noted not all areas of the U.S. are at the same place in their battle with the variant, so peaks will be staggered over the next several weeks. However, he did point to encouraging data from some pockets of the Northeast where cases appear to be leveling off or even declining.
Australian Open Begins, Minus Novak Djokovic
(Melbourne, AU) — The Australian Open is officially underway. On the men's side, 6th-seeded Rafael Nadal has already advanced to the second round. Same for defending champion Naomi Osaka on the women's side. Number one men's seed Novak Djokovic [[ JO-kuh-vitch ]] notably won't compete after he was denied a medical exemption. He's unvaccinated against COVID-19 and was ordered deported from Australia. He arrived back home in his native Serbia earlier today.
Betty White 100th Birthday Celebration Comes To The Big Screen
(Los Angeles, CA) — This would have been Emmy-winning actress Betty White's 100th birthday. A documentary about the special occasion is in theaters across the country today. It's called "Betty White: A Celebration." It was already in the works before she passed away on New Year's Eve, just weeks shy of her 100th birthday.