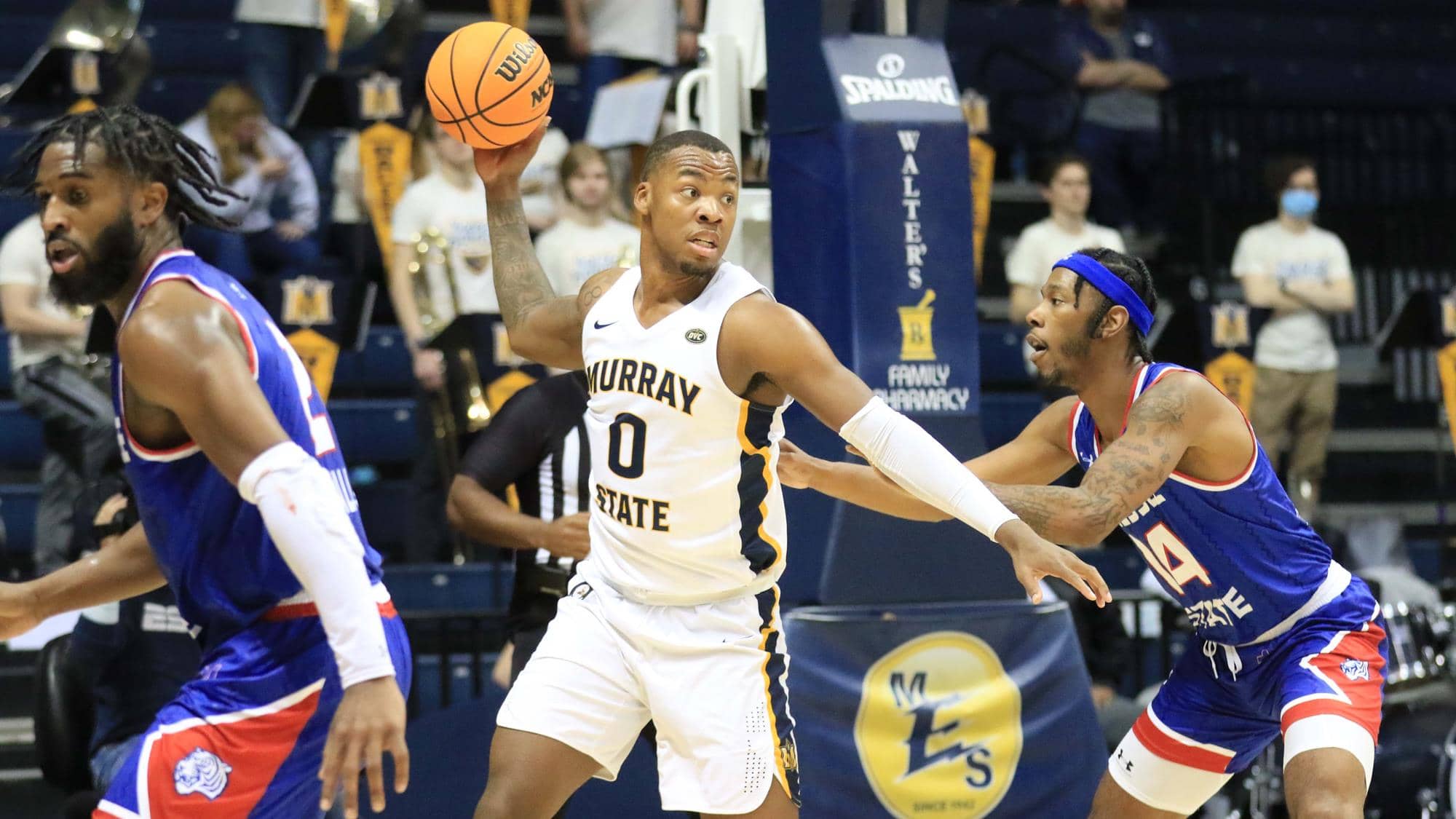 Murray with Come-back Win Over TSU
KJ Williams posted his fifth double-double of the season with 12 points and 11 rebounds to help Murray State to a 67-44 win over Tennessee State last night at the CFSB Center. Trae Hannibal and Tevin Brown each added 11 points as the Racers improved to 13-2 overall and 3-0 in the OVC. MSU dominated the first half defensively and that keyed the win according to head coach Matt McMahon. The Racers return to action tomorrow at Belmont, with coverage beginning at 3:30 on Froggy 103.7.
In the women's game, Katelyn Young scored 22 points and Hannah McKay added 19 as Murray State used a 25-12 fourth quarter for a 76-62 comeback win over Tennessee State. The 11-4 Racers are now 3-1 heading into tomorrow afternoon's game at Belmont, with coverage beginning at 1:30 on WNBS AM and FM.
Grizzlies Edge Timberwolves To Win 11th Straight
Losing? That's something the Grizzlies haven't done since before Christmas. The Grizzlies beat the Timberwolves 116-108 in Memphis for their 11th straight win. Desmond Bane led the Grizz with 21 points, Jaren Jackson Jr. had 20 and John Konchar chipped in with 15 points and 17 rebounds off the bench. Ja Morant had an off night for his standards, scoring 16 points on 5-of-16 shooting. Memphis improved to 30-and-14, becoming the third team in the NBA to reach 30 wins this season. The Grizzlies host the Dallas Mavericks tonight.
Predators Fall To Sabres, Saros Earns All-Star Berth
(Nashville, TN) — The Predators lost to the Buffalo Sabres 4-1 in Nashville. Matt Duchene scored Nashville's lone goal in the second period. Also of note, Preds goalie Juuse Saros [[ YOO-seh ]] was named to his first NHL All-Star Game yesterday. Nashville defenseman Roman Josi is eligible for the "Last Man In" ballot. The Predators play the Bruins in Boston tomorrow.
Blues Beat Kraken In First Meeting
(St. Louis, MO) — The Blues are coming away with the win in their first-ever meeting with the Seattle Kraken. Robert Thomas and Pavel Buchnevich scored back-to-back goals early in the third period as the Blues rallied to beat the Kraken 2-1 in St. Louis. The Blues will go for a fourth straight win tomorrow when they host Toronto.
UK To Host Volunteers Tomorrow
(Lexington, KY) — In men's college basketball, the 18th-ranked Kentucky Wildcats will play host to number 22 Tennessee tomorrow. The Volunteers come in with a record of 11 and 4. Kentucky's record sits at 13 and 3 with UK having won two in-a-row and six of their last seven games. Tip-off is scheduled for 1 p.m.
High School Hoops Round-up
In High School Hoops, the Laker Boys fall to Mason County 57-61 in the Kentucky 2a tournament. The Calloway boys are idle until January 21st when they play at Marshall. The Lady Lakers travel to Madisonville North-Hopkins tonight for a 7:30 tip.
Murray High Boys take on St. Mary tonight in the All-A tournament at Mayfield, The Lady Tigers are idle till January 18th.
THURSDAY'S SCOREBOARD
NBA
——-
Milwaukee Bucks 118, Golden State Warriors 99
Memphis Grizzlies 116, Minnesota Timberwolves 108
New Orleans Pelicans 113, LA Clippers 89
Oklahoma City Thunder 130, Brooklyn Nets 109
Denver Nuggets 140, Portland Trail Blazers 108
NHL
——-
Boston Bruins 3, Philadelphia Flyers 2
Tampa Bay Lightning 4, Vancouver Canucks 2
Columbus Blue Jackets 6, Carolina Hurricanes 0
Winnipeg Jets 3, Detroit Red Wings 0
New York Islanders 3, New Jersey Devils 2
St. Louis Blues 2, Seattle Kraken 1
Buffalo Sabres 4, Nashville Predators 1
Chicago Blackhawks 3, Montreal Canadiens 2 (OT)
Ottawa Senators 4, Calgary Flames 1
Los Angeles Kings 6, Pittsburgh Penguins 2
New York Rangers 3, San Jose Sharks 0
Men's College Basketball (Top-25 Coaches Poll)
——-
#2 Gonzaga Bulldogs 110, BYU Cougars 84
Oregon Ducks 84, #3 UCLA Bruins 81 (OT)
#6 Arizona Wildcats 76, Colorado Buffaloes 55
#7 USC Trojans 81, Oregon State Beavers 71
#13 Wisconsin Badgers 78, #15 Ohio State Buckeyes 68
DePaul Blue Demons 96, #18 Seton Hall Pirates 92
#19 Texas Tech Red Raiders 78, Oklahoma State Cowboys 57
PGA
——-
Sony Open in Hawaii (at Honolulu, HI)
1. Kevin Na (-9)
T2. Jim Furyk (-8)
T2. Russell Henley (-8)
National Sports
NFL Playoffs Kick Off This Weekend
(Undated) — The road to the Super Bowl gets underway starting tomorrow. The Raiders will visit the Bills in the Wild Card Round while the Patriots clash with the Bills in Orchard Park. On Sunday, it's a trio of games as the Eagles visit the Buccaneers, the Cowboys take on the 49ers in Arlington, and the Chiefs host the Steelers. On Monday night, the Rams welcome the Cardinals to town.
Houston Texans Fire Head Coach David Culley
(Houston, TX) — The Houston Texans are reportedly parting ways with Head Coach David Culley. He was hired in January of last year. He went 4-13 in his only season with the Texans. Culley had previously served as assistant head coach of the Baltimore Ravens.
Report: MLB And MLBPA Fail To Resolve Lockout
(New York, NY) — Major League Baseball and the players association are still on separate pages when it comes to the league's current lockout. The sides met Thursday for the first time since owners locked out players on December 2nd. ESPN reports the MLB made a labor proposal that was that rejected by the MLBPA. That proposal reportedly offered little of what players are seeking in the new collective bargaining agreement.
Knicks Acquire Cam Reddish From Hawks
(Undated) — The Knicks and Hawks are set to square off against one another on Saturday, but that didn't keep the two teams from making a trade. New York acquired forward Cam Reddish, Solomon Hill, and a 2025 second round pick from Atlanta in exchange for Kevin Knox and a 2022 first round pick. Charlotte's first round pick is protected through 2025. It becomes two second round picks if not conveyed before 2026.
Jameson Williams Declares For NFL Draft
(Undated) — Jameson Williams is heading to the NFL Draft after all. The Alabama receiver announced Thursday that he will forgo his senior season and head to the pros. Williams reportedly suffered a torn ACL in Monday's National Championship game, but is expected to fully recover from the injury. He comes off a monster year with the Crimson Tide and led the SEC conference with 1,572 yards and 15 touchdowns. ESPN ranks Williams as the top receiving prospect for April's NFL Draft.
Grizzlies Edge Timberwolves To Win 11th Straight
(Memphis, TN) — The Grizzlies beat the Timberwolves 116-108 in Memphis for their 11th straight win. Desmond Bane led the Grizz with 21 points, Jaren Jackson Jr. had 20 and John Konchar chipped in with 15 points and 17 rebounds off the bench. Memphis improved to 30-and-14, becoming the third team in the NBA to reach 30 wins this season. Minnesota's Anthony Edwards led all scorers with 30 points. The Timberwolves sit at 20-and-22.
#3 UCLA Upset By Oregon
(Los Angeles, CA) — The Bruins are taking their first conference loss. Number-three UCLA was upset by Oregon 84-81 in overtime in Los Angeles. The Bruins scored the final six points of regulation to push the game to OT. There the team was outscored 11-to-8 as they dropped to 10-and-2 on the season. Johnny Juzang led the way with 23 points and nine rebounds in the losing effort. UCLA now sits 2-and-1 in Pac-12 play. Jacob Young scored 23 points to pace Oregon, which improved to 10-and-6 on the season.
Colts GM Ballard Noncommittal About Wentz
(Indianapolis, IN) — Indianapolis Colts general manager Chris Ballard is not guaranteeing Carson Wentz will be the team's starter in 2022. At the Colts' end-of-season press conference, Ballard said, "I won't make a comment on who is going to be here next year," when asked about Wentz's future with the team. Indianapolis traded first and third-round picks in this year's draft to the Philadelphia Eagles for Wentz. Wentz threw for 3,563 yards, 27 touchdowns and 7 interceptions, but failed to get the Colts into the postseason.
Report: Amari Cooper Fined For COVID-19 violation at Mavericks game
(Frisco, TX) — Amari Cooper is being fined after breaking COVID-19 protocol. ESPN reports Cooper, who is unvaccinated, was fined 14,650 dollars for attending a Dallas Mavericks game last week and not wearing a mask. Cooper sat courtside at the game, which violates the protocols. Unvaccinated NFL players can attend a sporting event but have to sit in a suite with a mask and can't be surrounded by more than 10 people.
Sony Open Round One Recap
(Honolulu, HI) — Kevin Na is leading the way at the Sony Open in Hawaii as he defends his tournament championship. Na is nine under par after shooting a 61 in the first round in Honolulu. The defending champ is looking for his sixth career PGA Tour victory. Two players are tied for second place. Russell Henley and Jim Furyk shot eight under in the first round.