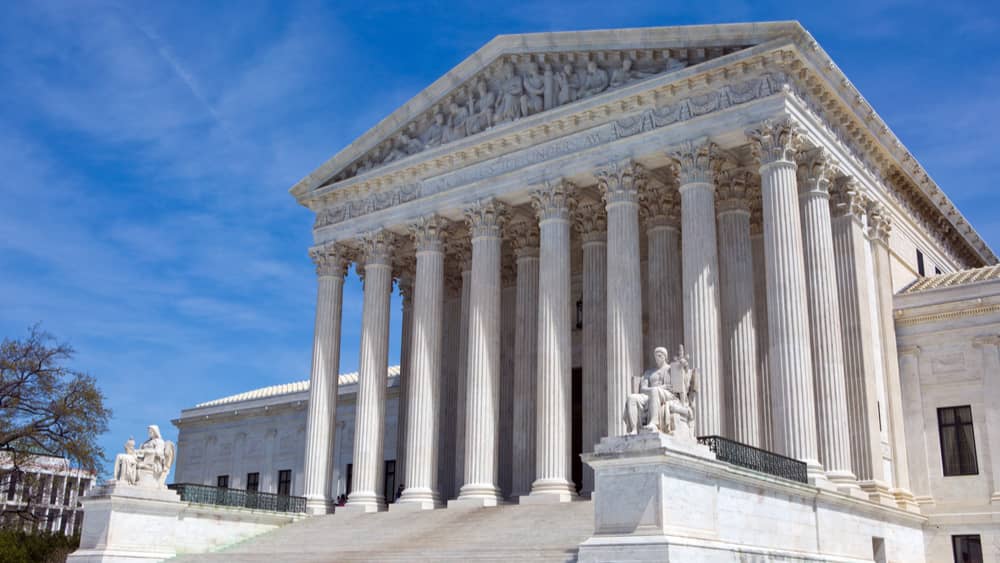 Supreme Court Blocks Biden Vaccine Mandate For Companies Of 100 Workers And More
The U.S. Supreme Court has moved to block a Biden administration order that would have impacted a number of Kentucky businesses. On a 6-to-3 vote Thursday, the court blocked an order from the president requiring companies with 100 or more employees to require workers be vaccinated against COVID or be subjected to regular testing. In response, President Biden said that it is now up to states and individual employers to determine whether to make their workplaces as safe as possible for employees, and whether their businesses will be safe for consumers. The court let stand a similar mandate for many healthcare workers put in place by the Department of Health and Human Services.
Beshear Updates COVID Case Totals
COVID case totals continue to surge in the Bluegrass State. Governor Andy Beshear on Thursday reported nine-thousand-267 newly-diagnosed cases. About 26-percent of those cases were patients age 18 and younger. Nearly 21-hundred Kentucky residents are currently hospitalized with the virus.
First Lady To Survey Tornado Recovery Efforts Today
First lady Jill Biden will travel to Kentucky today to survey recovery efforts from December's devastating tornadoes. Biden was originally scheduled to visit the state last week but winter weather delayed the trip. The first lady with be accompanied by officials from FEMA for the visit.
Kentucky Men Sentenced For Actions In Capitol Insurrection
A pair of Lexington men who took part in last year's insurrection at the U.S. Capitol now know their fate. Dalton Crase and Troy Williams were sentenced in federal court yesterday after both had previously pleaded guilty to charges of parading, demonstrating or picketing in a Capitol building. Both were given 15 days of confinement and three years of probation. The men were each also ordered to pay 500-dollars in restitution and perform 60 hours of community service.
Murray Man Arrested in Attempted Burglary
Early Thursday morning Calloway County Sheriff's Deputies responded to a residence in the 2000 block of Wiswell Road for a report of a suspicious vehicle. Upon their arrival, the deputies located a truck attempting to leave the residence. Preliminary investigation has indicated the driver of that truck had attempted to get into the 911 caller's residence prior to the arrival of law enforcement.
Aaron R. Wilkinson, age 46, of Murray, Kentucky was arrested and charged with Attempted 2nd Degree Burglary. He was lodged in the Calloway County Jail.
Kentucky State News Brief
Gov. Beshear Delivers Budget Address
(Frankfort, KY) — Education is a top priority in Governor Andy Beshear's state budget plan. Last night, the Governor delivered his budget address, calling for adding nearly two-billion-dollars for education spending from pre-K to 12th grade, raises for state workers, prepare more industrial development sites, and offer preschool for every four-year-old. Beshear is also looking to expand the state's agri-tech industry, by adding 75-million-dollars for a research and development center in eastern Kentucky.
New School Choice Bill Introduced In Kentucky
(Frankfort, KY) — There's a new school choice bill for Kentucky this year. The expansion of the school choice bill passed last year and then ruled unconstitutional by a Franklin County judge, will give more students and parents access to tuition assistance for non-public schools. It will also make Kentuckians in every zip code eligible for this assistance. The legislation was introduced by Senator Ralph Alvarado and Representative Josh Colloway.
Madison County Emergency Management Offers Tips Ahead Of Next Winter Storm
(Madison County, KY) — Madison County Emergency Management is warning the public to prepare ahead of the next round of winter weather expected for this weekend. Last weekend's storm left many stranded on I-75 in Madison County. Officials say for those who must travel, make sure you have a full tank of gas and a preparedness kit in your car, which includes blankets, food, and water.
"Shark Tank" Style Competition Planned In Owensboro
(Owensboro, KY) — A "Shark Tank" style competition will be held in Owensboro. It's called "Go Pitch" and will offer a winning small business five-thousand-dollars. Small businesses eligible to compete must be located in the Owensboro-Daviess County area, founded in 2019 or later, and have less than 100-thousand-dollars in revenue. The competition starts on May fifth and the deadline to apply is February 18th. More information is available online at edc.owensboro.com/gopitch/
Meade County Woman, Boyfriend Charged In 5-Year-Old Son's Death
(Meade County, KY) — A Meade County woman and her boyfriend are facing charges in connection with the death of her five-year-old son. Forty-year-old Daniel Clemans and 28-year-old Kayla Irwin have been charged with complicity to murder. Investigators say Clemans was watching the child on Monday while Irwin went to a class. Clemans called 9-1-1 to report that the child was unresponsive. EMS arrived and took the boy to the hospital, where he later died. The child died as a result of blunt force trauma, according to the Coroner's Office. Investigators say more charges could be filed. Clemans and Irwin are expected to make a court appearance on January 19th.
Two Arrested In Last Summer's Murder Of Jefferson County Sheriff's Deputy
(Louisville, KY) — Two suspects are in custody in the murder of a Jefferson County Sheriff's deputy last summer. Mayor Greg Fischer announced yesterday that 18-year-old Marquis Mitchell and 28-year-old Christopher Johnson were arrested in murder of Deputy Brandon Shirley. Both have been charged with murder. Investigators say during the early morning hours of August fifth, Shirley was working security detail at Rockford Lanes Auto Sales when he was ambushed. Mitchell and Johnson are scheduled to be arraigned on January 28th.
Coroner Releases Name Of Victim Fatally Shot At Hotel In Fern
(Louisville, KY) — The coroner's office has released the name of the victim who was shot to death last weekend at a Fern hotel. The victim has been identified as 21-year-old Cameron Seay. He was fatally shot on Saturday at the Town Suites Extended Stay on Wattbourne Lane. So far, there's been no arrests. Anyone with any information is asked to call the Louisville Metro Police Department.
Frazier Museum Ships Hay To Farmers Impacted By Tornadoes
(Louisville, KY) — Efforts continue to help Kentucky farmers who were impacted by last month's devastating tornadoes. Yesterday three hundred bales of hay were shipped to western Kentucky from Frazier Museum in Louisville. The Museum received 25-thousand-dollars in a fundraiser campaign it held last month to help Kentucky farmers.
LBA Launching Call Center For Free Legal Advice
(Louisville, KY) — The Louisville Bar Association is launching a monthly call center offering free legal advice. "Call-A-Lawyer" will be offered on the third Tuesday of the month, beginning January 18th. The service will be offered from six in the evening until eight in the evening. The call center number is 502-583-1801.
Tennessee State News Brief
Tennessee Addressing Teacher Shortages With A Pioneering Apprenticeship Program
(Nashville, TN) — Tennessee is making significant waves in terms of providing education and other opportunities for aspiring teachers in the state. The Clarksville-Montgomery County School System is teaming up with Austin Peay State University to form the country's first registered apprenticeship program for teachers. The Teacher Occupation Apprenticeship program will further efforts across the state and across the U.S., extending the teacher pipeline. The move comes at a time when teacher shortages have reached crisis levels across the country.
Dozens Of First Responders Assist In Rescuing Two Men Caught In Trench Collapse
(Powell, TN) — Two men are recovering after being pulled from a collapsed trench at a Powell construction site yesterday. It was about six p.m. before first responders pulled the first victim from the trench. Just before 8 o'clock, the second man was pulled free. Both men were reportedly in good condition, despite suffering severe injuries in the collapse.
Counterfeiting On The Rise Around Middle Tennessee
(Hendersonville, TN) — Hendersonville Police are warning residents and local business owners to watch for funny money that's showing up around town. Over the past couple of weeks, local officials have been working at least two different counterfeit operations. Last week, several fake "movie money" hundred dollar bills were being passed around town. Some investigators suggest the state of the economy has something to do with the recent influx in counterfeit cases around the area.
Middle Schoolers Launch Satellite Into Orbit To Study Wildfire Affect
(Oak Ridge, TN) — Local middle schoolers are taking an out-of-this-world approach to studying Gatlinburg wildfires. The group of Robertsville Middle School students built and launched their own satellite that is now orbiting the earth. The project started back in June, sending images back from the International Space Station. Now students are using those images to see how recent wildfires have changed the local landscape.
World/National News Headlines
The U.S. Supreme Court is blocking enforcement of President Biden's vaccine mandate on large businesses. The conservative majority on the court argued the mandate was too broad. The high court, however, allowed vaccine mandates for healthcare workers at facilities that receive federal funding.
Australia has canceled tennis superstar Novak Djokovic's [[ NO-vack JO-kuh-vitch's ]] visa ahead of the Australian Open. Today's move is the latest act in a drama that revolves around his decision not to get vaccinated against the coronavirus. His visa was canceled earlier this month after he arrived in Melbourne to defend his championship title.
Majority Leader Chuck Schumer says the Senate will take up voting rights legislation on Tuesday. The New York Democrat is delaying the vote he'd pledged to have by the Martin Luther King Jr. holiday. He blamed the delay on an impending winter storm and Senator Brian Schatz of Hawaii testing positive for COVID.
A New York Congressman is heading up a task force to help prevent fires like the one that killed 17 people in the Bronx. Democrat Ritchie Torres is leading a panel that will look into the failures that led to last Sunday's tragedy. A funeral for 15 of the victims is set for this Sunday at the Islamic Cultural Center in the Bronx.
A major winter storm is expected to dump heavy snow across much of the eastern U.S. Forecasters are predicting up to a foot of snow today from the eastern Dakotas to the Ozarks in Arkansas. The storm will make a sharp turn to the Northeast Sunday into Monday.
Passes for the second weekend at Coachella are available today. The annual Coachella Valley Music and Arts Festival was canceled the past two years due to the pandemic, which left a lot of people holding onto passes that they can now use for this year. As a result, the first weekend's already sold out..