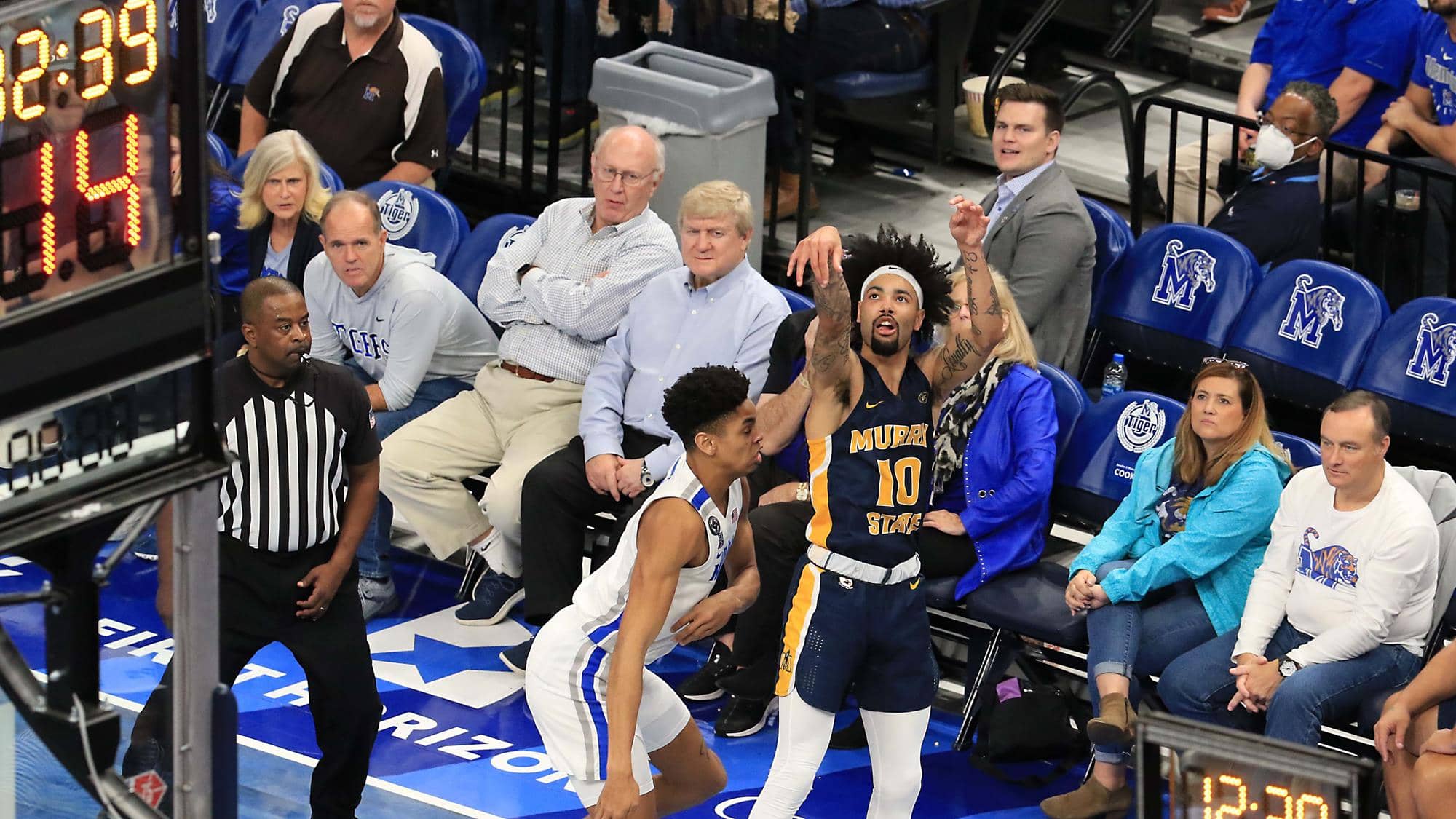 Racers Begin Busy Two Weeks
Murray State basketball has a men's/women's double header tonight as they return to action against Tennessee State at the CFSB Center. The women's game can be heard on WNBS with a 4:30 start time, the Men's game will follow on Froggy 103.7, with airtime at 6:30. With a pair of Covid make up games coming the next two Mondays, the Murray State Racers get going on a stretch of eight games in 16 days to close January. The Racers (12-2) have won nine of their last 11 games b . The Racers are 2-0 in the Ohio Valley Conference after defeating SIUE on the road last Saturday 74-69. The Tigers are 1-1 in the OVC after beating Southeast Missouri State 95-84.
Ryan Tannehill Named AFC Player Of The Week
(Undated) — Ryan Tannehill is being rewarded for his Week 18 performance. Tannehill was named the AFC offensive player of the week. He threw for 287 yards and four touchdowns in the Titans' 28-25 win over the Texans. Tennessee clinched the Number-1 seed in the AFC after finishing the regular season 12-and-5.
Tennessee State News Brief
TDH Posts Weekly COVID Update
Grizzlies Host Timberwolves
(Memphis, TN) — The Grizzlies have a chance to win 11 in a row tonight. Memphis hosts the Minnesota Timberwolves tonight. The Grizz have won 10 straight to get to 29-and-14. Minnesota is 20-and-21.
Predators Play Sabres In Nashville
(Nashville, TN) — The Predators are also riding a winning streak. Nashville has won five straight and hosts the Buffalo Sabres tonight. The Preds enter tonight's game at 24-11-and-2, while Buffalo is 10-19-and-6.
Blues Host Kraken Tonight
(St. Louis, MO) — The Blues will get their first look at the expansion Seattle Kraken tonight when the teams meet in St. Louis. The Blues have won the first two on their current five-game homestand and have won four-of-five overall. The Kraken come in riding a seven-game skid.
Tevin Brown Named To Lou Henson Award Mid-Season Watch List
The Henson Award is given annually to the National Player of the Year in mid-major collegiate basketball Murray State's Tevin Brown was named to the mid-season watch list for the Lou Henson National Player of the Year presented by CollegeInsider.com.
Brown, a junior from Fairhope, Alabama, is having a tremendous 2021-22 season for the Racers as he leads the Ohio Valley Conference in scoring at 18.9 points per game which puts him 43rd in NCAA D-I. Brown also ranks 10th in the nation with 49 made 3-point baskets in 14 games and he is 25th in the nation with a 3-point percentage of .438.
He has already earned three OVC Player of the Week honors this season and is looking to be a three-time All-OVC selection at the end of the season and perhaps the OVC Player of the Year. Brown was a Lou Henson All-America after the 2019-20 season.
WEDNESDAY'S SCOREBOARD
NBA
——-
Boston Celtics 119, Indiana Pacers 100
Charlotte Hornets 109, Philadelphia 76ers 98
Washington Wizards 112, Orlando magic 106
Miami Heat 115, Atlanta Hawks 91
New York Knicks 108, Dallas Mavericks 85
Houston Rockets 128, San Antonio Spurs 124
Cleveland Cavaliers 111, Utah Jazz 91
Brooklyn Nets 138, Chicago Bulls 112
Sacramento Kings 125, Los Angeles Lakers 116
NHL
——-
Boston Bruins 5, Montreal Canadiens 1
Dallas Stars 5, Seattle Kraken 2
Arizona Coyotes 2, Toronto Maple Leafs 1
Minnesota Wild at Edmonton Oilers (Postponed)
Men's College Basketball (Top-25 Coaches Poll)
——-
#8 Duke Blue Devils 76, Wake Forest Demon Deacons 64
#9 Michigan State Spartans 71, Minnesota Golden Gophers 69
#12 LSU Tigers 64, Florida Gators 58
#14 Villanova Wildcats 64, #21 Xavier Musketeers 60
National Sports Headlines
MLB Pitcher Jon Lester Retires
(Undated) — Major League Baseball pitcher Jon Lester is retiring. He tells ESPN the game has taken a toll on his body. He added he doesn't want to be told he can't do the job anymore and he wants to leave on his own terms. Lester won two World Series with the Boston Red Sox. Just a few years after the 2013 title with Boston, he helped the Chicago Cubs end their long World Series drought in 2016. Lester won 200 games over his career.
Report: Lillard To Have Abdominal Surgery
(Portland, OR) — Blazers point guard Damian Lillard's abdominal injury is going to keep him sidelined even longer. ESPN is reporting that Lillard will have surgery to address his lingering abdominal injury. The procedure will reportedly keep Lillard out for at least 6-to-8 weeks. The 31-year-old guard aggravated the injury while playing for Team USA in the Tokyo Olympics last summer and has not played since December 31st.
Eric Weddle Unretires, Joins Rams
(Inglewood, CA) — Former NFL safety Eric Weddle is coming out of retirement to join the Los Angeles Rams for their Super Bowl run. The Rams convinced Weddle to come out of retirement after losing Jordan Fuller to a season-ending injury. Weddle last played in the NFL with the Rams during the 2019 season. The six-time Pro Bowler spent his first nine seasons with the Chargers before spending three seasons with the Baltimore Ravens. He has 29 interceptions, eight forced fumbles, and nine-and-a-half sacks over his 13-year career.
Report: 76ers, Klutch Remain In Stalemate Over Simmons
(Undated) — The Philadelphia 76ers and Ben Simmons' representation have not made progress in getting a deal done. ESPN reports that Simmons' agency Klutch Sports and Philadelphia are still in a stalemate when it comes to potential Simmons trade. Simmons' agent and Klutch Sports CEO Rich Paul met with 76ers' president of basketball operations Daryl Morey and general manager Elton Brand on Wednesday to discuss a possible trade but no progress was made.
Report: NBA Dealing With Staffing Issues As COVID-19 Cases Rise
(Undated) — The NBA is dealing with more COVID-19 related issues. ESPN reports the league has had more than 500 confirmed COVID cases among Tier 1 Staffers. That includes anyone working within 15 feet of players. The majority of the positive cases have reportedly come in the last month as NBA general managers scramble to find replacement workers. That has proven difficult as core staffers have unique duties and have a huge impact on the day-to-day operations. The league is encouraging all eligible staffers to get the booster shot.
Nets Crush Bulls
(Chicago, IL) — The Nets are cruising to a big win on the road. Kevin Durant poured in 27 points as the Nets crushed the Bulls 138-112 in Chicago. James Harden provided 25 points and 16 assists in the win for Brooklyn. Zach LaVine scored 22 points for Chicago in the loss.
Packers' Rodgers Says Injured Toe Is Nearly 100%
(Green Bay, WI) — Aaron Rodgers is getting closer and closer to fully healthy. The Packers quarterback said Wednesday that he is "close to 100 percent" after fracturing his left pinkie toe in early November. Rodgers added that he feels he'll be fully healthy by next week. That works great for Green Bay, which clinched the NFC's top seed in the playoffs and has a first-round bye this week. Rodgers and the Packers will have home field advantage through a potential NFC Championship game.
NFL: Regular Season Viewership Highest Since 2015
(New York, NY) — The NFL says viewership during the regular season that just ended is the highest since 2015. The league says this season's average came out to 17-point-one million viewers when including TV and digital. That's up ten-percent from the 2020 season. By far the most watched game was the Thanksgiving showdown between the Las Vegas Raiders and Dallas Cowboys. That pulled in almost 41-million viewers.
NFL Scoring Takes Biggest Drop In Over 40 Years
(Undated) — Scoring in the NFL is taking its biggest drop in more than 40 years. The average points per game for teams across the league dropped from a record 24-point-eight in 2021 to just 23 this season. It marks the second biggest single-season decline since the merger, with only a two-point drop from 1976 to 1977 higher. Scoring seemed to average out more this year to levels before the pandemic, with the league scoring average from 2013 to 2019 being 22-point-eight.
Sony Open In Hawaii Preview
(Honolulu, HI) — The 2022 PGA Tour season continues with the start of the Sony Open in Hawaii at Waialae Country Club. Brian Harman, Kramer Hickok, Hank Lebioda, Tom Hoge, Sam Ryder, and Denny McCarthy will tee of the tournament as part of the first group. The winner of last week's Sentry Tournament of Champions, Cameron Smith, is in a group with Kevin Na, Talor Gooch, Kevin Tway, Sung Kang, and William McGirt. Bryson DeChambeau withdrew from the tournament earlier in the week as he deals with wrist soreness.