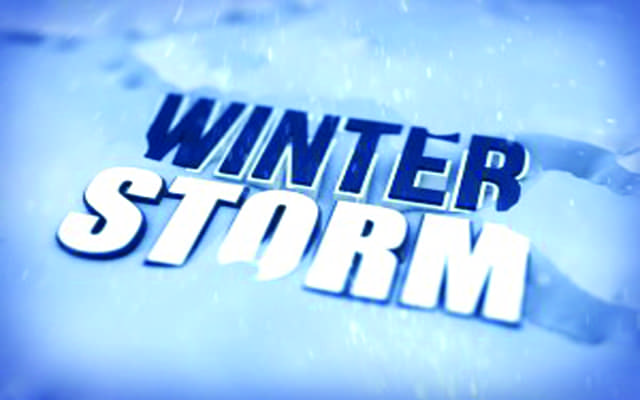 Western Kentucky Facing Potential For Strong Winter Storm
(Paducah, KY) — Western Kentucky is bracing for the potential for wintry weather. The National Weather Service in Paducah says a strong winter storm system will spread through the Quad State region on Saturday into Sunday. The National Weather Service says people living in the area should monitor the weather.
Kentucky Reports More Record-Breaking COVID Numbers
(Frankfort, KY) — Kentucky is reporting more record-breaking COVID-19 numbers. Governor Andy Beshear reported over eleven-thousand-230 new cases yesterday. The state's positivity rate was well over 27 percent. Beshear also reported over 20 new COVID-related deaths.
East Tennessee Attraction Donating To Tornado Relief
(Gatlinburg, TN) — An East Tennessee attraction is donating 71-thousand dollars raised for tornado relief in Kentucky and Tennessee. Gatlinburg SkyLift Park will give the money to the Western Kentucky Tornado Relief Fund, the Community Foundation of Middle Tennessee and Reelfoot Rural Ministries in West Tennessee. Officials with the Gatlinburg SkyLift Park said the tornadoes reminded them of the impact the 2016 wildfires had on their community. Nearly 80 people were killed in Kentucky during last month's tornadoes.
McConnell Slams Biden's Speech On Voting Rights
(Washington, DC) — Senator Mitch McConnell is slamming President Biden's Georgia speech on voting rights. McConnell called it an incoherent rant during remarks on the Senate floor yesterday. He said Biden's comments were incorrect and beneath the dignity of the president. McConnell also accused Democrats of being hysterical about new election laws in many Republican-led states.
Flags At Half Staff Across Kentucky
(Frankfort, KY) – Flags are flying at half staff across the state. Governor Andy Beshear ordered the flags to be lowered by midnight yesterday in honor of former U.S. Senate Majority Leader Harry Reid. Reid will be buried in his home state of Nevada today. Flags will be raised at sunset.
Calloway Covid Update
On Monday, the Calloway County Health Department received notification of 132 cases, which was once againthe highest daily case total for the county since the pandemic began.
In response to the recent spike in COVID cases and the increased strain on our local healthcare systems, the Calloway County Health Department recommends postponing all community events and gatherings.
Kentucky State News Brief
Bullitt Co. Public Schools Going Virtual
(Bullitt Co., KY) – Another Kentucky school district is moving to virtual learning. Bullitt County Public Schools says it will use a non-traditional instruction day tomorrow. The BCPS says it's using an NTI day due to a large number of positive COVID-19 cases. The district says with the number of staff members who are out, it's difficult to cover all its classes.
Owensboro Organizations Receive Donated Medical Supplies
(Owensboro, KY) – Nearly two dozen Owensboro organizations will get part of a donation of medical supplies. Louisville-based SOS is donating 25-thousand-dollars worth of medical supplies to 21 organizations. The donation includes PPE, personal hygiene items, first aid and wound care supplies. Owensboro Public Schools as well as West, East and Central Daviess County Family Resource Centers are among the organizations receiving the donated supplies.
New Recycling Facility In Guthrie Expected To Create 140 Jobs
(Guthrie, KY) — A new 365-million dollar recycling center is expected to create 140 jobs in southwestern Kentucky. Atlanta-based Novelis plans to build the facility next to its existing automotive finishing plant in Guthrie. Novelis is a leading producer of rolled aluminum. The automotive plant employs 150 people after opening in October.
Fort Campbell Garrison Commander Appreciates Support Of Community
(Hopkinsville, KY) — Fort Campbell's garrison commander says the support the military installation receives from the surrounding community is unusual. During a visit to the Rotary Club of Hopkinsville on Tuesday, Colonel Andrew Jordan said the relationship between Fort Campbell and the surrounding area is easily the best of any of the many installations where he's served. He says the support leads many people leaving the military to settle in the area.
Tennessee Covid Update
(Nashville, TN) – The Tennessee Department of Health is out with its weekly COVID-19 update. TDH says the state recorded its three highest daily increases on January 4th, 5th and 6th with over 15-thousand to nearly 18-thousand cases each day. Tennessee has reported more new cases this month than it did all of last month. The state has surpassed one-and-a-half-million cases since the start of the outbreak.
Vanderbilt Poll: Education, School Quality Top Concerns Among Tennessee Parents
(Nashville, TN) – Education and school quality are the top concerns for Tennessee parents. A new poll of Tennessee parents by the Vanderbilt Center for Child Health Policy questioned parents from all three of Tennessee's Grand Division about their top worries for their children. Parents also listed bullying and cyber bullying, mental health and suicide, getting sick from COVID, and disruptions to schooling as concerns. Education and school quality were the top concerns for parents regardless of race.
Tennessee Man Gets Millions In Suit Against Cracker Barrel
(Lebanon, TN) – Tennessee-based Cracker Barrel Old Country Store is being dealt a defeat in court. A Marion County jury is ordering the chain to pay a Tennessee man over four-million dollars after he was served what he thought was a glass of water while eating at a Cracker Barrel in Marion County in 2014. Instead the glass William Cronnon drank contained a cleaning chemical that caused him serious physical injuries. The jury said Cracker Barrel acted negligently by its "failure to hire and properly train qualified and competent employees."
Third Man Arrested In Young Dolph Murder Case
(Memphis, TN) – A third man is under arrest in the murder case of Memphis rapper Young Dolph. Cornelius Smith and Justin Johnson are charged with first-degree murder. The third man is being charged as an accessory after the fact of first-degree murder. Memphis Police Chief CJ Davis said yesterday it's very possible more arrests will be made.
Escaped Inmate Caught In Rutherford Co.
(Murfreesboro, TN) – A Benton County inmate is back in custody after escaping. Christopher John Taylor escaped yesterday while being transported to Bradley County Jail. Taylor was caught in Rutherford County several hours later. The Benton County correctional officer who was driving during the escape was treated for minor injuries at a hospital and released.
Winter Weather Possible In Nashville This Weekend
(Nashville, TN) – Middle Tennessee could face wintry weather this weekend. The National Weather Service in Nashville says a mix of rain and snow is possible on Saturday morning. However, forecasters say if the winter weather does materialize, it will likely be too warm for accumulation. Snow accumulation is possible on Sunday.
Vanderbilt Poll: Education, School Quality Top Concerns Among Tennessee Parents
(Nashville, TN) – Education and school quality are the top concerns for Tennessee parents. A new poll of Tennessee parents by the Vanderbilt Center for Child Health Policy questioned parents from all three of Tennessee's Grand Division about their top worries for their children. Parents also listed bullying and cyber bullying, mental health and suicide, getting sick from COVID, and disruptions to schooling as concerns. Education and school quality were the top concerns for parents regardless of race.
Tennessee Democrats Threaten Lawsuit Over Gerrymandered Nashville District
(Nashville, TN) — Tennessee Democrats are threatening to file a lawsuit against new House and Senate District maps. The Tennessee Democratic party posted on social media that the new maps split Nashville into three districts, denying the community of shared representation. State Representative John Ray Clemmons and U.S. congressman Jim Cooper were among several Tennessee Democrats to criticize the map as gerrymandered and unfair.
Tennessee Woman Wrongfully Convicted Of Rape And Murder Released From Parole
(Nashville, TN) — A Tennessee woman who was wrongfully convicted of rape and murder in 1988 is being vindicated. On Wednesday, a judge dismissed the convictions of Joyce Watkins and Charlie Dunn for the rape and murder of Watkins' four-year-old niece. Watkins and her boyfriend Dunn were convicted of sexually abusing and murdering the child solely on the testimony of the girl's mother and not on any forensic evidence. Watkins served 27-years in prison before being released on parole in 2015, the same year Dunn died behind bars.
THP Investigating Crash On I-24 In Murfreesboro That Claimed The Life Of One Person
(Murfreesboro, TN) — The Tennessee Highway Patrol is looking into a fatal car crash on I-24 yesterday near Murfreesboro. According to reports, the crash happened on the eastbound side of Interstate 24 near mile marker 88. Officials confirmed that 59-year-old Frances Woodall was killed in the accident, and a one-year-old child traveling with her was unharmed. A 42-year-old driver in a second vehicle was also not injured, and the cause of the accident remains under investigation.
Arson Investigators Looking Into Residential Building Fire In Nashville
(Nashville, TN) — Investigators are on the scene of a two-story residential building fire that broke out last night in Nashville. Firefighters say they responded to a call around 6 p.m. about a fire on Poplarwood Road. Crews started to battle the fire inside the building but later moved to attack it from the outside to keep it from spreading. No one was hurt in the fire, and officials say they are working to determine the cause.
Nashville Looking To Acquire 10-Acres Of South Nashville Property To Build New Park
(Nashville, TN) — Mayor John Cooper says the city is looking to acquire 10-acres of land in South Nashville to build a new park. Cooper spoke about the plan yesterday and posted drone footage of the property off Tusculum Road the city is hoping to develop into parkland. Officials say the area is one of the few in Nashville without a city park. Metro Council member Sandra Sepulveda has led the effort to create the park.
National/World Headlines
The Biden administration is sending medical teams to a half-dozen states to help overcrowded hospitals keep up with the omicron surge. President Biden is expected to announce today that federal medical teams will be sent to New York, New Jersey, Ohio, Rhode Island, Michigan, and New Mexico.
The President will meet with Democratic senators today in an effort to move voting rights bills forward. The meeting comes two days after Biden told senators in Atlanta they'll be "judged by history" if they fail to act. Biden also signaled support for changing Senate rules to allow voting rights legislation to pass on a simple majority instead of 60 votes.
House Minority Leader Kevin McCarthy says he won't work with the January 6th committee. In a statement last night, Republican McCarthy claimed the Capitol riot committee was "not conducting a legitimate investigation." He also criticized the panel for holding individuals in contempt of Congress.
A mosque in New York is planning a mass funeral for victims of Sunday's apartment fire in the Bronx. Eight children and nine adults died of smoke inhalation when a space heater set a mattress on fire in a third floor unit of the apartment building. A funeral for the 17 victims is expected tomorrow or Saturday.
Virginia's attorney general says Virginia Beach police forged DNA evidence in at least five criminal investigations. Attorney General Mark Herring announced Wednesday that forgeries of forensic science reports were discovered in April. Herring's office says in at least one instance, a forgery was presented in court as evidence during a bond hearing.
Coachella is back for the first time since 2019. Harry Styles, Billie Eilish, Kanye West and Swedish House Mafia will headline this year's Coachella Valley Music and Arts Festival. The April event was called off two years in a row because of COVID-19.