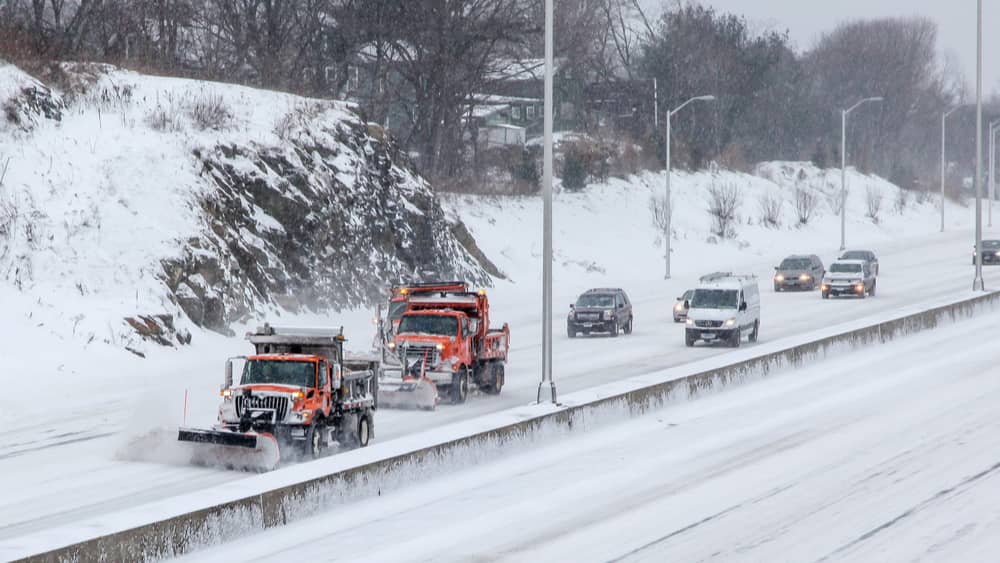 NWS: Snow Accumulation Likely Today
A storm system is expected to move through the area starting this morning. The National Weather Service says two-to-three inches of accumulation are possible, with some locations getting 5-6 inches. The counties of Marshall-Calloway-Lyon-Trigg, and Caldwell are all under a winter storm warning. Forecasters say it should be enough to impact driving conditions. Kentucky State Police say drivers need to be patient and hav e a winter weather kit in their cars.
Beshear Optimistic About Future In State Of Commonwealth Address
(Frankfort, KY) — Governor Andy Beshear says he is optimistic about Kentucky's future, despite a challenging 2021. Governor Beshear gave his State of the Commonwealth address last night before a joint session of the Kentucky House and Senate. Beshear says the commonwealth is strong, even as it processes unprecedented natural disasters and the continuing pandemic. He called on lawmakers to address addiction and continued economic growth while avoiding anger and division. The governor will give his budget address next week.
New Kentucky COVID-19 Cases Hit Record Level
(Frankfort, KY) — New COVID-19 cases reported in Kentucky have hit a record level. Governor Andy Beshear announced over 98-hundred new cases of the virus yesterday, along with 29 additional deaths. The commonwealth's positivity rate is at an all-time high at just under 23-percent. Over 895-thousand Kentuckians have tested positive for the virus and more than 12-thousand-200 have died since the pandemic began.
Deadline For Tornado Disaster Assistance Applications Approaching
(Frankfort, KY) — The deadline for tornado disaster assistance applications is approaching. FEMA officials say those impacted by the storms in Kentucky must apply for federal assistance by February 11th. Officials say they are working with people to help them with the application process. They say they are also telling people what to do if certain applications get rejected. Disaster Recovery Centers and Mobile Registration Centers are closed today because of severe weather.
School Closings
Benton County TN Schools Closed January 6
Caldwell County KY Schools Closed January 6
Carlisle County KY Schools Closed/Non-Traditional Instruction Day January 6
Community Christian Academy Closed/Non-Traditional Instruction January 6
Crittenden County KY Schools Closed/Non-Traditional Instruction Day January 6
Eastwood Christian Academy KY School Closed Closed January 6
Fulton County KY Closed January 6
Fulton KY City Schools Closed January 6
Graves County KY Schools Closed/Non-Traditional Instruction Day January 6
Henry County TN Schools Closed January 6
Hickman County KY Schools School Closed Closed January 6
Houston County TN Schools School Closed Closed January 6
Livingston County KY Schools School Closed Closed January 6
Lyon County KY Schools Closed/Non-Traditional Instruction Day January 6
Marshall County KY Schools Non-Traditional Instruction Day January 6
McCracken County KY Schools Closed January 6
Murray State University Operating Remotely January 6
Murray Watch Center Closed January 6
Murray Independent Schools Closed today
Obion County TN Schools Closed January 6
Paris TN Special Schools Closed January 6
Stewart County TN Schools Closed January 6
St. Mary School System Non-Traditional Instruction Day January 6
Trigg County KY Schools School Non-Traditional Instruction Day January 6
Weakley County TN Schools Closed January 6
Kentucky State News Brief
First Lady Postpones Visit To Kentucky
(Undated) – The first lady is postponing her visit to Kentucky. The White House announced yesterday Jill Biden won't visit today over weather concerns. She was expected to visit the state today to see tornado recovery efforts. The visit has been postponed until further notice.
JCPS Seeking More NTI Days
(Louisville, KY) – The state's largest school district says it will ask Kentucky lawmakers for more flexibility when it comes to non-traditional instruction. Jefferson County Public Schools' Marty Pollio said yesterday with the current COVID-19 situation, their ten days of allotted NTI aren't enough. Pollio says the district is facing serious staffing shortages. He said prior to COVID there was a pool of 500 subs but now there are less than 350.
Owensboro, Daviess Co. Leaders To Give Speeches
(Owensboro, KY) – The annual State of the Community addresses will be given by Owensboro Mayor Tom Watson and Daviess County Judge-Executive Al Mattingly this morning. They'll be given during the Rooster Booster breakfast at the Owensboro Convention Center. Mattingly isn't seeking re-election and is expected to give a reflective speech. Watson will give his tenth State of the City speech.
NTSB Releases Preliminary Report On Deadly Lincoln County Plane Crash
(Crab Orchard, KY) — The National Transportation Safety Board is putting out its preliminary report on a deadly Lincoln County plane crash. The crash happened on December 10th, killing 61-year-old Ronald Eldridge and 63-year-old Lowell Strong. The NTSB says the plane hit a 50-foot-tall oak tree before crashing. The report also indicates there was no fire. The men were flying back to Kentucky from Florida, and had stopped in Georgia.
Search For Kentucky Murder Suspect Continues
(Nicholasville, KY) — The search for a Kentucky murder suspect is continuing. Nicholasville Police say the body of a woman was found early yesterday morning inside a home in the 100-block of Lauren Drive. Police say there are warrants on charges of murder and tampering with physical evidence out for 54-year-old Kenneth Strange in connection with the woman's death. Strange lives in the home where the victim was found. Police say he is on the run and may be with a woman named Shirley Shewmaker, and they are concerned for her safety.
No In-Person School For OPS, DCPS, OCS
(Owensboro, KY) — There will be no in-person classes in Daviess County today because of bad weather. Owensboro Public Schools will be using a non-traditional instruction day. Daviess County Public Schools and Owensboro Catholic Schools will be closed entirely for a traditional snow day. DCPS will have a make-up day February 21st.
Louisville Bringing Back Mass COVID Testing Site
(Louisville, KY) – Louisville is bringing back a mass COVID-19 testing site. Mayor Greg Fischer is expected to detail the plan today. What is known is the drive-thru site will be centrally located. Testing is expected to start on Monday.
Forecastle Music Festival Lineup Released
(Louisville, KY) – The lineup is being released for this year's Forecastle Music Festival. The three-day event will include performances by Louisville hip-hop artist Jack Harlow, as well as Tame Impala, Porter Robinson and nearly 50 other artists. It's scheduled to be held at Louisville's waterfront for the first time in two years. Forecastle is set for Friday, May 27th through Sunday the 29th.
Tennessee State News Brief
TDOT Prepared For Wintry Weather
(Nashville, TN) – Tennessee is prepared for a bout of winter weather. Some snow accumulation followed by bitter cold is expected across most of the state today and tomorrow. TDOT says it pretreated many major roads, bridges and overpasses yesterday. TDOT officials say the department has nearly 200-thousand tons of salt and over one-and-a-half-million gallons of salt brine to help keep streets safe.
TDOH Posts First Weekly COVID Update
(Nashville, TN) – The Tennessee Department of Health is out with its first weekly COVID-19 update. TDOH says there were over 94-hundred cases per day last week. There were also more than 60 deaths per day between December 26th and January 1st. The department transitioned from daily updates to weekly this week.
TBI Identifies Man Wanted For Murdering Memphis Rapper
(Memphis, TN) – The TBI is identifying a man wanted for murdering Memphis rapper Young Dolph. TBI agents say 23-year-old Justin Johnson is wanted for shooting and killing Adolph Robert Thornton, Jr., inside a Memphis bakery on November 17th. Multiple law enforcement agencies are offering combined rewards of 15-thousand dollars for information leading to Johnson's capture. He's described as Black, five-feet-eight-inches tall, 190 pounds with the name "Jaiya" tattooed on his right arm.
Knox Co. Schools Closed Over Weather Concerns
(Knoxville, TN) – East Tennessee's largest school district is closed today. Knox County Schools announced yesterday it would close today over potential weather issues. KCS says snow is expected to fall during its student release times. The district didn't mention any changes for tomorrow.
Natchez Trace Parkway Closing Due To Weather
(Nashville, TN) – The Natchez Trace Parkway is being closed due to weather. It's expected to be closed mid morning from Nashville to Tupelo, Mississippi. It won't be passable from Collinwood to Highway 64, and from Highway 46 to the northern terminus in Nashville.
Metro Health Increasing COVID Testing Hours
(Nashville, TN) – Metro Nashville Public Health Department is expanding COVID-19 testing options. Starting this weekend, testing and vaccinations will be offered at the drive-thru site near 28th and Charlotte on Saturdays from 10 o'clock in the morning to 2 in the afternoon. About 13-hundred people were tested at the Metro assessment centers on Monday. Another 16-hundred were tested on Tuesday.
Clarksville Prepared For Snow
(Clarksville, TN) – Clarksville is preparing for snow. All Clarksville-Montgomery County Schools are closed today. Austin Peay State University is also close. Fort Campbell is closed for non-essential services. Outpatient services are also shut down at Fort Campbell's hospital.
Shelby Co. Schools Closed Over Weather Concerns
(Memphis, TN) – Shelby County Schools are closed. The district announced yesterday it's closed today due to possible snow and ice accumulation. No decision has been made about tomorrow's schedule. Bartlett City Schools, Collierville Schools and Germantown Municipal School District are also closed today.
Memphis Roads Pretreated For Wintry Weather
(Memphis, TN) – Memphis says its main roads, bridges and overpasses are ready for snow and ice. Memphis Public Works crews say they pretreated roads yesterday ahead of today's anticipated snowfall. Memphis officials say they were able to pre-treat because there was no rain prior to the wintry weather. TDOT is asking drivers to take it slow and give crews and plows plenty of space.
STCC To Start Spring Semester Virtually
(Memphis, TN) – Southwest Tennessee Community College is the latest school to say the start of its spring semester will be held online. Classes will be held virtually January 18th through January 24th. The move is a COVID-19 precaution. LeMoyne Owen College and Rhodes College also announced this week they'll start their semesters virtually.
National/World Headlines
Congress Marking One-Year Anniversary Of Capitol Riot
(Washington, DC) — A day of events to mark this one-year anniversary of the Capitol attack will begin soon. President Biden will start with a speech about what happened when a mob stormed the building and what still needs to be done. The House isn't in session today but will hold a moment of silence and then hear from members of Congress about their experiences. That will be followed by two candlelight vigils and end with a prayer vigil on the Capitol steps.
Carter Talks Threats To Democracy On Riot Anniversary
(Plains, GA) — The oldest living former president is calling on everyone to set aside their differences. Jimmy Carter wrote an essay for the New York Times this week about today's anniversary of the Capitol riot. He says those who claim last year's presidential election was stolen are stoking distrust in the electoral systems. The 97-year-old went on to say he fears there's a genuine risk of civil conflict and losing the democracy.
Chicago Schools Cancel Classes Again For 300K Students
(Chicago, IL) — More than 300-thousand students in Chicago are being told to stay home today. City leaders say they have no choice but to cancel classes again as negotiations continue with the Teachers Union. They hope some schools will be open tomorrow. Teachers voted late on Tuesday night to switch to remote learning until January 18th due to the COVID surge. Only ten-percent showed up yesterday. The mayor calls the move an illegal walkout.
Unvaccinated Kyrie Irving Makes Season Debut For Nets
(Indianapolis, IN) — An NBA star is back on the court even though he refuses to get a COVID vaccine. Kyrie Irving was allowed to return with the Brooklyn Nets last night but can only play on road games due to New York's mandate at sports arenas. He scored 22 points in the team's 129-to-121 win over the Pacers. The NBA doesn't require players to be vaccinated. Those who test positive or are exposed can be cleared through testing and isolation periods.
VA Declares Emergency Before New Storm Hits Tonight
(Richmond, VA) — Virginia just can't catch a break this week. The governor declared a state of emergency before a new winter storm arrives tonight. It's expected to dump as much as eight inches of snow in some areas. The first storm buried several counties, causing massive power outages and left drivers stuck on a highway for 12 hours. The declaration will help with recovery and cleanup. Several schools between Richmond and D.C. have already canceled classes.
CA, WI Sells Winning $632M Powerball Jackpot Tickets
(Undated) — Check those Powerball tickets. At least two lucky people are waking up as millionaires after last night's drawing. One ticket in Sacramento, California and one in Wisconsin matched all six numbers to split 632-million dollars, the seventh largest jackpot ever. But there's more money up for grabs. Two tickets sold in Florida and Georgia are worth two-million dollars, while 12 are worth one-million. Those were sold in Arizona, California, Florida, Indiana, Maryland, Missouri, New Jersey, New York and Texas.
Jon Stewart Doesn't Think J.K. Rowling Is Anti-Semitic
(Undated) — Comedian Jon Stewart is making it clear he doesn't think the author behind Harry Potter is anti-semitic. He accuses the magazine Newsweek of twisting his words about J.K. Rowling. He spoke on his podcast about her depiction of the goblins in the franchise, drawing a comparison to Jewish people. He called the discussion a "light hearted conversation" about the films and tropes about Jewish people embedded in society and says he loves the movies.