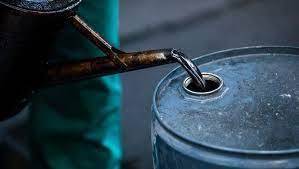 Crude Oil Slowly Coming Down
After stubbornly staying above $80 a barrel since Labor Day, the price of crude oil tumbled this week into the mid-$70s. At the close of Friday's formal trading session, West Texas Intermediate decreased by $2.91 to settle at $76.10. Crude prices declined last week despite reports from the Energy Information Administration (EIA) showing that total domestic crude supply decreased by 2.1 million barrels to 433 million barrels. When compared to the end of November 2020, current total domestic crude supply is nearly 12 percent lower than last year.
Lower crude prices are reflected in today's national average price for a gallon of gas, down a penny since last week to $3.40, Western Central KY Average $3.032 a gallon. As AAA projects more than 48 million Americans will hit the road this Thanksgiving week, motorists will be paying $1.29 more for a gallon of gas than a year ago and 81 cents more than in 2019.
Federal Infrastructure Funding Means $5B For Roads, Bridges
Kentucky stands to gain over six-billion-dollars in federal aid through the recently passed Infrastructure Investment and Jobs Act.  Officials say almost five-billion-dollars is allocated over five years for bridge and road repairs.  Millions of dollars are reserved to replace lead piping, expand the state's electric vehicle charging network, improve airports and boost high-speed internet coverage across the commonwealth.
Gov. Beshear Asks Kentuckians To Take Precautions Against COVID On Thanksgiving
Governor Andy Beshear is asking Kentuckians to take steps to prevent spreading COVID-19 during Thanksgiving.  Governor Beshear outlined several tips yesterday for holiday get-togethers, including vaccines, boosters, not attending a gathering if you're sick, wearing masks indoors for those who aren't vaccinated and keeping the number of people gathered low.  Beshear said all the tools are available to be safe this holiday season.
MURRAY-CALLOWAY COUNTY HOSPITAL'S FOUNDATION HOSTS CAMPAIGN
MURRAY, KY –The Foundation at Murray-Calloway County Hospital recently hosted a virtual
telethon "Call Out Cancer" in October on the MCCH FaceBook page. The FaceBook Live event featured different personalities and nightly entertainment and recognized our Men in Pink of Calloway County. In conjunction, Calloway County Men in Pink coordinated by Martha Andrus and Kelly Chapman together raised $97,744.
The funds raised will go directly to the Enduring Hope Campaign to build a new Regional Cancer Center. The funds will support new cancer technology including a new linear accelerator, and private infusion bays.
Murray, Ky., Nov. 22——–The Murray Middle School 6-8 academic team finished second overall at the WKAA Academic Bowl, held at the MSU Paducah Campus. The quick recall team finished third. In written assessments, Ali Yarali finished third in Mathematics, Ethan Peng second in Social Studies, and Amelie Johnson first in Arts & Humanities.
Kentucky State News Brief
Program Aims To Place All JCPS Grads In College Or Job
(Louisville, KY)  —  The state's largest school district is part of a new program that intends to help all of the district's seniors go to college or get a good-paying job.  The Everyone Counts program is partnering with some of the area's biggest employers — Ford, GE Appliances, Kroger and UPS.  Graduating Jefferson County Public Schools students who don't have a plan after high school to continue their education will get assistance to enroll in a college, including funding or they'll be placed in a job with one of the four companies.  Governor Andy Beshear was in Louisville yesterday to announce the program.
Owensboro's Holiday In The Park Opens Tomorrow
(Owensboro, KY)  —  The 35th Annual Holiday in the Park opens at Legion Park in Owensboro tomorrow.  It includes over 50 Christmas structures and 200-thousand lights.  The display is put on by Owensboro's Department of Parks and Recreation and Public Works Department.  It will run through January 3rd.
GRDHD Expected To Update COVID Numbers
(Owensboro, KY)  —  The Green River District Health Department is expected to update its COVID-19 numbers today.  On Friday, the GRDHD reported 288 new confirmed cases with 156 in Daviess County, 51 in Henderson County, 33 in Ohio County, 14 in Webster County, 13 each in Hancock and McLean counties and eight in Union County.  There have been over 38-thousand cases in the seven-county districts since the outbreak began.  There have been over 600 COVID-related deaths since the start of the outbreak.
Over 820 New COVID-19 Cases Reported In Kentucky

(Frankfort, KY)  —  Over 820 new COVID-19 cases are being reported in Kentucky.  Governor Andy Beshear announced the new cases yesterday, along with 44 additional deaths.  More than 800 people in the commonwealth are hospitalized for COVID-19 related illnesses, with just over 100 on ventilators.  Over 773-thousand Kentuckians have tested positive for the virus and more than ten thousand-seven hundred have died since the pandemic began.
Kentucky's Search Warrant Task Force Gathers In Frankfort
(Frankfort, KY)  —  Kentucky's Search Warrant Task Force is discussing new approaches to how law enforcement serves search warrants.  The group put together by Attorney General Daniel Cameron met in Frankfort yesterday to review the commonwealth's search warrant policies following the death of Breonna Taylor.  Taylor was shot and killed by Louisville police while they were serving a warrant at her apartment.  Cameron says he hopes the group will make effective recommendations to lawmakers and the courts that would encourage changes needed following Taylor's death.

Lexington Crash Leaves Five Injured
(Lexington, KY)  —  Police are investigating after a crash left five people injured in Lexington.  The crash happened Sunday evening on New Circle Road when a driver crossed from the outer loop of New Circle to the inner loop near the ramp to Leestown Road, where the car hit two other vehicles.  Five people were taken to the hospital with non-life-threatening injuries.
Man Sentenced For Machete Attack On Covington Boy
(Kenton County, KY)  —  A man is facing eight years in prison for attacking a young Covington boy with a machete.  The assault happened in May 2019 when police say Estevan Portugues stabbed a then nine-year-old victim.  Prosecutors say Portugues was very drunk at the time and doesn't remember the attack.  The now 12-year-old victim has recovered. Portugues entered a plea that conceded that the prosecution had enough evidence to convict him, but he didn't admit to the crime.  He also agreed to be deported back to Guatemala once he completed his sentence.
Calhoun Man Takes Plea Deal In Deadly McLean County Crash
(McLean County, KY)  —  A Calhoun man is accepting a plea deal in connection with a crash that left three people dead in McLean County.  Officials say 25-year-old Dylan Howard pled guilty to a host of charges yesterday, including three counts of manslaughter, operating a motor vehicle while intoxicated, and trafficking in a controlled substance.  Kentucky State Police say Howard sideswiped a dump truck and hit another vehicle head-on after crossing the centerline in March on Kentucky 81.  Howard's two passengers and the driver of another vehicle were killed.
Identity Of Motorcyclist Killed In Owensboro Crash Released
(Owensboro, KY)  —  Police are releasing the identity of a motorcyclist killed in an Owensboro crash.  Authorities say 37-year-old Donnie Pitman was taken to the hospital Saturday afternoon after his motorcycle collided with a parked car in the 17-hundred block of Virginia Court.  He died several hours later.  Authorities are continuing to investigate the crash.
Security To Be High For Light Up Louisville
(Louisville, KY)  —  Expect tight security during the Light up Louisville event after five people were killed when an SUV slammed into a Christmas parade in Wisconsin.  Mayor Greg Fischer says the special events team is already working with LMPD to ensure the event's safety.  Mayor Fischer says access to streets will be limited.  Light up Louisville starts at four o'clock Friday afternoon at Jefferson Square Park.
Program Aims To Place All JCPS Grads In College Or Job
(Louisville, KY)  —  Jefferson County Public Schools is part of a new program that intends to help all of the district's seniors go to college or get a good-paying job.  The Everyone Counts program is partnering with some of the area's biggest employers — Ford, GE Appliances, Kroger, and UPS.  Graduating JCPS students who don't have a plan after high school to continue their education will get assistance to enroll in a college, including funding or they'll be placed in a job with one of the four companies.  Governor Andy Beshear was at Pleasure Ridge Park High School yesterday to announce the program.
JCPS Issues Warning Prior To Thanksgiving Break
(Louisville, KY)  —  JCPS says it wants everyone to return from the Thanksgiving break healthy.  JCPS officials say there are over 260 active cases of COVID-19 among students.  They're recommending getting tested before and after holiday gatherings.  They also say anyone who is feeling sick should stay home.
JCPS Student Stabbed On School Bus
(Louisville, KY)  —  A JCPS student is expected to be okay after being stabbed on a school bus.  It happened yesterday afternoon on Cane Run Road at Linwood Avenue.  LMPD says it started with an argument between a boy and a girl before another male got on the bus when it stopped at an intersection.  The girl allegedly stabbed the boy during a fight between the boy and the male who got on the bus.

Homeless Camp Downtown To Be Swept Today
(Louisville, KY)  —  A sweep of a homeless camp downtown that had been scheduled for yesterday is expected to happen today.  The cold weather is believed to be the reason the sweep was rescheduled.  A notice to sweep the camp on East Liberty Street and Jefferson Street was posted last week.  The city has been reaching out to the homeless living in the encampment, offering support services, mental and behavioral health services and help with finding housing.
Tennessee State News Brief
THP Focused On I-40 During Thanksgiving Travel
(Undated)  —  The Tennessee Highway Patrol wants to prevent a repeat of last year's Thanksgiving holiday travel.  THP says there were more than 20 accidents along I-40 across the state the day before Thanksgiving last year.  This year, THP will be working with other law enforcement agencies on the Tennessee Safe Travel Challenge initiative.  The challenge is planned for tomorrow and Sunday, November 28th.
TDH Updates State Coronavirus Cases
(Nashville, TN)  —  There are 540 new coronavirus cases in Tennessee.  The Tennessee Department of Health reported the new cases, bringing the total since the outbreak began to nearly one-million-306-thousand-800.  An additional 14 COVID-19-related deaths were also reported, with the total number standing at over 16-thousand-800.  There are over 700 COVID-19 hospitalizations in Tennessee.
Oldest Fraternity At UT-Knoxville Suspended For 5 Years
(Knoxville, TN)  —  UT-Knoxville's oldest fraternity is being suspended.  Alpha Tau Omega at UT was suspended for five years yesterday for repeated hazing and alcohol violations.  The fraternity can return in the fall of 2026.  Its fraternity house is being closed and everyone living there must be out by December 10th.
One Dead In Crash Involving School Bus On Monday In Nashville
(Nashville, TN)  —  One person is dead following a crash involving a school bus on Monday afternoon in Nashville.  Police say 19-year-old Emmanuel Edmondson died in the crash just after 3 p.m. on Dickerson Pike near Donald Street.  Edmondson's car was hit by a vehicle turning onto Dickerson Pike, and officials are investigating speed as a factor in the accident.  Nashville Firefighters said a school bus heading to Rocketship Academy was involved in the accident, but no students were on board at the time.
Prosecutors Moving To Vacate Charges Against Man Convicted Of Killing His Fiancé In 1992
(Nashville, TN)  —  The Davidson County Prosecutor is moving forward with a motion to vacate charges against a man convicted of murder in 1992.  Officials confirmed yesterday that they had submitted a motion to have Claude Garrett's charge vacated.  Garrett was convicted of first-degree murder by arson in the death of his fiancé Lorie Lance at their home in Old Hickory.  Prosecutors say if the motion is granted, Garrett will be set free unless the state Attorney General appeals the decision.
Former Williamson County Sheriff's Sergeant Suing Department Over Sexual Harassment
(Franklin, TN)  —  A former sergeant with the Williamson County Sheriff's Office is suing, saying she was forced to leave due to sexual harassment.  According to court records released yesterday, former Sergeant Jessica Malia claims she was subjected to repeated harassment at the detention center by a superior.  The lawsuit says Malia was forced to resign when Sergeant Chris Gray remained as her supervisor despite her coming forward about alleged sexual harassment from him.  Documents show following the accusations, Gray was suspended for five-days and sent to sexual harassment training.

Target To Close All Stores On Thanksgiving Day Moving Forward
(Nashville, TN)  —  Retail chain Target says they are closing all of their Middle Tennessee locations on Thanksgiving Day this year and every year moving forward.  The company announced yesterday that their new policy means stores will be closed every Thanksgiving.  Target CEO Brian Cornell said closing on Thanksgiving started as a temporary measure driven by the pandemic but is now the company's new standard. Other retailers, including Kohl's, Walmart, and Macy's, will be closed this Thanksgiving but have not announced if they will follow Target and make the policy permanent.
Young SCS Students Receive First Dose Of COVID Vaccine
(Memphis, TN)  —  At least one-thousand Shelby County Schools students between ages five-to-eleven are being vaccinated against COVID-19 vaccine.  The first dose of the Pfizer vaccine was administered during an event hosted by SCS and the Shelby County Health Department last Friday.  The district says it's already reserved dates early next month to partner with SCHD to give the second dose.  Information on those dates will be sent to parents and guardians.
SCHD Updates COVID-19 Numbers
(Memphis, TN)  —  The Shelby County Health Department is updating its COVID-19 numbers.  SCHD reported 70 new cases yesterday, bringing the total to over 148-thousand-380 since the outbreak began.  Health department officials say there have been over 23-hundred COVID-19-related deaths since the start of the outbreak.  There are over 12-hundred active cases in Shelby County.
Makeda's Homemade Butter Cookies Opens New Store
(Memphis, TN)  —  The Makeda's Homemade Butter Cookies on Airways Boulevard remains boarded up following the shooting death of rapper Young Dolph.  Yesterday, Makeda's opened a new store on Jefferson Avenue, near North 4th Street.  The bakery on Airways will remain closed until the new year.  People have stepped up to support Makeda's since the shooting, donating over 85-thousand dollars through GoFundMe.
Germantown Church Gives Out Turkeys To First Responders
(Memphis, TN)  —  First responders are getting some help with Thanksgiving dinner from a Germantown church.  Germantown Baptist Church handed out turkeys to all of Collierville and Germantown's first responders yesterday.  Over 350 turkeys were given out.  The church's senior pastor says giving out the turkeys is just an opportunity to say "thank you."
National/World Headlines
WI Parade Crash Suspect Due In Court Today
(Waukesha, WI)  —  The man accused of slamming into a Wisconsin parade crowd is due in court today.  Darrell Brooks will be charged with allegedly killing five adults, including three members of a dance team.  More charges could come later.  Police say Brooks took off after also injuring 48 others including several children.  He was caught on a doorbell video pleading for help and telling a homeowner he was waiting for an Uber before being arrested.

GA Jury Deliberations To Start In Arbery Killing
(Brunswick, GA)  —  Georgia is bracing for a possible verdict this week in the case of a man chased down and killed while jogging.  Jurors are expected to start deliberating today after prosecutors give a final rebuttal to closing arguments.  They'll be deciding the fates of three men who claim they thought Ahmaud Arbery was a burglar and resisted a citizen's arrest.  Arbery's name became part of a rallying cry for racial justice during protests last year.
TX Sends Troopers, National Guard To Border
(Austin, TX)  —  Texas is sending ten-thousand state troopers and National Guard soldiers to the border.  Governor Greg Abbott took action in response to reports of three-thousand migrants making their way through Mexico to the U.S.  He also ordered the border be lined with barbed wire and steel shipping containers.  This is all part of his Operation Lone Star, aimed to stop people and drugs from being smuggled into Texas.
NY Man Sentenced For Threats To Congress
(Brooklyn, NY)  —  A New York man who threatened to "slaughter" members of Congress will spend the next 19 months in prison.  Brendan Hunt was sentenced yesterday for uploading a video titled "KILL YOUR SENATORS" two days after January's Capitol attack.  In it he tells people to return with guns when everyone is there.  He was convicted in April and told the court he was drunk when he posted the video.

CA Storefronts Smashed With Sledgehammers
(Beverly Hills, CA)  —  A trend of violent "store takeover" robberies is starting to make its way through California.  The latest case happened in Beverly Hills when thieves with sledgehammers tried to smash two storefront windows.  But the glass didn't break, which city officials say is by design, so the thieves left without taking anything.  This follows a Nordstrom store ransacked in the San Francisco Bay Area last weekend.
Chewing Gum Shown To Cut COVID In Saliva
(Philadelphia, PA)  —  There appears to be a new weapon in the fight against COVID.  An experimental chewing gum has been shown to cut the amount of coronavirus in saliva by 95-percent.  Researchers in Pennsylvania believe this can help stop the virus from spreading when someone infected is talking, breathing or coughing.  They say the gum would add to the benefit of vaccines and be especially useful in countries still waiting for the shots.
Second Night Of Macy's Parade Rehearsals

(New York, NY)  —  The Macy's Thanksgiving Day Parade is making a comeback with eight thousand marchers ready to hit the streets.  Fans will also see 28 floats, with six new ones this year.  But they'll look a little different.  Children won't be on them as they're not allowed to participate amid the pandemic.  Rehearsals will continue tonight in New York City for celebrity and large performance groups.  Tomorrow, the balloons will be inflated.