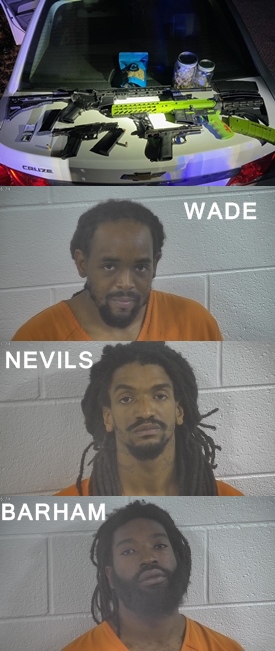 Photos via Calloway County Sheriff's Department
THREE ARRESTED AFTER WEEKEND TRAFFIC STOPS
At approximately 2:45 Sunday morning, Calloway County Sheriff's Deputy Jon Hayden stopped a vehicle on Highway 80 for a traffic violation and it was determined a passenger in the vehicle had a warrant of arrest related to an Aggravated Assault in Tennessee. 31-year old Brandon Barham of Shelbyville, Tennessee was arrested and charged with being a Fugitive From Another State. He was lodged in the Calloway County Jail.
At approximately 11 pm Saturday, Calloway County Sheriff's Deputy Todd Clere stopped a vehicle on Highway 80 for a traffic violation and located various drugs and weapons. The driver, 27-year old George Wade of Nashville was arrested and charged with multiple counts of drug possession, Violation of a Protection Order, and various traffic related offenses. At the time of his arrest, Wade was out on bond for numerous felonies in Tennessee. A passenger, 26-year old Delevonte Nevils of Nashville was arrested and charged with Possession of a Handgun by a Convicted Felon, Possession of a Firearm by a Convicted Felon, and Possession of Marijuana. Both men were lodged in the Calloway County Jail. All three men were in Calloway County related to an event being held at the Calloway County Fairgrounds.
CALLOWAY COVID-19 POSITIVITY RATE UNDER 1%
Calloway County's latest reported COVID-19 positivity rate is .9% which is lower than the state rate of 5.44%. As of Monday, Calloway County was one of 76 of the state's 120 counties outside of the red zone for COVID-19 Incidence Rates. The state reported 400 confirmed new cases and 22 confirmed new deaths Monday. There are currently 687 hospitalized, which is 85 less than last Monday, including 196 in ICU, which is 53 less than a week ago.
KSP JOBS AVAILABLE
Kentucky State Police Post 1 is currently accepting applications for 2 full-time telecommunicator positions. Applicants must be 18 years of age or older, a high school graduate, and have no felony convictions or convictions of other crimes of moral turpitude. Applications must be submitted on-line to the Kentucky Personnel Cabinet and should be received by November 16.
MSU PROGRAM RECOGNIZED
Murray State University's cybersecurity and network management program was recently listed as one of the top 100 best affordable cybersecurity programs by University HQ. Murray State is one of 325 schools in the United States which have been designated by the National Security Agency as a National Center of Academic Excellence in Cyber Defense for Cybersecurity. Institutions are designated and accredited based on their robust degree programs and close alignment to specific cybersecurity-related knowledge units validated by top subject matter experts in the field.
GAS PRICES SLIGHTLY LOWER LOCALLY, BUT HIGHER NATIONALLY
Gas prices in West Central Kentucky are three cents lower this week at $3.06 per gallon, according to AAA East Central's Gas Price Report. The price at the pump continued its slow climb nationally, rising two cents on the week, with the national average for a gallon of gas hitting $3.42 per gallon, which is the highest price since September 2014. The EIA reports that the current storage level is approximately 10.4 percent lower than the same time the previous year. A tighter oil supply has helped to keep crude prices above $80 per barrel.
IN AND AROUND KENTUCKY
FRANKFORT—Kentucky is surpassing a grim milestone. Governor Andy Beshear said yesterday the Commonwealth has officially surpassed ten-thousand COVID-19-related deaths since the start of the outbreak. A memorial service will be held in Frankfort on Sunday to mark the somber occasion. Governor Beshear also reported over 640 new cases yesterday.
LOUISVILLE—The Louisville officer who fired the shot that killed Breonna Taylor is appealing his firing. Then-interim Police Chief Yvette Gentry fired Detective Myles Cosgrove in January for using suppressive fire during the deadly raid after Taylor's boyfriend fired at officers. Louisville requires officers to have a definite target when returning fire. Cosgrove is scheduled to appear before the police merit board five times starting today with the final hearing on December 15th.
OLDHAM COUNTY—A northern Kentucky school district is going against Governor Andy Beshear's recommendations on universal masking. Starting Thursday, masks will be recommended, but optional for students, staff and visitors at high schools in Oldham County. Oldham County Schools' COVID-19 mask policy will change for middle, elementary and preschools on Monday, November 29th following Thanksgiving break. Governor Beshear has asked school districts to wait until after the holidays to lift universal masking policies.
MOREHEAD—Senator Mitch McConnell says AppHarvest is exactly what eastern Kentucky needs. Senator McConnell was in Morehead yesterday to tour the indoor farming company's facility. McConnell said following the decline of the coal industry, AppHarvest's technology is just what the region needed. He's hoping money from the American Rescue Plan can be used to take the technology deeper into Appalachia.
HAZARD—The principal of Hazard High School and two staff members are being reprimanded by the school district. Donald Mobelini and two others were given written reprimands by Hazard Independent Superintendent Sondra Combs late last month, a day after male students simulated lap dances and girls pretended to serve beer while wearing Hooter's t-shirts during an assembly. The Lexington Herald-Leader reports those involved will have to attend training approved by the school district at their own expense. The raunchy homecoming event made national news.
TENNESSEE—The TBI is investigating a deadly officer-involved shooting in Grundy County. Authorities say it happened yesterday in Monteagle when an officer responded to a call near a market on Highway 41. When the officer arrived a woman apparently pointed a gun at the officer, who fired hitting the woman. She died at the scene.
TENNESSEE—There are nearly one-thousand new coronavirus cases in Tennessee. The Tennessee Department of Health reported the new cases, bringing the total since the outbreak began to over one-million-286-thousand. Close to 30 additional COVID-19-related deaths were also reported, with the total number standing at nearly 17-thousand. There are over 800 COVID-19 hospitalizations in Tennessee.
TENNESSEE—Delays in the U.S. supply chain are raising questions about when Christmas packages should be shipped and whether shipping companies will be able to meet demand. Memphis-based FedEx says it will be able to meet the demand if it has enough employees. FedEx says it's processed 90-thousand applications since the start of the month. The shipping giant also says infrastructure has become a problem with CEO Fred Smith praising Congress for passing the bipartisan infrastructure deal last week.
TENNESSEE—A Middle Tennessee pastor who saved his church from violence says God used him. The pastor of Nashville Light Mission Pentecostal Church tackled a man who came to the altar with a gun, demanding that everyone stand up during Sunday's service. Pastor Ezekiel Ndikumana [[ Dee-koo-mah-duh ]] says he believes God used him to show that he's a powerful god. Ndikumana tackled the gunman and parishioners jumped on the man to wrestle the gun away from him.