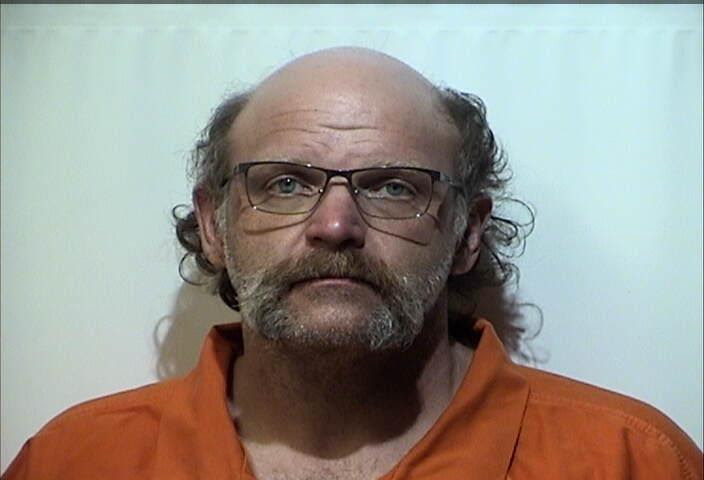 Harold Jett (Via KSP)
ILLINOIS MAN CHARGED WITH MURDER IN TRIGG COUNTY
Just after noon Thursday, the Trigg County Sheriff's Department received a call about 48 year old Harold Jett of Taylorsville, Illinois firing a shot at a vehicle on South Road in Cadiz. Law enforcement attempted to make contact with Jett who fled in a motor vehicle. The pursuit led to Hilltop Street where Jett entered a residence and was taken into police custody when he exited. Deputies located 71 year old Mary Dullenty of Cadiz who was injured inside the residence. She was transported to Trigg County Hospital where she died. Jett was charged with with Murder and Burglary as well as additional offenses related to the pursuit. He was lodged in the Christian County Jail.
MCCH FOUNDATION HOSTS CALL OUT CANCER TELETHON
The Foundation at Murray-Calloway County Hospital will host a virtual telethon "Call Out Cancer" October 18-22 on the hospital's FaceBook page. The FaceBook Live event will last from 5-6 pm nightly, with the exception of Tuesday night, which will be held from 6:30 until 7:30 pm. The telethon will feature different personalities and nightly entertainment and recognize our Men in Pink of Calloway County. The funds raised will go directly to the Enduring Hope Campaign to build a new Regional Cancer Center. Peer to peer fundraising opportunities are also available and details will be included on the hospital's Facebook page. The Enduring Hope "Call Out Cancer" telethon will support the building of a new regional cancer center to care for families within our region.
CCHD REPORTS 61ST COVID RELATED DEATH
The Calloway County Health Department reported 9 new cases of COVID-19 yesterday. One of the cases was over 60 years of age. The Health Department also reported the county's 61st COVID-19 related death. The county currently has 82 cases isolated at home and 6 are hospitalized. Calloway County's latest reported positivity rate is 6.38% which is lower than the state rate of 7.91%. Calloway County is now one of 22 counties in the state outside the red zone for COVID-19 Incidence Rates. The state reported 1,405 confirmed new cases and 41 confirmed new deaths Thursday. There were 1,354 hospitalized as of Thursday, which is 224 less than last Thursday, including 399 in ICU, which is 73 less than a week ago.
EDDYVILLE MAN CHARGED WITH ASSAULTING DEPUTY
An Eddyville man is in a lot of trouble after using a stun device on a McCracken County deputy. The deputy was investigating a suspicious vehicle call in the Reidland community when he found Jake Cowan asleep in the car. Cowan had an outstanding arrest warrant and when the deputy tried to take him into custody there was a struggle. The deputy used a taser on Cowan but he allegedly pulled out a stun device of his own and used it to flee the scene. After a short chase, Cowan was apprehended.
KYNECT WEBSITE LAUNCHES TODAY
Kentuckians are encouraged to visit kynect.ky.gov beginning today to review and compare plans on the state's new health care marketplace to see what coverage will best suit their needs for 2022. Kentuckians can enroll from November 1 until January 15. The state-based marketplace relaunch, recently approved by the federal Centers for Medicare & Medicaid Services, will allow Kentuckians to access and compare state-managed health care options, apply for coverage and complete their enrollment all on one convenient platform. The relaunched portal also will help connect Kentuckians with other benefits and resources, including food, utilities assistance, transportation, job training, and veterans' benefits. The new plans take effect January 1.
MSU TO HOST SUMMERVILLE LECTURE SERIES
The Department of Art & Design at Murray State University will host printmakers Susanna Crum and Rodolfo Salgado for the Patricia Summerville Lecture Series next week. On Tuesday and Thursday, the visiting artists will host a collaborative workshop with Professor Nicole Hand's advanced printmaking students. The workshop will be held in Fine Arts 1004 from 9 am until 4 pm and is open to the public. On Wednesday at 12:30 p.m. in room 623 of the Price Doyle Fine Arts Building, the artists will give a public lecture. The event is open to the public but can also be viewed on Zoom.
IN AND AROUND KENTUCKY
FRANKFORT—It's been two-years since the Kentucky State Police started its domestic violence program. Since then, Victim Support Advocate Services has helped more than 19-hundred people. The advocates help police by giving care to victims and connecting them with resources like mental health and crisis management services. Troopers say the goal is for the services to make victims comfortable with reporting abuse.
LEXINGTON—Jacob Heil is facing a 500-dollar fine after being convicted of driving under the influence in the crash that killed four-year-old Marco Shemwell. Heil was also found not guilty of reckless homicide yesterday in connection with the 2018 death. The jury deliberated the case for over eight hours after closing arguments wrapped up before returning the verdict. Heil was a freshman at the University of Kentucky when the crash that killed Shemwell happened outside a UK football game.
LEXINGTON— Lexington is setting aside millions in American Rescue Plan funds for what the city is calling "hero pay." The Lexington-Fayette Urban County Council unanimously passed a resolution last night allocating 15-million dollars toward supplemental pay for hundreds of area essential workers who continued in their jobs through the pandemic. Representatives of some departments that were not deemed essential but still had pandemic workers say the move is unfair. Council member Whitney Baxter says the decision will not please everyone and that the exact allocation per person will be figured out at the October 28th meeting.
LEXINGTON—A central Kentucky school board is making its policy on public feedback known. The Estill County Board of Education released a "civility statement" on social media this week. The statement asks that parents and community members giving feedback on issues do so in a safe and harassment-free manner, especially when dealing with COVID-19 related mandates. The statement emphasized that the board values input, but wants conversations on hot-button issues to remain civil and non-combative.
CLARK COUNTY—Clark County Judge-Executive Chris Pace has died from complications of COVID-19. County officials announced his death yesterday. Whether or not he had underlying health conditions or was vaccinated hasn't been released. He began in the position in 2019 and declared a state of emergency in Clark County last week because of flooding. Funeral arrangements haven't been confirmed.
UNION COUNTY—Union County deputies say they have arrested a man on outstanding warrants and drug trafficking charges. Deputies pulled over 30-year-old Jackie Peckham in Sturgis Wednesday night and discovered he had four active warrants. Further investigation uncovered a large amount of meth and marijuana. Deputies also found two-thousand dollars, a digital scale, plastic baggies and a loaded handgun.
TENNESSEE—The president of the executive committee of the Southern Baptist Convention — Ronnie Floyd — has resigned amid an investigation into sexual abuse among its network of churches. Floyd submitted his resignation letter to members of the executive committee last night. The committee has been meeting to decide whether to waive attorney-client privilege for the investigation into how the committee has handled sexual abuse claims. The panel eventually voted to waive privilege and Floyd says his resignation is a direct result of the committee's decision. Earlier this week, the law firm that has represented the Nashville-based Southern Baptist Convention for more than 50 years also resigned.
TENNESSEE—State education leaders agree with Governor Bill Lee that Tennessee's funding formula for schools needs an overhaul, but they say the review needs to be transparent. Last week, the governor announced the basic education formula is being reviewed in advance of the next legislative session. The president of the Tennessee Education association — Beth Brown — says students must be the top priority when changes are made to the formula. Currently, Tennessee ranks near the bottom of all states in education funding.
TENNESSEE—The former chief and a former secretary for the volunteer fire department in Red Banks have been arrested following their indictments on embezzlement charges. The former chief — Mark Hanna — is charged with using almost 35-hundred dollars in department funds for farm and lawn equipment. The department's former secretary — Linda Mannon — is charged with making out nearly 30-thousand dollars in department checks to herself. They turned themselves in to the Marshall County Sheriff's office yesterday.
TENNESSEE—For the fourth consecutive year, the number of traffic fatalities in Tennessee has increased. Analysts say the number of traffic deaths is on pace to exceed last year's totals. So far, the Volunteer State has recorded more than one-thousand traffic deaths. In central Tennessee, the I-24/I-40 split and sections along I-24 in Rutherford County are among the deadliest stretches of road. Law enforcement officials blame population growth along with a shortage of police officers for the trend.
TENNESSEE—It's that time of year when state wildlife officials urge caution when walking outdoors — it's baby copperhead snake season until next month in Tennessee. They say baby copperheads live in damp places such as logs on a trail or flowerpots in the yard. The snakes are typically born between August and October. Their advice to avoid being bitten by a copperhead — whether it's a baby or an adult — is to leave them alone.