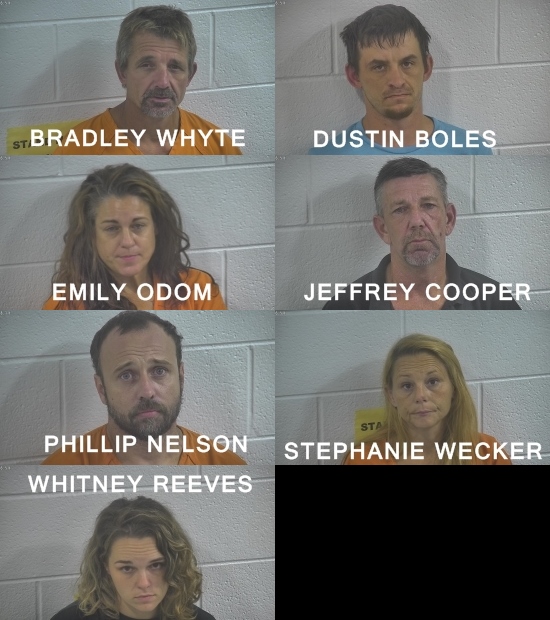 (Photos via CCSO)
TWO CHARGED AFTER NAVIGATOR DRIVE BURGLARY
At approximately 4 am Monday, Deputies with the Calloway County Sheriff's Office responded to a residence on Navigator Drive for a report of an overnight burglary. Deputy Jacob Hamm began an investigation into the theft of numerous items, including a service animal, from the residence. Information was obtained which led the investigation to a residence in Graves County. Calloway County and Graves County deputies arrested 29-year old Whitney Reeves and 34-year old Dustin Boles, both of Wingo, on charges of Burglary in Calloway County, as well as Possession of Methamphetamine in Graves County. Both were lodged in the Calloway County Jail. The stolen property was returned to the victim.
TWO FUGITIVES CAPTURED
At approximately 8 pm Saturday, Calloway County Sheriff's Office deputies served a search warrant at 716 Sycamore Street in Murray. 40-year-old Phillip Nelson of Murray was charged with Possession of Methamphetamine, Marijuana, and Drug Paraphernalia and was lodged in the Calloway County Jail. On Sunday afternoon, deputies went to a residence on Saddlebrook Lane in effort to locate 45-year old Stephanie Wecker of Hardin and 47-year old Bradley Whyte of Benton, both known to be fugitives with multiple warrants. Whyte was charged with Possession of Methamphetamine, Marijuana, and Drug Paraphernalia in addition to warrants for Failure to Appear for cases in Livingston County and Caldwell County District Court case. Wecker was charged with Possession of Methamphetamine as well as multiple Failure to Appear warrants from Graves County, Marshall County, Calloway County, and McCracken County.
TWO CHARGED AFTER MURRAY TRAFFIC STOP
On Sunday, Deputy Jon Hayden stopped a vehicle on 12th Street in Murray for a traffic violation and located drugs during a search. 54-year old Jeffrey Cooper of Murray was charged with Operating on a Suspended License, Possession of an Open Alcohol Container, Possession of Methamphetamine, and Possession of Drug Paraphernalia. A passenger, 43-year old Emily Odom of Murray, was charged with Possession of a Controlled Substance and possession of a Prescription Controlled Substance Not in Proper Container.
CCHD REPORTS 116 NEW CASES
The Calloway County Health Department reported 116 new cases of COVID-19 from Friday through Monday with only 15 of those cases under 60 years of age and the majority of the new cases unvaccinated. The county currently has 437 cases isolated at home and 7 are hospitalized. Calloway County's latest reported positivity rate is 11.83% which is lower than the state rate of 13.7%. Monday, the state reported 1,643 confirmed new cases and 24 confirmed new deaths. There were 2,446 hospitalized as of Monday, which is 117 more than last Monday, including 646 in ICU, which is 7 less than a week ago.
MSU MOVES UP ON USNWR RANKINGS
Murray State University has again been recognized by U.S. News & World Report as one of the top schools in the country, ranking 11th among peer institutions in the "Top Public Schools – Regional Universities South" category and 25th in the "Best Regional Universities South" category — an increase over last year in the latter classification. Murray State is the highest-ranked regional public university in a multi-state region, inclusive of Kentucky and Tennessee. UK placed 61st on the public university list, while Louisville came in at 96. In the overall national university rankings, Kentucky was ranked 127, Louisville at 187, and Bellarmine at 202. Berea College was Kentucky's highest-ranked national liberal arts college at 30 and Asbury University was the 13th ranked regional university in the South.
GAS PRICES SLIGHTLY LOWER
Gas prices in West Central Kentucky are five cents lower this week at $2.85 per gallon, according to AAA East Central's Gas Price Report. With the height of summer in the rearview mirror, motorists are seeing some relief at the pump, as the national gas price average dropped by a penny on the week to $3.17. However, the recovery from Hurricane Ida remains slow, with the latest U.S. data showing just under half of the U.S. offshore oil production in the Gulf still idle after companies shuttered production ahead of the storm. In the week ahead, pump prices may be impacted by Tropical Storm Nicholas, which is expected to bring heavy rains and a storm surge to the Texas coast this week. If the tropical storm puts additional refineries offline, we are likely to see prices increase.
COURT SCHEDULES PUBLIC ZOOM SESSIONS ON VIOLENCE
The public is invited to discuss how the state court system handles cases of domestic violence, dating violence, stalking and sexual violence at four virtual community forums this month. The regional forums will take place September 27-30 on Zoom. Participants are required to register. The forums are part of an in-depth, statewide assessment being conducted by the Administrative Office of the Courts, the operations arm of the Kentucky Judicial Branch. The assessment is to identify gaps in the way the court system addresses domestic violence issues. The event for our area will be held from 3 until 4 pm on September 30. Information on signing up is available at kycourts.gov.
IN AND AROUND KENTUCKY
FRANKFORT—The Kentucky National Guard is stepping in to help as eight of the commonwealth's ten hospital regions are on highest alert because of dangerously high capacity levels. Governor Andy Beshear said yesterday that patients coming in for other conditions face long waits for a bed or to see a doctor. Commissioner for Public Health Dr. Steven Stack says Kentucky's hospitals are nearing collapse. Only hospitals in much of eastern and northeastern Kentucky are facing fewer bed shortages than the rest of the commonwealth.
FRANKFORT—The New York Times is ranking Kentucky third on its list for highest COVID-19 rates in the country. The same report puts Perry County at the top of the list of communities in the nation with the worst COVID-19 rates. Governor Andy Beshear says virtually every county in the commonwealth is in the red zone and each has some of the fastest spread of the virus in the country.
LEXINGTON—The Fayette County Board of Education is adopting a districtwide mask mandate. The board voted unanimously yesterday to continue with a universal mask mandate for all students, staff, and visitors to school campuses and in FCPS school buses and vehicles. The mandate will remain in place even after state lawmakers passed a bill putting control of masking policies in the hands of the districts.
OWENSBORO—Kentucky State Police are charging an Owensboro man in the death of his estranged wife. KSP officials arrested 36-year-old Joshua Fuller yesterday and charged him with murder involving domestic violence and tampering with physical evidence. Hannah Fuller was found shot to death last month at a home in Owensboro. Investigators believe Joshua was involved in a fight with Hannah when she was shot. The investigation is on-going.
ELIZABETHTOWN—A Kentucky State Trooper killed on the job is being honored. A new street sign was unveiled in Elizabethtown yesterday in honor of Trooper Cameron Ponder. The Rineyville native was shot and killed on September 13th, 2015 by a wanted man after Trooper Ponder was involved in a car crash during a pursuit. Cameron Ponder Drive leads to KSP Post 4 in Elizabethtown.
UNDATED—There's good news for those who like to explore caves. Mammoth Cave National Park announced this week that eight additional miles of the cave system have been discovered. The cave now has 420 miles of known passages. Mammoth Cave is the world's longest cave.
TENNESSEE—There are over 39-hundred new coronavirus cases in Tennessee. The Tennessee Department of Health reported the new cases yesterday, bringing the total since the outbreak began to nearly one-million-155-thousand. Over 30 additional COVID-19-related deaths were also reported, with the total number standing at over 14-thousand. There are over 36-hundred COVID-19 hospitalizations in Tennessee.
TENNESSEE—A Middle Tennessee man convicted of killing his autistic son will be sentenced today. Joseph Daniels is expected to spend life in prison for the 2018 murder of five-year-old Joe Clyde Daniels, and other charges. Baby Joe's body has never been found. His mother, Krystal Daniels is charged with aggravated child neglect and is expected to go on trial early next year in Dickson County.
TENNESSEE—U.S. Representative Steve Cohen is putting a personal touch on his plea for Tennesseans to get vaccinated against COVID-19. The Memphis Democrat posted to Twitter yesterday saying he wasn't vaccinated against polio as a child. Rep. Cohen says he later developed the illness and is still living with its after-effects.
TENNESSEE—A former police officer in West Tennessee is being remembered. A Sea of Blue was held last night in Ripley to pay tribute to Officer Tim Mullen. Officer Mullen was found unconscious inside the Ripley Police Department last Wednesday night and later died. His family says he died from a blood clot in one of his lungs.