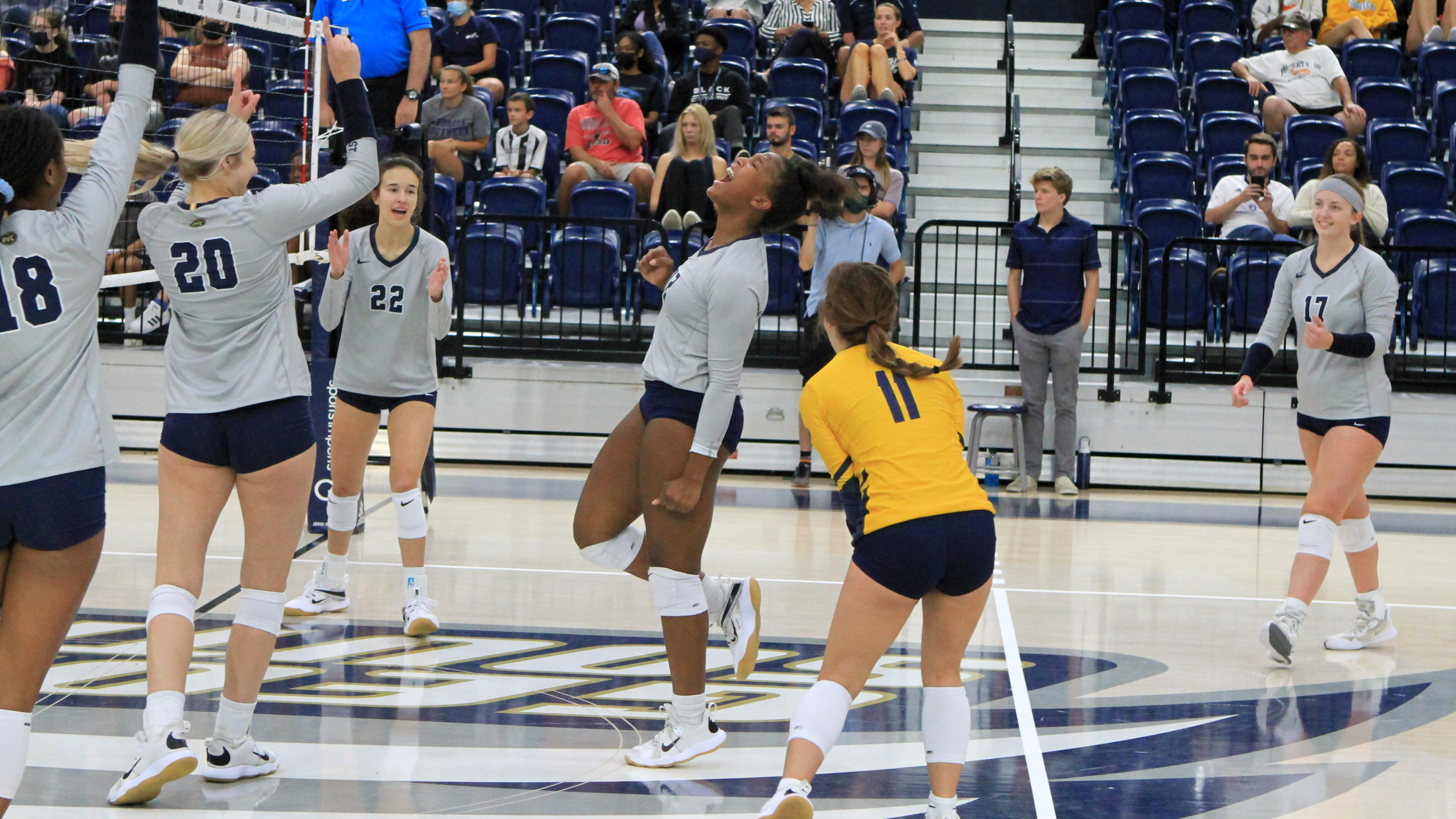 Photo by Dave Winder, MSU Athletics
RACER FRESHMAN CLAIMS TWO WEEKLY VOLLEYBALL AWARDS
Murray State's Brooke Lynn Watts is OVC Volleyball's Offensive Player of the Week and Newcomer of the Week. The NCAA Kills Per Set leader had another incredible weekend on the court, leading to her being named Newcomer of the Week for the third straight week and Offensive Player of the Week for the second time. Watts set the Murray State single-match 4-set record with 34 kills in the win over Georgia Southern. Her 34 kills is also the most in a four-set match in the NCAA this season. The Racers return to action on Friday at Evansville's Dunn Hospitality Invitational.
RACER WOMEN'S GOLF IN 6TH AT STEWART MEMORIAL
The Murray State women's golf team is in sixth place after 36 holes at the Payne Stewart Memorial at Twin Oaks Country Club in Springfield, Missouri. The Racers carded team scores of 299 and 305 for a 604 total. Oral Roberts has the team lead with a 582. Alabama State transfer Alma Garcia led the Racers with a spot in sixth place at 146. The final round is being played today.
GIRLS HIGH SCHOOL SOCCER
Calloway County 11, Mayfield 1
Murray High 2, University Heights 1
Hopkins Central 2, Caldwell County 1
BOYS HIGH SCHOOL SOCCER
Calloway County 5, Mayfield 4
St. Mary 3, Trigg County 0
SOCCER TONIGHT: Calloway County at Murray High girls and boys
HIGH SCHOOL VOLLEYBALL
Murray High 3, Fulton County 0
(25-14, 25-13, 25-22)
Graves County 3, Mayfield 0
(25-22, 25-8, 25-19)
St. Mary 3, Hickman County 0
(25-19, 25-13, 25-11)
Carlisle County 3, Livingston Central 0
(25-7, 25-10, 25-14)
WAINO GETS CARDINALS CLOSER TO WILD CARD SPOT
Adam Wainwright won his fifth consecutive game after tossing six shutout innings in a 7-0 Cardinals win over the Mets. Paul Goldschmidt had a home run and two RBI, while Harrison Bader and Yadier Molina finished with three hits apiece. St. Louis is a half-game back of Cincinnati and San Diego for the final NL Wild Card spot. Jake Woodford gets the start in New York tonight with airtime at 5:15 on WNBS AM and FM.
1986 NCAA CHAMPIONS TO BE HONORED SATURDAY
The 1986 NCAA Championship Louisville Cardinals will be signing autographs at Louisville Live on Saturday. The event will be held at Churchill Downs and the members of the '86 team will sign autographs just before the current Cardinals take the court. They will also be honored at Louisville's football game against UCF on Friday night.
VACCINE OR TEST RESULTS REQUIRED FOR PREDS GAMES
You're gonna need a shot to get into a Preds game. Bridgestone Arena will require proof of COVID-19 vaccination or proof of a negative COVID-19 test. The negative COVID-19 test needs to be within 72 hours of entry into the arena. Guests of all ages are encouraged to wear masks inside the arena as well, regardless of their vaccination status.
FORMER VOLS CAPTAIN DIES
Former Tennessee Volunteers linebacker Parys Haralson died on Monday at the age of 37. The cause of his death is not yet known. Haralson was a two-time captain with Tennessee and ended his college career fifth in program history with 21 sacks. He was then picked by the San Francisco 49ers in the fourth round of the 2006 NFL Draft, and played with San Francisco until 2012. He then played for the New Orleans Saints from 2013 to 2014.
NATIONAL SPORTS BRIEFS
The Raiders are cashing out on Monday Night Football. Derek Carr found a wide open Zay Jones in overtime as the Raiders rallied to stun the Ravens 33-27 in Las Vegas. Carr finished with 435 passing yards, two touchdowns, and an interception. Darren Waller ended the night with 10 catches for 105 yards and a touchdown. Daniel Carlson kicked a 55-yard field goal as regulation ended to force overtime. The Ravens held a 14-point lead early. Lamar Jackson passed for 235 yards and a touchdown. Jackson also rushed for 86 yards but had a critical fumble which set up the winning drive for Las Vegas. Ty'Son Williams and Latavius Murray each rushed for touchdowns for Baltimore.
The Washington Football Team is putting quarterback Ryan Fitzpatrick on the injured reserve. ESPN reports that Fitzpatrick suffered a right hip subluxation and will miss six-to-eight weeks. The 38-year-old got injured in the second quarter of Washington's 20-16 home loss to the Los Angeles Chargers. Taylor Heinicke took over at QB when Fitzpatrick left the game, throwing for 122 yards and a touchdown.
USC is parting ways with its head coach after only two games into the season. USC athletic director Mike Bohn announced head coach Clay Helton was fired on Monday, following the Trojans 42-28 upset loss to Stanford at home on Saturday. Helton took over as USC's head coach in 2015 and led the Trojans to three Pac-12 South Division titles, a Pac-12 Championship and 2017 Rose Bowl win. Donte Williams was named the program's interim head coach for the rest of this season. Bohn said USC will conduct a national search for Helton's replacement over the next several months.
Texas is making a change at quarterback following its first loss of the season. Head coach Steve Sarkisian announced Monday that junior Casey Thompson will take over as the Longhorns' starting QB. He replaces redshirt freshman Hudson Card, who threw for 285 yards and two touchdowns in his two starts this season. Thompson played in the second half of Texas' 40-21 loss to Arkansas, completing 5-of-8 passes and rushing for 44 yards and two TDs. Sarkisian said both quarterbacks will continue to get snaps, but Thompson will start under center against Rice on Saturday.
The Giants are booking their trip to the postseason. Evan Longoria plated four runs as the Giants beat the Padres 9-1 in San Francisco. Longoria closed out a five-run first inning with his three-run homer. Brandon Belt, Tommy La Stella and Mike Yastrzemski also went deep for San Francisco, which has won eight straight and became the first team to clinch a playoff spot. Zack Littell got his third win in relief.
MONDAY'S SCOREBOARD
NFL
——-
Las Vegas Raiders 33, Baltimore Ravens 27 (OT)
MLB National League
——-
Miami Marlins 3, Washington Nationals 0
St. Louis Cardinals 7, New York Mets 0
Los Angeles Dodgers 5, Arizona Diamondbacks 1
San Francisco Giants 9, San Diego Padres 1
MLB American League
——-
New York Yankees 6, Minnesota Twins 5 (10)
Toronto Blue Jays 8, Tampa Bay Rays 1
Houston Astros 15, Texas Rangers 1
Seattle Mariners 5, Boston Red Sox 4
MLB Interleague
——-
No Games Scheduled
WNBA
——-
Las Vegas Aces 85, Dallas Wings 75
TUESDAY'S SCHEDULE (All times are Eastern)
MLB National League
——-
6:35 p.m. – Cincinnati Reds at Pittsburgh Pirates
7:05 p.m. – Chicago Cubs at Philadelphia Phillies
7:05 p.m. – Miami Marlins at Washington Nationals
7:10 p.m. – St. Louis Cardinals at New York Mets
7:20 p.m. – Colorado Rockies at Atlanta Braves
9:45 p.m. – San Diego Padres at San Francisco Giants
10:10 p.m. – Arizona Diamondbacks at Los Angeles Dodgers
MLB American League
——-
3:10 p.m. – Cleveland Indians at Minnesota Twins (DH)
7:05 p.m. – New York Yankees at Baltimore Orioles
7:07 p.m. – Tampa Bay Rays at Toronto Blue Jays
8:05 p.m. – Houston Astros at Texas Rangers
8:10 p.m. – Los Angeles Angels at Chicago White Sox
8:10 p.m. – Oakland Athletics at Kansas City Royals
10:10 p.m. – Boston Red Sox at Seattle Mariners
MLB Interleague
——-
6:40 p.m. – Milwaukee Brewers at Detroit Tigers
NCAA College Football (Top-25 Coaches' Poll)
——-
No Games Scheduled
WNBA
——-
7:00 p.m. – Indiana Fever at Atlanta Dream