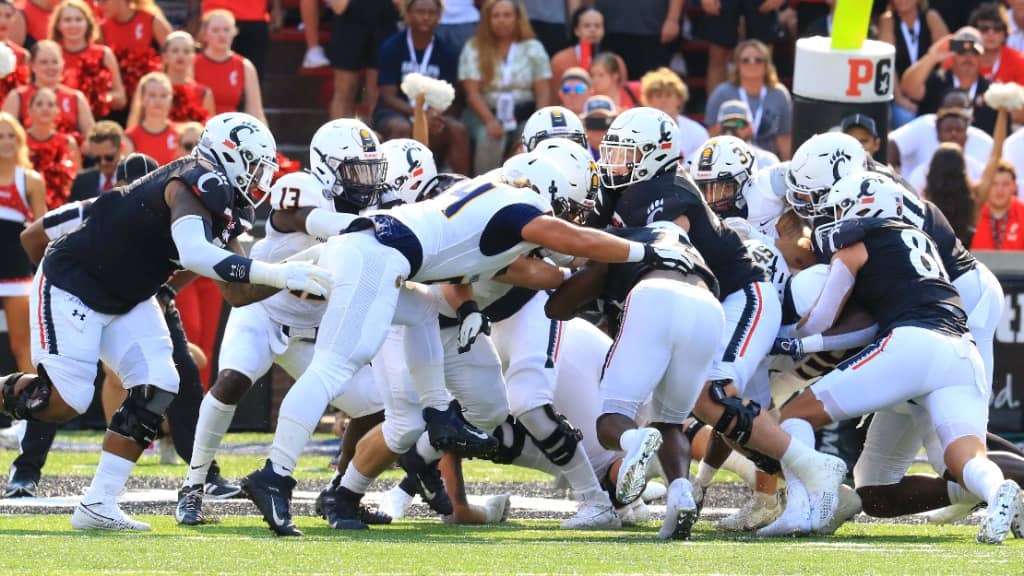 Photo by Dave Winder, MSU Athletics
STRONG HALF DOESN'T HOLD UP FOR RACERS VS #7 CINCY
Jerome Ford rushed for 113 yards and three touchdowns as No. 7 Cincinnati beat Murray State 42-7 on Saturday at Nippert Stadium. With the score tied at 7 at halftime, the Bearcats put up 35 unanswered points in the second half to secure the win. Turnovers plagued the Racers in the contest, as the Bearcats scored 21 points off of three Racer interceptions and two fumbles. Murray State also racked up 11 penalties for 60 yards. Quarterback Preston Rice finished the day for MSU by going 17-for-29 for 149 yards passing and 21 yards and a touchdown rushing. Redshirt freshman DeShun Britten caught a career-high five passes for 58 yards and a long of 23 to lead the MSU receivers in the game, while Damonta Witherspoon led the rushing attack with 52 yards on 62 carries. Defensively, Izaiah Reed, Eric Samuta and Devontae McKee led the Racer defense with five tackles each. This Saturday, the Racers will get another crack at an FBS opponent when they travel to The Buckeye State for the second consecutive week. Kickoff time at Bowling Green is scheduled for 4 pm central with the game being broadcast nationally on ESPN3 and locally on Froggy 103.7 FM, where you can hear tonight's Hey Coach Show with Neal Bradley beginning at 6:30.
OVC GAMES
Dayton 17, Eastern Illinois 10
Furman 26, Tennessee Tech 0
#1 Sam Houston 52, Southeast Missouri 14
Jackson State 38, Tennessee State 16 (Memphis)
UT Martin 33, Samford 27
Ole Miss 54, #17 Austin Peay 17
AREA COLLEGE FOOTBALL ROUNDUP
The Kentucky football team is 2-and-0 after beating Missouri 35-28 on Saturday in Lexington. The 'Cats will play Chattanooga this Saturday at 11 am Central Time at Kroger Field. Tennessee is 1-and-1 after losing to Pittsburgh 41-34 at Neyland Stadium on Saturday. The game was designated as the Johnny Majors Classic. The Tennessee native coached at both schools, including winning the 1976 national title with the Panthers. Elsewhere, Louisville beat Eastern Kentucky 30-3, Western Kentucky fell to Army 38-35, Vanderbilt edged Colorado State 24-21, Memphis outscored Arkansas State 55-50, and Middle Tennessee State lost to Virginia Tech 35-14.
LAKERS ROLL, TIGERS SQUANDER HUGE RUSHING NIGHT
In high school football last Friday night, Calloway County took advantage of five Marshall County turnovers with a pair of Drew Hudgin pick six's for 41-20 win at Jack Rose Stadium. The 2-2 Lakers are at Mayfield this Friday. Murray High rushed for over 500 yards with four players running for over 100 each, but three turnovers helped Union County secure a 53-28 home win. The 3-1 Tigers are off this Friday. In other games
Mayfield 32, McCracken County 14
Graves County 48, Bullit East 46
Fulton County 8, Ballard Memorial 0
Caldwell County 9, Crittendon County 0
Trigg County 48, Fort Campbell 16
Bowling Green 38, Hopkinsville 7
LAKER BOYS AND GIRLS CLAIM 2A SECTIONAL TITLES
In girls high school soccer on Saturday, 6-6 Calloway County made it four wins in a row with a 4-0 victory over Paducah Tilghman on Saturday at the Jim Nix Soccer Complex, giving the Lady Lakers the Kentucky Class 2A Sectional 1 title. The Calloway girls host Mayfield today. The 8-2 Calloway Boys also claimed the Kentucky Class 2A Sectional 1 title with a 7-0 crushing of Webster County in Murray. The Laker boys will host Mayfield after tonight girls game.
MURRAY HIGH SOCCER ROUNDUP
The Murray High boys won two of three at the Boots and Butts Classic in Hopkinsville, downing the host school 8-1 on Saturday and 6-3 on Sunday, while losing 3-1 to West Jessamine on Sunday. The 7-5 Murray boys return to action tomorrow night when they join the girls in hosting Calloway County in a Crosstown Classic twinbill. The 5-5 Murray High girls return to action tonight with a 6 pm match at University Heights.
VOLLEYBALL ROUNDUP
Murray High volleyball fell to Ballard Memorial and Mayfield at the Kentucky All-A Region 1 Volleyball Tournament in Paducah. The Bombers won 25-25, 25-18 before the Cardinals won 25-15, 26-24. 5-6 Murray is at Fulton County tonight. Calloway County is off until tomorrow night's home match with Marshall County.
LOCAL GOLF ROUNDUP
Murray High shot a 358 and came in fourth at the Kentucky All-A Classic Golf Tournament on Saturday in Richmond. Lexington Christian took the title with a 319, just 10 strokes ahead of second-place Glasgow. Emerson Vaughn led the Lady Tigers with a 78, which landed her in 8th place. Calloway County's Javen Campbell shot an 81 and finished second on Saturday in the Graves County Invitational Tournament at the Mayfield Country Club. She and Kaylee Tharpe will travel to Owensboro next week for the inaugural Kentucky Class 2A State Tournament.
RACER SOCCER LOSES TO KENTUCKY
Murray State dropped a 3-2 heartbreaker at Kentucky in overtime on Sunday at Bell Soccer Complex in Lexington, Kentucky. Izzy Heckman and Chloe Barnthouse scored goals for the 4-3 Racers who return to action on Sunday when SIU visits Cutchin Field
CARDINALS BLANK REDS
J.A. Happ pitched five-and-a-third shutout innings and the bullpen put up zeros the rest of the way in a 2-0 Cardinals win over Cincinnati. Nolan Arenado hit a two-run home run in the first inning to drive in the game's only runs. Happ picked up his ninth win of the season. Giovanny Gallegos earned his eighth save. Before the game, the team activated Johan Quezada from the COVID-19 injured list and placed Junior Fernandez on the 60-day injured list. The Cardinals move just a game back of both Cincinnati and San Diego for the final NL Wild Card spot. The Cardinals are in New York to face the Mets tonight, with a 5:15 airtime on WNBS AM and FM.
MINOR LEAGUE ROUNDUP
In Minor League baseball, the Memphis Redbirds beat the Sounds 6-3 in Nashville, while the Louisvillle Bats lost to the Indianapolis Indians 3-0 in Louisville.
TITANS FALL IN OPENER
The Tennessee Titans season opener was a dud, as Tennessee lost to the Arizona Cardinals 38-13 in Nashville. Derrick Henry was held in check with just 58 rushing yards for the Titans. Ryan Tannehill finished with just 211 passing yards, a touchdown, and a pick for Tennessee. A.J. Brown caught the lone touchdown for the Titans and had 49 receiving yards. Kyler Murray threw four touchdowns and ran for another, and Arizona's Chandler Jones had five sacks. The Titans play the Seattle Seahawks on the road on Sunday.
BAFFERT HORSES BANNED
Don't expect to see Bob Baffert-trained horses at the Kentucky Derby or Oaks next year. Churchill Downs announced on Friday that no horses trained by those suspended by the track or by trainers supervised by a suspended trainer will be allowed to gain points in qualifying races. The policy also applies for qualifying races outside Kentucky. Baffert was suspended from Churchill Downs after Medina Spirit won the 147th Kentucky Derby when a post-race test found a steroid in the horse's system.
NASHVILLE WINS
Nashville SC picked up a win across the border over the weekend. Nashville beat CF Montreal 1-0 on Saturday in Quebec. Walker Zimmerman scored in the 66th minute to break the stalemate and give Nashville the lead. Nashville is second in the MLS Eastern Conference standings with 41 points.
NATIONAL SPORTS BRIEFS
Matthew Stafford had a debut to remember for the Rams. Stafford connected with Van Jefferson on a 67-yard touchdown early as the Rams took down the Bears 34-14 in Inglewood on Sunday Night Football. The high profile offseason acquisition racked up 321 passing yards and three touchdowns for Los Angeles. Darrell Henderson Jr. added a rushing touchdown for the Rams. Justin Fields completed two passes for 10 yards and rushed for a touchdown in limited action for the Bears.
The NFC West is flexing its muscles early in the NFL season. All four teams in the division picked up Week One wins on Sunday capped off by the Rams' 34-14 rout of the Bears on Sunday Night Football in Inglewood. Elsewhere, the 49ers beat the Lions 41-33 in Detroit, the Cardinals crushed the Titans 38-13 in Tennessee, and the Seahawks knocked off the Colts 28-16 in Indy. Also on Sunday, the Steelers opened up with a huge 23-16 road win over the Bills. Patrick Mahomes threw three touchdown passes including two late in the fourth quarter as the Chiefs rallied past the Browns 33-29 in Kansas City.
Maia Chaka is making history as the first Black woman to officiate an NFL game. She took to the field Sunday at the Bank of America Stadium in Charlotte, North Carolina as the Jets took on the Panthers. The NFL shared a video of Chaka ahead of the game saying Sunday marks a proud moment for her. She said she hopes her accomplishment empowers others to step outside the box and do something different. Chaka marks the third on-field woman official in the NFL.
After a wild Week Two of college football, the Oregon Ducks have made their way into the top five of the Coaches Poll. Oregon bolted all the way up to number four overall after its 35-28 road win over the Ohio State Buckeyes on Saturday, who dropped to number 11. Alabama remains at the top of the poll, followed by Georgia and Oklahoma then Oregon. Texas A&M rounds out the top five. The Iowa Hawkeyes leaped up to number 7 overall after beating Iowa State 27-17 on Saturday. Iowa State fell to number 14 after the loss. BYU entered the poll at number 23 after beating Utah and Arkansas found itself ranked 24th after it beat Texas over the weekend.
Max Scherzer is joining a club only 18 other MLB pitchers have ever joined. Mad Max fanned Eric Hosmer of the San Diego Padres for his three-thousandth career strikeout. The Dodgers' ace has won three Cy Young Awards and is an eight-time All-Star. Los Angeles went on to win the game over San Diego, eight to nothing on Sunday.
Novak Djokovic will not win the complete grand slam in 2021. He fell in straight sets to Daniil Medvedev of Russia in the U.S. Open Men's Finals. It is Medvedev's first Grand Slam championship. This loss makes Djokovic one short of winning all four grand slams in 2021.
SUNDAY'S SCOREBOARD
MLB National League
——-
Los Angeles Dodgers 8, San Diego Padres 0
Colorado Rockies 5, Philadelphia Phillies 4
Washington Nationals 6, Pittsburgh Pirates 2
Atlanta Braves 5, Miami Marlins 3
St. Louis Cardinals 2, Cincinnati Reds 0
San Francisco Giants 6, Chicago Cubs 5
MLB American League
——-
Detroit Tigers 8, Tampa Bay Rays 7 (11)
Toronto Blue Jays 22, Baltimore Orioles 7
Houston Astros 3, Los Angeles Angels 1
Chicago White Sox 2, Boston Red Sox 1
Kansas City Royals 5, Minnesota Twins 3
Texas Rangers 4, Oakland Athletics 3
MLB Interleague
——-
Milwaukee Brewers 11, Cleveland Indians 1
Arizona Diamondbacks 5, Seattle Mariners 4
New York Mets 7, New York Yankees 6
NFL
——-
Philadelphia Eagles 32, Atlanta Falcons 6
Pittsburgh Steelers 23, Buffalo Bills 16
Cincinnati Bengals 27, Minnesota Vikings 24 (OT)
San Francisco 49ers 41, Detroit Lions 33
Arizona Cardinals 38, Tennessee Titans 13
Seattle Seahawks 28, Indianapolis Colts 16
Los Angeles Chargers 20, Washington Football Team 16
Carolina Panthers 19, New York Jets 14
Houston Texans 37, Jacksonville Jaguars 21
Kansas City Chiefs 33, Cleveland Browns 29
Miami Dolphins 17, New England Patriots 16
Green Bay Packers 38, New Orleans Saints 3
Denver Broncos 27, New York Giants 13
Los Angeles Rams 34, Chicago Bears 14
WNBA
——-
Washington Mystics 79, Chicago Sky 71
Minnesota Lynx 90, Indiana Fever 80
Los Angeles Sparks 81, Seattle Storm 53
MONDAY'S SCHEDULE (All Times Are Eastern)
NFL
——-
8:15 p.m. – Baltimore Ravens at Las Vegas Raiders
MLB National League
——-
7:05 p.m. – Miami Marlins at Washington Nationals
7:10 p.m. – St. Louis Cardinals at New York Mets
9:45 p.m. – San Diego Padres at San Francisco Giants
10:10 p.m. – Arizona Diamondbacks at Los Angeles Dodgers
MLB American League
——-
2:05 p.m. – Minnesota Twins at New York Yankees
7:07 p.m. – Tampa Bay Rays at Toronto Blue Jays
8:05 p.m. – Houston Astros at Texas Rangers
10:10 p.m. – Boston Red Sox at Seattle Mariners
MLB Interleague
——-
No Games Scheduled
NCAA College Football (Top-25 Coaches' Poll)
——-
No Games Scheduled
WNBA
——-
3:00 p.m. – Dallas Wings at Las Vegas Aces