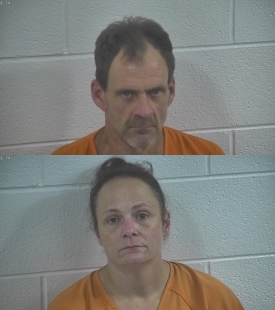 Photos via CCSO
CCSO MAKES TWO ARRESTS AFTER TRAFFIC STOPS
At approximately 11:30 Saturday Night, Calloway County Sheriff's Deputy Jon Hayden attempted to stop a vehicle in New Concord for a traffic violation. After a brief vehicle pursuit, the operator, 53-year old Dennis Payton, was arrested after he was found to be in possession of suspected methamphetamine, marijuana, and drug paraphernalia. He was charged with Fleeing or Evading Police, Possession of Methamphetamine, Marijuana, and Drug Paraphernalia, as well as various traffic related offenses. At the time of his arrest, Payton was out on bond for two pending Calloway Circuit Court Cases.
At approximately 5 pm Sunday, Calloway County Sheriff's Deputy Jon Hayden stopped a vehicle in Murray for a traffic violation. 39-year old Tracey Kendall of New Concord was the driver and was found to be in possession of suspected morphine, marijuana, and drug paraphernalia. She was arrested and charged Possession of a Controlled Substance, Prescription Controlled Substance Not in a Proper Container, Possession of Marijuana and Drug Paraphernalia, and various traffic related offenses. She was lodged in the Calloway County Jail.
ILLINOIS MAN DROWNS IN KENTUCKY LAKE
Conservation officers with the Kentucky Department of Fish and Wildlife Resources are investigating Saturday's death of a 69-year-old Illinois man on Kentucky Lake. The incident happened around 3 pm in the Sugar Bay area of the lake in Trigg County. According to initial reports, Charles Poettkerv of O'Fallon, Illinois, disappeared after he jumped into the water from the rear swim platform of an anchored boat. A witness said he was not wearing a life jacket. Divers recovered Poettkerv's body shortly after 5:30 pm. An autopsy will be performed at the Western Kentucky Regional Medical Examiner's Office in Madisonville.
WEEKLY CALLOWAY COVID UPDATE
From July 10 through the 17, the Calloway County Health Department reported 20 new cases of COVID-19 during its weekly update, bringing the county case total during the pandemic to 3,595. Of that total, 3,534 have recovered, 4 are hospitalized, and 18 are isolated at home. Of the 20 new cases, 17 were unvaccinated individuals. There have been 49 deaths, but none reported since April 15. Calloway County's COVID-19 positivity rate is 3.27%, which is lower than the state rate of 4.49%. Yesterday, 541 new Kentucky cases were reported, including 3 new deaths. Currently there are 294 hospitalized which is 60 higher than last Sunday, including 64 in ICU, which is 13 less than a week ago.
MCKEEL HONORED BY KAPE
Josh McKeel has been awarded the 2021 Excellence in Leadership Award by the Kentucky Association of Public Educators. McKeel serves as the Deputy Superintendent and Director of Pupil Personnel at Calloway County Schools. He was nominated for the award by KAPE board member Brian Collier and numerous teachers in Calloway County. The award is given to the school administrator who displays virtue, inspiration, vision, decision-making, instructional leadership, empowerment, innovation, and positivity.
CRUISE SHIP DISLODGED FROM SANDBAR
The riverboat American Jazz is free after being lodged on a sandbar for over a week. The boat went outside the normal sailing space on Lake Barkley on July 7th and got stuck. Passengers left the boat two days later, but 27 crew members stayed behind. Reports say crews with the U.S. Coast Guard used a tug assist and a barge with wires to pull the boat free Friday after water levels had risen. The operation took about two-and-a-half hours.
RED CROSS NEEDS BLOOD
The American Red Cross is still experiencing a severe blood shortage. Donors of all blood types, especially type O, and those giving platelets are urged to make an appointment to give. The Red Cross needs to collect more than 1,000 additional blood donations every day to meet current demand as hospitals respond to an unusually high number of traumas, emergency room visits, organ transplants, and elective surgeries. All who give through July 31 will receive a $10 Amazon gift card and the chance to win gas for a year. Red Cross Blood Drives in Murray are scheduled from 11 am to 4 pm Tuesday at MSU's Baurenfeind Rec Center and 11 am to 4 pm Thursday at Lowes.
CALLOWAY COUNTY TO GET AG LOANS
The Kentucky Agricultural Finance Corporation approved nearly two million dollars in 11 agricultural loans for projects across the commonwealth at its monthly board meeting. An Agricultural Infrastructure loan totaling nearly $106,000 was approved for an operation in Calloway County. Eligible projects include permanent farm structures with attached equipment that improves the profitability of farming operations.
GRAVES COUNTY PLANT GETS STATE FUNDS
The Kentucky Agricultural Development Board approved over 2.3 million dollars for agricultural diversification and rural development projects across the commonwealth at its monthly board meeting. Dowdy's Custom Meat Processing LLC in Graves County was approved for $250,000 in State funds to renovate the current processing facilities to become USDA Certified and to purchase processing equipment.
RIVER PORTS RECEIVE STATE FUNDS
Several Kentucky port cities are receiving state funding for some essential repairs. Governor Andy Beshear says improvements of the ports are needed in order to move cargo more efficiently. The port cities sharing 500-thousand-dollars include Paducah, Hickman, Eddyville, Louisville, and Owensboro.
JOBLESS RATE DOWN SLIGHTLY
Kentucky's seasonally adjusted preliminary June unemployment rate was 4.4%, according to the Kentucky Center for Statistics which was down 0.1 percentage points from 4.5% rate in May and down 1.3 percentage points from the 5.7% recorded for the state one year ago when restrictions to slow the spread of COVID-19 limited certain business operations. The U.S. seasonally adjusted jobless rate for June was 5.9%, up from the 5.8% reported in, according to the U.S. Department of Labor.
IN AND AROUND KENTUCKY
FRANKFORT—Kentucky Representative and former House Majority Leader Bam Carney has died. He was first elected to represent the 51st district in 2009. State and national officials such as Senate Minority Leader Mitch McConnell, Governor Andy Beshear, House Speaker David Osborne, and state Auditor Mike Harmon expressed sadness, sympathy, and prayers to Carney's family through statements and social media. The 51-year-old had gone home from the hospital last month after battling a severe case of pancreatitis.
WASHINGTON DC—Senate Minority Leader Mitch McConnell is trashing the latest spending plan from Democrats. It's worth three-and-a-half trillion dollars, but McConnell labeled it "completely inappropriate." The Kentucky Republican said the country is already dealing with the effects of inflation, and he pledged there won't be any Republican support for the measure. McConnell added he hopes some Democrats step forward and don't support the spending plan, and said the proposal will hurt Democrats in next year's election if they pass it.
WASHINGTON DC—Senate Minority Leader Mitch McConnell is slamming the Texas state Democrats who fled their state in attempt to halt a voting reform bill. McConnell chuckled in response to Vice President Harris' assertion that the lawmakers "sacrificed much" in their journey to Washington, DC., saying that based on lawmakers' selfies he's seen online, "they've been on a joyride on private planes" with plenty of beer on board while getting paid. The state Senate passed the bill on Tuesday night that outlaws 24-hour voting and reels in voting by mail that was expanded during the pandemic. However, it's unlikely to get a hearing in the House since Democrats plan to stay away until the special session ends in three weeks.
DAVIESS COUNTY—Daviess County deputies say a woman they found unresponsive in a pool has died. The DSCO says emergency crews pulled the woman from the pool Saturday afternoon in the 15-hundred-block of Highway 56. Deputies say it appears the woman was home alone and was discovered by a family member. She was taken to the hospital in serious condition, where she died yesterday.
UNDATED—Kentucky Fish and Wildlife officials are issuing a warning for Jefferson and Oldham counties. They say rabid bats have been found in both counties. Several bats suspected to be diseased have been found in Prospect. The Louisville Metro Health Department and Kentucky Fish and Wildlife are expected to give an update on the bats today.
TENNESSEE—Former Vice President Al Gore is pushing for more COVID-19 vaccinations in Tennessee. During a Celebration of Life ceremony for former Rep. John Lewis in Nashville on Saturday, Gore said more people need to be vaccinated in Tennessee, including teenagers. Gore said that with the death rate from COVID among Black Americans being three times higher, he called it "racist not to vaccinate people." The speech was made on the one-year anniversary of the late Civil Rights leader's death.
TENNESSEE—COVID-19 vaccination rates vary among Tennessee's three most populous counties. Davidson County leads the way with over 47-percent of its population fully vaccinated. Knox County is next with just over 45-percent of its population being fully vaccinated. Just over 36-percent of Shelby County's population is fully vaccinated.
TENNESSEE—An East Tennessee campground is closed due to bears. Paint Creek Campground in Cherokee National Forest was closed on Saturday over aggressive bear activity. It remained closed yesterday as park rangers worked to capture and relocate the bear from the campground in Green County. They say seeing bears at the campground is not unusual, however, aggressive behavior is unusual.
ILLINOIS—The Illinois Legislative Inspector General says she resigned because legislation doesn't allow the LIG any enforcement power. Carol Pope told a Springfield television station that her position is a "paper tiger," and lacks the power to hold legislator's accountable. She sent her letter of resignation to the Legislative Ethics Commission last Wednesday. Pope objects to the requirement that the LIG must go to the LEC to get permission to open an investigation, and that the target is often on that committee.