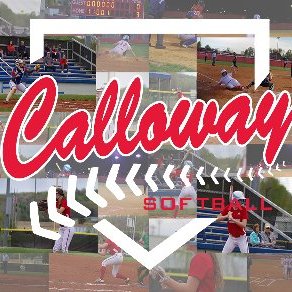 CALLOWAY SOFTBALL ADVANCES TO REGION 1 TITLE GAME
The threat of rain this week pushed the Region 1 Softball and Baseball Tournament semifinals ahead from tonight to yesterday afternoon, and moved the championship games to this evening. At the softball semifinals at Graves County High School, Calloway County held off a 7th-inning rally by Hickman County for a 5-2 win, earning a spot in the title game. Paige Kramer drove in two runs, making a winner of Isabel Housden who scattered 5 hits, giving up 1 earned run, walking none and striking out 6 in the complete game effort. Weather permitting, the 25-10 Lady Lakers will face 28-6 McCracken County in tonight's 6 pm championship game after the Lady Mustangs downed Marshall County 6-4 in the other semifinal game. Calloway made it to the semifinals with an 11-0 slaughter-rule win over Paducah Tilghman on Saturday with Kramer, Adison Hicks, and Emerson Grogan enjoying 2 RBI games. Housden tossed the complete game 3-hit shutout, walking none and striking out 4.
CALLOWAY BASEBALL FALLS IN REGION 1 SEMIFINALS
At the Region 1 Baseball Tournament semifinals at McCracken County High School, St. Mary defeated Calloway County 7-1 in a game that ended after 10:30 last night due to rain. Cadwell Turner put the Lakers ahead 1-0 with a first inning RBI, but Calloway was scoreless from there, ending the game with only 3 hits. Cade Fleming and Parker McCauley each drove in 2 runs to lead the St. Mary offense. The Vikings are scheduled to face McCracken County in today's 6 pm championship game, weather permitting, after the Mustangs pounded Marshall County 10-3 in the earlier semifinal. Calloway advanced to the semifinals with an 8-5 win over Carlisle County on Saturday. Colby While led the Laker offense with 3 hits, while joining Isaac Ward with 2 RBI games. The Lakers season ends at 17-17.
REGENTS EXTEND HOOD AND STAFF
The Murray State University Board of Regents voted Friday to extend the contracts of head football coach Dean Hood and his staff. The assistant coaching staff received extensions through December of 2022, while Hood's contract has been extended through 2024. Murray State Football completed its best regular season in nearly two decades during the spring 2020 season, going 5-2 in OVC play, in addition to notching a winning record for the first time since 2011. Murray State's 5-0 start was its best since the 1995 season and its second place OVC finish was the best since 2004. Following the season, Hood became the fourth coach in MSU history to be named OVC Coach of the Year and joins Boots Donnely as one of only two OVC coaches to win the award at two different institutions. Hood and staff coached 13 players to All-OVC honors, the second-best single-year haul in school history.
WINKER'S BIG DAY HELPS REDS SWEEP CARDINALS
Jesse Winker's three homers lifted the Reds to a 8-7 win over the Cardinals at Busch Stadium. Alex Reyes suffered the loss in relief. Tyler O'Neill hit a two-run shot and Nolan Arenado and Matt Carpenter each drove in a pair for St. Louis, which suffered the four-game sweep. The Cards host the Indians tomorrow night.
SEMO BOUNCED IN OXFORD REGIONAL
The OVC representative was two and done in the Oxford Regional of the NCAA Baseball Tournament. Fourth-seeded Southeast Missouri saw its season end after Saturday's 21-0 loss to second-seeded Southern Miss. SEMO also lost to Ole Miss on Friday night 6-3 and ended the season with a 30-22 record.
TENNESSEE AND VANDY ADVANCE
The Vols and Commodores are headed to the Super Regionals of the NCAA Baseball Tournament. Tennessee topped Wright State on a walkoff grand slam Friday and beat Liberty twice over the weekend to advance. Vandy smoked Presbyterian on Friday and then beat Georgia Tech twice over the weekend to move on.
PERRY NAMED OVC FEMALE ATHLETE OF THE YEAR
UT Martin's Chelsey Perry has been selected as the Ohio Valley Conference Female Athlete of the Year by the league's athletics directors and communications directors. Perry earned her second-straight OVC Player of the Year award this past season after averaging 22.9 points and 7.2 rebounds per game. Perry was a semifinalist for the Becky Hammon Award, was named to the Katrina McClain Award Top 10 Watch List, and was selected OVC Player of the Week five times during the year. She also led the OVC in scoring, field goal percentage, and field goals made.
CATS VISIT FORT KNOX
The UK basketball team is showing military families appreciation for the sacrifices they make. Head coach John Calipari and the team visited the post late last week. The team met with military families and put on a shooting and dunking exhibition. Calipari told officers what they do and what they teach is creating the nation's next leaders.
TITANS GET JONES
The Tennessee Titans acquired Julio Jones in a trade with the Atlanta Falcons. Tennessee traded a 2022 second round pick and a 2023 fourth round pick for Jones. The Titans also got back a 2023 sixth round pick in the deal and will take on Jones' 15.3 million dollar salary this season.
AREA MINOR LEAGUE ROUNDUP
The Memphis Redbirds picked up one win but lost the next two against the Toledo Mud Hens in Memphis over the weekend. The Redbirds won 6-5 on Friday but lost 6-1 on Saturday and fell 4-1 yesterday. The Louisville Bats split with St. Paul over the weekend in Louisville. The Bats lost to the Saints twice in a doubleheader on Friday but won on Saturday 6-3 and again yesterday 6-1.Also yesterday, Charlotte edged Nashville 3-2.
UT AND UCONN EXTEND SERIES
A pair of historic women's basketball powers will continue their rivalry for at least two more years. UT and UConn announced on Friday they've scheduled a home-and-home series. The Lady Vols will face the Huskies in Connecticut this upcoming season. UT will host UConn during the 2022-2023 season. UConn leads the Lady Vols 15-9 in the all-time series.
COX WINS AT BELMONT STAKES
Kentucky native Brad Cox is celebrating his first Triple Crown race victory as a trainer. Essential Quality won the 153rd Belmont Stakes in Elmont, New York on Saturday. Cox also trains Mandaloun, who finished second in the Kentucky Derby last month. Derby winner Medina Spirit later tested positive for a steroid and could be disqualified.
NATIONAL SPORTS BRIEFS
Trae Young scored 35 points as the Hawks held on to beat the 76ers 128-124 in Game One of the second round in Philadelphia. Luka Doncic scored 46 points but the Mavericks fell 126-111 to the Clippers in Game Seven in Los Angeles. Kawhi Leonard scored 28 points to lead the Clippers, who will face the Jazz in the second round. Tonight, the Bucks visit the Nets for Game Two of the second round, while the Suns host the Nuggets for the first game of their series.
Ethan Horvath saved a Mexican penalty in the stoppage time of extra time as the United States men defeated Mexico 3-2 in the CONCACAF Nations League Final in Denver. The Highlands Ranch, Colorado-native came on as a substitute in the 69th minute substitute for Zack Steffen, who left with a knee injury. Captain Christian Pulisic scored a 114th minute penalty to score the game-decider for the Americans.
Patrick Cantlay hit his par putt in the playoff to secure victory at the Memorial on Sunday in Dublin, Ohio. Cantlay and Collin Morikawa went from down six strokes to tied for the lead Sunday morning after Jon Rahm, the tournament's leader, was withdrawn after testing positive for COVID. The suddenly new co-leaders shot matching one-under 71s in the fourth round to finish at 13-under. Scottie Scheffler finished two-strokes back at 11-under.
Boxing legend Floyd Mayweather and social media star Logan Paul are going the distance in their exhibition bout in Miami. The two clashed for the full eight rounds in front of a raucous crowd at Hard Rock Stadium. Mayweather landed 40 percent of his total strikes to just 13 percent for Paul. Also on the card, former NFL wide receiver Chad Johnson made his debut and also went the distance against Brian Maxwell. Johnson was knocked down in the fourth and final round.
Kyle Larson is securing a Sunday sweep at Sonoma. Larson won both stages and the finale to win the NASCAR Toyota Save Mart 350. Larson held off teammate Chase Elliott in overtime. Martin Truex Jr. finished third while Joey Logano finished fourth. Kyle Busch rounded out the top five.
SUNDAY'S SCOREBOARD
MLB National League
——-
Miami Marlins 3, Pittsburgh Pirates 1
Philadelphia Phillies 12, Washington Nationals 6
Atlanta Braves 4, Los Angeles Dodgers 2
Milwaukee Brewers 2, Arizona Diamondbacks 0
Cincinnati Reds 8, St. Louis Cardinals 7
Chicago Cubs 4, San Francisco Giants 3
New York Mets 6, San Diego Padres 2
MLB American League
——–
Baltimore Orioles 18, Cleveland Indians 5
Houston Astros 6, Toronto Blue Jays 3
Tampa Bay Rays 7, Texas Rangers 1
Chicago White Sox 3, Detroit Tigers 0
Minnesota Twins 2, Kansas City Royals 1
Seattle Mariners 9, Los Angeles Angels 5
Boston Red Sox 6, New York Yankees 5 (10)
MLB Interleague
———
Colorado Rockies 3, Oakland Athletics 1
NBA Playoffs
——–
Atlanta Hawks 128, Philadelphia 76ers 124
(Hawks lead best-of-seven East second round series, 1-0)
LA Clippers 126, Dallas Mavericks 111
(Clippers win best-of-seven West first round series, 4-3)
NHL Playoffs
——–
Montreal Canadiens 5, Winnipeg Jets 1
(Canadiens lead best-of-seven North second round series, 3-0)
Vegas Golden Knights 5, Colorado Avalanche 1
(Best-of-seven West second round series tied, 2-2)
PGA Memorial Tournament (at Dublin, OH)
———
1. Patrick Cantlay (-13) (Won on first playoff hole)
2. Collin Morikawa (-13)
3. Scottie Scheffler (-11)
NASCAR Toyota SaveMart 350 (at Sonoma, CA)
———
1. Kyle Larson
2. Chase Elliott
3. Martin Truex Jr.
WNBA
———-
Minnesota Lynx 100, Atlanta Dream 80
Dallas Wings 68, Seattle Storm 67
MONDAY'S SCHEDULE (All Times Are Eastern)
MLB National League
——-
10:10 p.m. – Chicago Cubs at San Diego Padres
MLB American League
——-
9:38 p.m. – Kansas City Royals at Los Angeles Angels
MLB Interleague
——-
5:10 p.m. – Miami Marlins at Boston Red Sox
NBA Playoffs
——-
7:30 p.m. – Milwaukee Bucks at Brooklyn Nets
(Nets lead best-of-seven East semifinal series, 1-0)
10:00 p.m. – Denver Nuggets at Phoenix Suns
(Game One of best-of-seven West semifinal series)
NHL Playoffs
——-
6:30 p.m. – New York Islanders at Boston Bruins
(Best-of-seven East Division second round series, 2-2)
8:00 p.m. – Winnipeg Jets at Montreal Canadiens
(Canadiens lead best-of-seven North Division series, 3-0)
WNBA
——-
No Games Scheduled