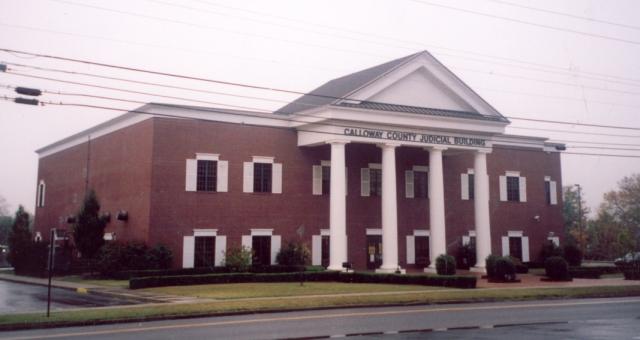 FISCAL COURT AMENDS BUDGET DURING SPECIAL SESSION
The Murray Ledger and Times reports that the Calloway County Fiscal Court met in special session Friday morning, approving a budget amendment. Calloway County Judge-Executive Kenny Imes told the paper that the county had just received a payment from the Kentucky Transportation Cabinet for resurfacing work, so the 2020-21 budget needed to be amended to reflect that addition.
GRAVES FUGITIVE CAPTURED
Authorities have found the man who led them on a pursuit in Graves County Saturday afternoon through Pilot Oak and onto KY Highway 129. The suspect fled from the vehicle into a dense wooded area near Dukedom. Deputies identified the suspect as 41-year-old Billy Dean Crouch of Graves County. They found Crouch early yesterday morning hiding in a shed near a home on KY 129 in Dukedom. He was arrested on charges of speeding, driving on a DUI suspended license, two counts of fleeing or evading police, and several traffic offenses. Crouch also had four active warrants for probation violations and failure to appear.
REPORT: DEPUTY CLEARED AFTER TCSO PROBE
WKDZ reported on Friday that the Trigg County Sheriff's Office has completed its internal investigation into last month's officer-involved shooting in the Trigg County community of Rockcastle. Members of the sheriff's department went to a home on Gold Dust Trail on May 13 to serve an arrest warrant and police said the man picked up a two-by-four and tried to hit Deputy Gary Hicks. Hicks fired his service pistol and struck the man. Sheriff Aaron Acree told WKDZ that their investigation was separate from a Kentucky State Police investigation that is continuing. Acree said their investigation determined that Hicks acted within his training and stopped the threat, and then provided medical care to the man until EMS personnel arrived. Hicks was eligible to return to work at the sheriff's office on Tuesday.
ROAD WORK BEGINS TUESDAY IN HARDIN
Plans to alter traffic flow at the U.S. 641/KY 402 intersection near Hardin will begin tomorrow morning. The Kentucky Department of Transportation says traffic at this area will shift to the restricted crossing R-Cut crossovers to allow crews to work on the curb and gutters that will eventually create left-turn lanes for north and south traffic on U.S. 641. Drivers should be prepared for changes in traffic flow. This work zone will also have a strict 45 miles per hour speed limit and KYTC says there will be enhanced police presence.
MARSHALL TO NAME NEW SUPERINTENDENT ON JUNE 17
According to WPSD TV, the Marshall County Board of Education will announce its new superintendent on June 17. The district's current superintendent, Trent Lovett, will retire effective June 30. Twenty people applied for the opening. The board of education conducted interviews with two of the five remaining candidates at last week's special called board meeting.
CALLOWAY COUNTY COVID UPDATE
The Calloway County Health Department reported 1 new case of COVID-19 on Friday, raising the case total during during the pandemic at 3,525. Of that total, 3,469 have recovered, 7 are isolated at home, and none are hospitalized. There have been 49 deaths, but none reported since April 15. As of yesterday, 34.4% of Calloway County residents have been fully vaccinated including 69.3% of those 65 and older. Calloway County's COVID-19 positivity rate as of Sunday was 1.55%, which is higher than Thursday's rate of .97%.
KENTUCKY COVID UPDATE
At Sunday's COVID-19 update for Kentucky, 369 new cases and 5 new deaths were reported, raising the total to 7,091 Kentuckians who are listed as Covid deaths. As of Sunday, there have been over 6.67 million coronavirus tests performed in Kentucky with a positivity rate of 2.45%, which is the same as last Sunday's rate. There are 296 Kentuckians hospitalized which is 29 less than last Sunday, including 83 in ICU, which is 17 less than one week ago. At least 52,992 Kentuckians have recovered from the virus. As of Sunday, 2,074,092 Kentuckians have been vaccinated for a 47% total, including 81% of those 65 and older.
I.T.S. RELEASES NEW ONBOARD VERIFY APP
Industrial Training Services of Murray has announced the release of its new mobile application for field verifications, OnBoard® Verify which helps pipeline operators ensure their field verification process meets company and regulatory standards. The mobile app allows crew leads and foremen to quickly and clearly identify the job to be performed in the field, assign a crew, instantly verify their qualifications and drug and alcohol compliance, and much more. Industrial Training Services is a woman-owned small business headquartered in Murray, and has provided innovative training products and best-in-class support to the energy industry for over 30 years.
IN AND AROUND KENTUCKY
FRANKFORT—Kentucky Commissioner of Agriculture Dr. Ryan Quarles is joining Kentucky dairymen and women in celebrating June as Dairy Month. With more than 47,000 dairy cows in the state, dairy cows produce 7.2 gallons of milk a day. Among all agricultural products, milk ranks eighth in its value in the state. Kentucky producers received more than 175 million dollars in cash receipts from sales of dairy products in 2020. The Kentucky Department of Agriculture helps Kentucky dairy farmers and processors find new markets for their products and conducts dairy cattle shows across the state.
FRANKFORT—On Friday, Governor Andy Beshear invited Kentuckians to get a COVID-19 vaccine and enter the state's new vaccine incentive drawing. Kentuckians 18 years old and older who have received at least their first dose of a Moderna or Pfizer COVID-19 vaccine, or the one-dose Johnson & Johnson vaccine, may enter to win one of three $1 million drawings. Kentuckians 12 to 17 years old who have received at least their first dose of the Pfizer COVID-19 vaccine may enter to win one of 15 full scholarships to a Kentucky public college, university, technical or trade school. Only one entry per person will be accepted, and each entry is eligible for all future drawings. However, winners will be removed from eligibility for future drawings. Visit shotatamillion.ky.gov. Entry requires Kentuckians to provide personal and contact information, as well as the place that provided you with the vaccine.
LEXINGTON—The Fayette County Coroner is identifying the six people killed in a wrong-way crash over the weekend. The coroner says 38-year-old Jamaica Caudill was going the wrong way on I-75 in Lexington Saturday afternoon and collided head-on with a vehicle carrying a family of five. Officials say Caudill and nine-year-old Karmen Greene were pronounced dead at the scene. Greene's siblings, eleven-year-old Santanna Greene, five-year-old Brayden Greene, and two-year-old Jack Greene, along with 30-year-old Catherine Greene all died at the hospital. Father Jim Sichko is a Papal Missionary for Pope Francis and pulled over to pray for the victims at the scene of the crash. He is offering to pay for the children's funeral expenses.
LEXINGTON—A woman who died after a wrong way crash on Lexington's New Circle Road is being identified. The Fayette County Coroner says 54-year-old Robin Gadd was driving the wrong way early yesterday morning when she collided with another vehicle head-on. She was pronounced dead at the scene. No reported injuries from the other vehicle. The crash came only hours after a wrong-way crash on I-75 that killed six people.
OWEENBORO—Owensboro Police are investigating after a teen was shot. Police say the 17-year-old male was shot early yesterday morning in the 12-hundred-block of West Seventh Street. The teen was taken to the hospital for non-life-threatening injuries.
HENDERSON—The cause of a Henderson house fire is under investigation. The blaze started Friday night at a home in the 15-hundred-block of Loeb Street. A firefighter was taken to the hospital for heat exhaustion and was released the same day. No one was home at the time of the fire, which was heavily damaged.
BOWLING GREEN—Kentucky's 400-mile yard sale is wrapped up for the year. Hundreds of vendors set up their wares along a 400-mile stretch of historic Highway 68 over the weekend for people to shop. The annual event drew visitors from all over the country, despite being partially rained out on Thursday.
TENNESSEE—The TBI is investigating an officer-involved shooting in Murfreesboro. The TBI says a man was shot yesterday morning near West Rutherford Boulevard and Southpointe Way following a chase. The man apparently displayed a handgun to officers prior to the chase. The man was taken to the hospital for treatment of a gunshot wound while no officers were injured.
TENNESSEE—The power is back on in Dickson County. Dickson Electric System officials say almost ten-thousand people were without power yesterday morning. The power outage happened when the Dickson District Substation went down. Most of those impacted were in the central and western part of Dickson.
TENNESSEE—A Brentwood church is remembering seven leaders killed in a plane crash. A service was held Saturday at Remnant Fellowship Church. Among the seven people killed in the crash was founder of the Christian diet program The Weigh Down Workshop, Gwen Shamblin Lara. Their plane crashed on Percy Priest Lake Memorial Day weekend.
ILLINOIS—Governor Pritzker is releasing guidance for Illinois' Phase Five reopening plan. Pritzker announced Friday that businesses and activities are able to reopen at full capacity when the state enters Phase Five June 11th. There will be no requirements for social distancing, but the practice will still be encouraged. Businesses also will not have to require daily health screenings for employees and visitors, but can set their own mitigation guidelines. Fully vaccinated people will not be required to wear masks unless required by federal, state, local, tribal, or territorial laws. Illinois is also lifting the outdoor mask requirement in schools in most situations. Masks will continue to be required on public transportation and in healthcare settings, schools, daycares, educational institutions, and group settings such as correctional facilities, veterans' homes, long-term care facilities, and group homes.