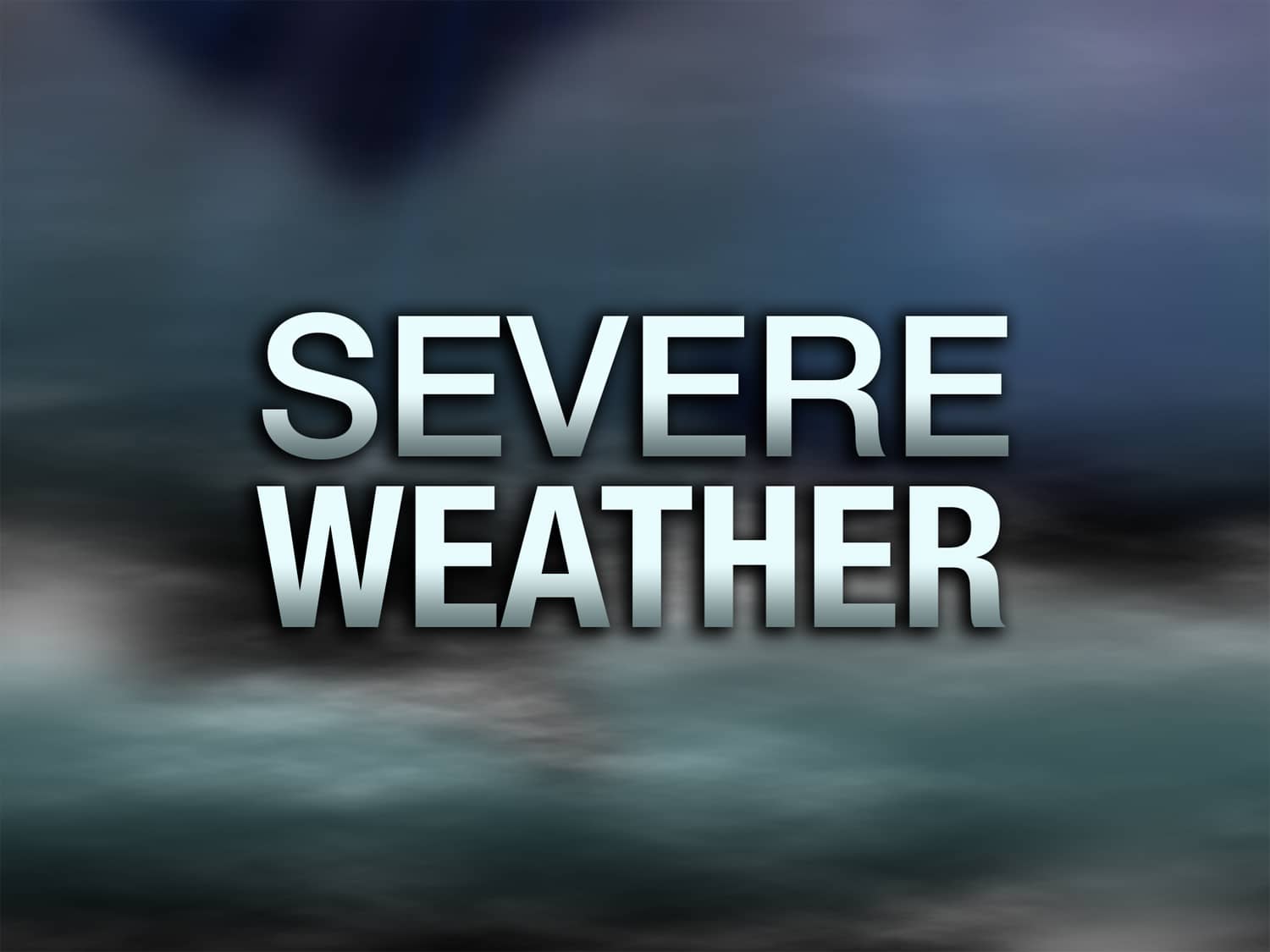 SEVERE STORMS POSSIBLE
According to the National Weather Service, there is an enhanced risk of severe thunderstorms across the area, mainly toward the end of the day and especially tonight. Damaging winds will be the primary hazard. As is almost always the case, a brief spin up tornado cannot be ruled out, along with marginally severe hail. The chance of strong to locally severe thunderstorms will continue Tuesday, primarily in the afternoon and early evening and east of the Mississippi River. A few thunderstorms are possible Thursday afternoon. Severe storms are not expected.
NORSWORTHY GETS 12 YEAR SENTENCE
WKDZ reports that a Calloway County man that police called a source of supply of crystal meth in western Kentucky was sentenced to 12 years in federal prison last week. 60-year-old James Norsworthy will also be required to complete five years of supervised release after his jail term ends for the charge of possession with the intent to distribute meth. During a search of his Calloway County property in June 2019, law enforcement recovered approximately six pounds of crystal meth, marijuana, firearms, scales, and packing materials that are indicative of drug trafficking. At the time, Norsworthy was a convicted felon and unable to lawfully possess firearms or ammunition. According to police, amounts of meth were being transported to Norsworthy's residence in gas tanks of vehicles. The meth was removed from the gas tanks and then sold by Norsworthy.
CCHD REPORTS 3 NEW COVID CASES
The Calloway County Health Department reported 3 new cases of COVID-19 Friday, bringing the county case total during the pandemic to 3,476. Of that total, 3,413 have recovered, 13 are isolated at home, and 1 is hospitalized. There have been 49 COVID-19 related deaths in the county. As of yesterday, 25.5 percent of Calloway County residents have been vaccinated including 62.5% of those 65 and older. Calloway County's COVID-19 positivity rate as of Sunday was 2.39%, which is lower than Thursday's rate of 3.19%. The Murray Independent School District last week reported 1 new student case and 2 students were quarantined. The Calloway County School District reported no new cases. Murray State University reported 2 student cases this past week.
STATE COVID RATES ALL UP OVER THE PAST WEEK
At Sunday's COVID-19 update for Kentucky, 368 new cases and 3 new deaths were reported, raising the total to 6,517 Kentuckians who are listed as Covid deaths. As of Sunday, there have been over 5.55 million coronavirus tests performed in Kentucky with a positivity rate of 3.43%, which is higher than last Sunday's rate of 3.18%. There are 416 Kentuckians hospitalized which is 35 more than last Sunday, including 106 in ICU, which is 7 more than one week ago. At least 51,514 Kentuckians have recovered from the virus.
KENTUCKY VACCINATION UPDATE
The total number of Kentuckians vaccinated as of Friday is 1,760,933 which is up over 9,000 from Thursday's total. That means approximately 739,000 Kentuckians need to get at least a first dose to reach the Team Kentucky Vaccination Challenge which Governor Andy Beshear said will trigger him to lift more restrictions. At the current rate, that will not happen for 82 days, which would be around July 21. Additionally, the Governor has given no timetable as to when he intends to lift his mask mandate.
ORR CHOSEN FOR CHA
Murray High's Andrew Orr has been accepted into the 2021 Murray State University's Commonwealth Honors Academy. The three-week summer academy will be held on Murray State's Campus beginning June 5. CHA is a challenging academic enrichment program for outstanding high school students who have completed their junior year. Upon completion of CHA, students will receive six hours of university credit, and have the opportunity to take six additional hours of tuition free university courses at MSU during their senior year. CHA students will also be awarded a four-year $2,000 per year housing scholarship to attend MSU. Orr is the son of Scott and Michelle Orr.
LUNCHEON RECOGNIZES MHS ACT 30+ CLUB
During a special recognition luncheon ceremony at Murray High School, 28 MHS students were inducted into the ACT 30+ club which recognizes students who achieve a 30 or above on their ACT. This year's inductees are Chandler Andrews, Ellen Blalock, Issac Bourne, Ella Brown-Terry, Emily Burditt, Ainsley Byers, Caleb Cauley, Luke Cross, Maggie Drew, Joshua Eaton, Alyssa Harrell, Nickolas Holcomb, Patrick Jones, Marianna Karanja, Olivia Kelly, Caroline Koenig, Jonah Morgan, Amanda Peiffer, Eliana Purcell, Chase Renick, Raegan Settle, Katelyn Stanzyk, Gabe Taylor, Reese Wilson, Jeremiah Hayes, Caroline Kim, Thomas Lyons, and Grant Riley. Murray State University partnered with Murray High for the event, and MSU president, Dr. Bob Jackson, was on hand during the event recognizing each student.
WKCTC HOSTS KAM GO PRO SHOWCASES
West Kentucky Community and Technical College and the Kentucky Association of Manufacturers are celebrating rookies in advanced manufacturing and the companies hiring them. The KAM Go Pro showcases and provides employers with a critical answer to meeting workforce needs by both getting students ready to work with two days in class and three days in the field, and employers have a first-hand opportunity for real-time assessment of student performance for future employment. This year, WKCTC had 282 graduates and more than 30 business partners. The 16 colleges of the KCTCS had more than 3,900 manufacturing grads and 435 business partners.
LICENSED HEMP GROWERS DOWN SHARPLY
Kentucky Commissioner of Agriculture Dr. Ryan Quarles announced the Kentucky Department of Agriculture has licensed 445 hemp growers to cultivate up to 12,000 acres and 140 hemp processors and handlers for 2021. The 2021 numbers reflect national trends for hemp production. According to a review of states with hemp programs, 30 out of 40 states reported reduced or significantly reduced applications for 2021. Processors and handlers reported $130 million in gross product sales in 2020. That compares with $193 million in gross product sales in 2019. Processors reported spending nearly $139 million on capital investment projects in 2020, as compared to over $207 million in 2019. Last year, Commissioner Quarles sent a letter to Kentucky's federal delegation to describe how the FDA's "bureaucratic paralysis" regarding CBD is hindering growth in Kentucky's hemp industry. Quarles serves as NASDA's president and recently pressed FDA leaders in a meeting for action on CBD guidance.
IN AND AROUND KENTUCKY
LEXINGTON—The University of Kentucky Jewish Center is working to address a rising trend of anti-Semitism on campus and in the state. Rabbi Shlomo Litvin is the director of the Chabad of the Bluegrass and led a virtual discussion on anti-Semitism yesterday with students and other leaders. Litvin shared that he and other campus leaders wanted to set the tone for the fall through this symposium. The sign in front of the center has been damaged multiple times, and at least twice university students have thrown bottles and caused other kinds of disturbances on the center's front lawn. A man also left anti-Semitic stickers on Lexington businesses, and a Jewish student was mistreated with anti-Semitic slurs and Nazi salutes. Litvin says he wants Jewish students to feel protected and heard.
LEXINGTON—Kentucky State Police are investing a police officer-involved shooting in Lexington. Police responded Saturday night to a report of shots fired in the 600 block of Marshall Lane. Officials say a 21-year-old man fired on an arriving officer, who returned fire. The shooter was hit and sustained a serious injury to his front shoulder. He was treated at the scene, then taken to the hospital. The officer wasn't hurt. The man who was shot is currently charged with burglary, wanton endangerment, and kidnapping, with additional charges pending. The officer's body cam was active during the shooting, and footage will be reviewed. The officer involved is on administrative assignment while the shooting is investigated.
HENDERSON—Kentucky Derby watch parties are popular around Kentucky, and one group of horse racing fans enjoyed the event at Ellis Park in Henderson. Attendance was limited to about 50-percent capacity in the Clubhouse. Many others gathered outside to see the race on the track's many televisions.
OWENSBORO—Over 110-thousand dollars is going to Puzzle Pieces after a Lip Sync Battle fundraiser. The fundraiser held Saturday at the Owensboro Convention Center is the nonprofit's largest of the year. A special performance by Puzzle Pieces staff and board members kicked off the night that was sponsored by Kentucky Legend. Ten teams performed in the show, and Lee Upton with Kentucky Farm Bureau earned top honors in fundraising after bringing in over 12-thousand dollars. He also won best overall performance and the Community Piece Award. The organizations serves individuals with intellectual disabilities.
LOUISVILLE—Former Kentucky lawmaker Charles Booker is again hinting at challenging Republican Senator Rand Paul in 2022. Booker and former Democratic presidential candidate Bernie Sanders held a rally in downtown Louisville yesterday. Sanders said a vote for someone like Booker would help move the country toward what he called the "progressive movement."
LAUREL COUNTY—The Laurel County Sheriff's Office is looking for a missing man with mental disabilities. LCSO has issued a Golden Alert for 21-year-old Dustin Manning. Manning was last seen south of London late on the night of Wednesday, April 28th. He was last seen wearing tan pants, a green T-shirt, grey tennis shoes, and possibly a camouflage hat.
TENNESSEE—The TBI is investigating a deadly officer-involved shooting in Nashville. A man was shot and killed in a wooded area on Saturday night after his mother called police saying he could be suicidal and had threatened to hurt people in the area. The man was shot after hours of negotiations. It's the fifth shooting involving a Metro Nashville police officer this year.
TENNESSEE—An Anderson County Sheriff's deputy is recovering after being hit by a vehicle. ACSO says Deputy Stephen Carroll was chasing someone wanted by law enforcement when he was hit Saturday night. The sheriff's office says Deputy Carroll suffered a broken leg and had surgery yesterday. ACSO says he's doing well and requested prayers for his quick recovery.
TENNESSEE—Nearly a dozen people are recovering after being injured in a deck collapse in East Tennessee. The Hamilton County Office of Emergency Management says it happened on Saturday afternoon during a birthday party at a restaurant in Soddy-Daisy. Officials say two of those injured had critical injuries. The deck will be inspected by Hamilton County Building Codes.
TENNESSEE—It's been more than a month since relatives last saw or heard from a missing Jonesborough woman, 23-year-old Allison Everetts. However, friends and family members of Everetts aren't giving up hope. They were in Downtown Jonesborough yesterday passing out flyers about Allison. She was last seen on March 29th by a family friend. Allison is described as white, thin and about five-five with blonde hair, hazel eyes with a gap in her teeth and a pink tattoo on her right forearm.
ILLINOIS—Over 18-hundred new cases of COVID-19 are being reported in Illinois. Health officials announced the new cases yesterday, along with 27 additional deaths. More then 19-hundred people in the state are hospitalized for COVID-19-related illnesses, with 225 on ventilators. Over one-point-three-million Illinoisans have tested positive for the virus and more than 22-thousand have died since the pandemic began.