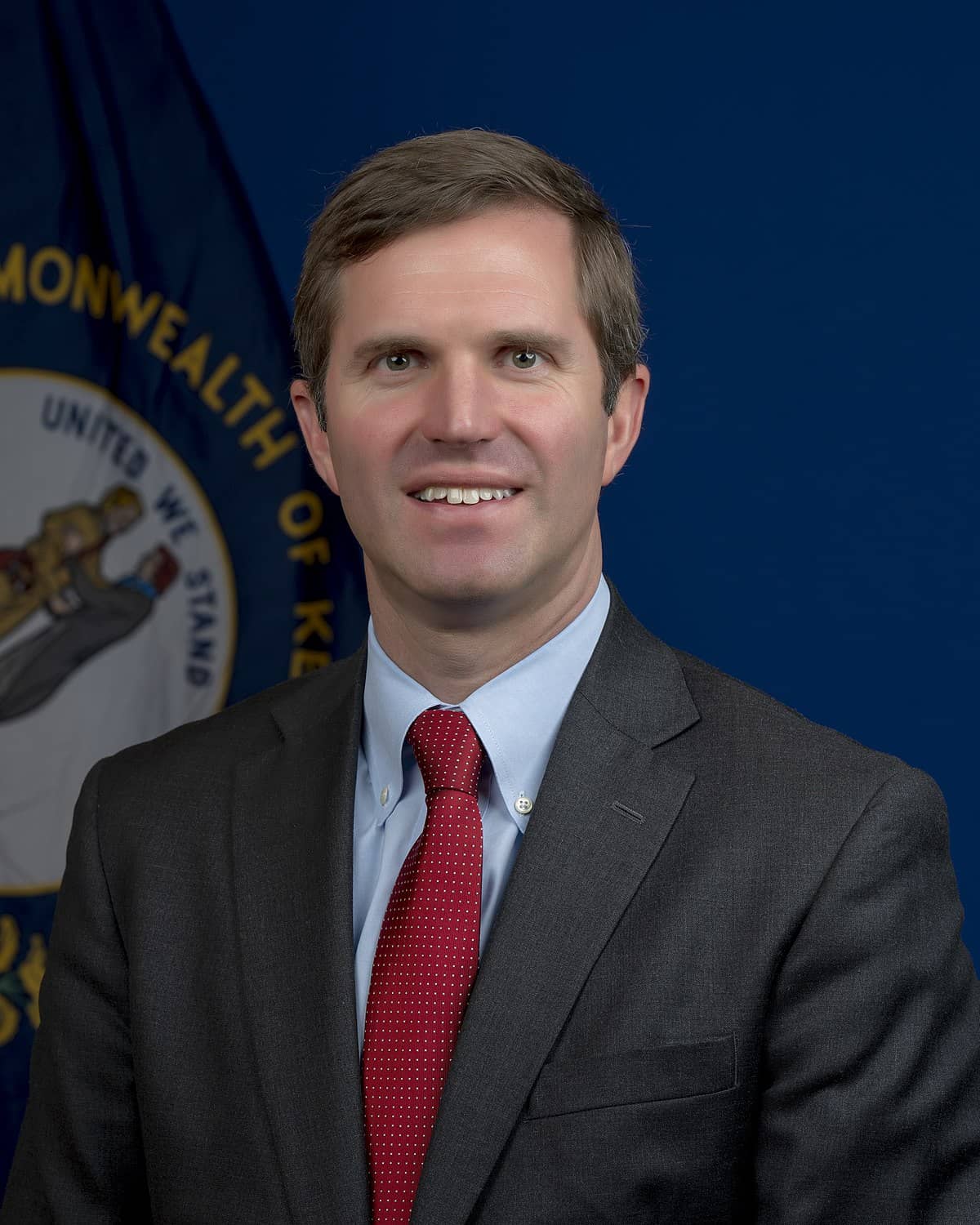 Governor Andy Beshear - Official Photo
Governor Beshear Vetoes Redistricting Bills
Governor Andy Beshear is vetoing two redistricting bills. Beshear says House Bill Two divides several counties up too much when creating state House districts. The governor cites Bill Three as an example of "unconstitutional political gerrymandering" of U.S. Congressional districts. Republicans have a supermajority in both chambers, giving them enough votes to override the vetoes.
Kentucky State Police Arrests Oregon Man for Trafficking Marijuana
Troopers with Kentucky State Police (KSP) Post 1 conducted a traffic stop on a vehicle traveling on I-69 in Lyon County for a traffic violation. During the traffic stop, a search of the vehicle was conducted which revealed large quantities of marijuana. Troopers seized approximately 170 pounds of marijuana bud having a value of approximately $765,000, 10 pounds of marijuana wax having a value of approximately $136,000, and 1 pound of mushrooms having a value of approximately $2,000.
The operator of the vehicle, identified as Robert Volz, 55 years old of Portland, Oregon, was arrested and charged by KSP for Trafficking in Marijuana Over 5 Pounds. He was lodged in the Crittenden County Jail. The investigation is ongoing.
Murray State University recognized by Kentucky House of Representatives for assistance following December storms
Murray State University was recognized by the Kentucky House of Representatives in Frankfort on January 19 for its efforts in assisting the region following the tragic storms of December 10, 2021.
Immediately following the storms and in the midst of a large-scale power outage, the University activated its Emergency Operations Center to begin coordinating, communicating and assisting those who were deeply impacted in neighboring communities. The legislative citation of appreciation was presented on the House floor by State Representative Richard Heath, who represents Kentucky's 2nd House District which includes Graves County and parts of McCracken County, to Murray State President Dr. Bob Jackson, and recognized the University for various outreach and support. This included the utilization of five campus buildings to house and feed more than 700 National Guard members, FEMA responders and first responders, as well as others displaced by the disaster.
Kentucky State News Brief
Elizabethtown Honored By Humane Society
(Louisville, KY)  –  Elizabethtown is being honored by the Humane Society of the United State.   Elizabethtown was honored Tuesday night for banning the sale of cats and dogs in retail stores and public spaces.  Etown is the first city in Kentucky to enact the ordinance.  The ordinance also bans the sale of dogs and cats at roadside stands and flea markets.
Rabbi: Stopping Hate Starts With Confronting Hateful Rhetoric
(Lexington, KY)  —  A Lexington Jewish leader says stopping hate is the job of everyone.  Chabad [ of the Bluegrass Rabbi Shlomo Litvin says hate starts with hateful words then hateful gatherings before there's violence.  Rabbi Litvin says hateful words must be rejected by everyone.  Litvin says he did the only thing he could do during a hostage situation at a Texas synagogue last  Saturday, he prayed.
Owensboro's Kids Learning From Home
(Owensboro, KY)  –  Classrooms are closed to in-person learning in Owensboro.  Owensboro Public Schools and Owensboro Catholic Schools are closed today.  Both school systems will use non-traditional instruction days today.  Daviess County Public Schools will be closed today and tomorrow and will use NTI days due to COVID-19 quarantines.
GRDHD Updates COVID-19 Numbers
(Owensboro, KY)  –  The Green River District Health Department is updating its COVID-19 numbers.  The GRDHD reported nearly 31-hundred new confirmed cases yesterday.  There were over 13-hundred cases in Daviess County alone.  There have been nearly 51-thousand cases in the seven county district since the start of the outbreak.  During that time there have been more than 730 COVID-19-related deaths.
Over 12-Thousand New COVID-19 Cases Reported In Kentucky
(Frankfort, KY)  —  Over 12-thousand new COVID-19 cases are being reported in Kentucky.  Governor Andy Beshear announced the new cases yesterday, along with 25 additional deaths.  More than 22-hundred people in the commonwealth are hospitalized for COVID-19 related illnesses, with just over 250 on ventilators.  Over one-million Kentuckians have tested positive for the virus and more than 12-thousand have died since the pandemic began.
McConnell: Dems Fueling "Fake Panic" Over Voting Rights Bills
(Washington, DC)  —  The Senate's Republican leader is accusing Democrats of fueling a "fake panic" over an imagined crisis involving voting rights.  Kentucky's Mitch McConnell says Democrats aim to "smash the Senate" to seize control of America's democracy.  The comment was a reference to Democratic efforts to change the Senate's filibuster rule to pass two voting rights and election reform bills.  The filibuster rule requires 60-votes to pass legislation.  McConnell slapped down Democratic concerns over a number of controversial election reform laws in Republican-led states.
New Study Released On Economic Impact Of Kentucky's Bourbon Industry
(Frankfort, KY)  —  A new study is out that focuses on the economic impact of Kentucky's bourbon industry.  The Kentucky Distillers' Association conducted the statewide study, which shows that the industry is on a 20-year upswing.  The reports identified 95 establishments in 40 counties that employ six thousand people.  The economic impact is estimated at 22-thousand jobs and nearly nine-billion dollars in economic output.
Lawmakers, Youth Advocates Honor Children's Advocacy Week
(Frankfort, KY)  —  Kentucky lawmakers and youth advocates are recognizing Children's Advocacy Week.  The groups met virtually yesterday, with Governor Andy Beshear pushing his two-billion dollar education investment proposal.  The annual event also highlights children's safety, health, education, and economic well-being in the commonwealth.  The week-long event began as Children's Advocacy Day at the Capitol in 2004.
Missing Owensboro Teen Found Safe, Reuniting With Family
(Owensboro, KY)  —  A missing Owensboro teen is reuniting with family after being found safe.  Police say 14-year-old Alina Bartolon was reported missing on Christmas Day from a home in the 800 block of Florence Court.  She was found unhurt yesterday by the Texas Department of Public Safety.  Police say Emery Trombley of Colorado Springs, Colorado has been arrested for custodial interference in connection with the case.
Breonna Taylor's Ex-Boyfriend Arrested Again
(Louisville, KY)  –  Breonna Taylor's ex-boyfriend is jailed at Louisville Metro Department of Corrections again.  Jamarcus Glover was the focus of the drug investigation that led to the deadly raid on Taylor's home.  Last November, Glover pleaded guilty to a number of drug charges to avoid a long prison sentence with prosecutors agreeing to let him serve five year's probation in his home state of Mississippi.  He was arrested by Jeffersontown police yesterday, though it's not yet known what he's charged with or why he returned to Louisville.
Churchill Downs COVID Testing Site Staying Busy
(Louisville, KY)  –  Business is brisk for the new mass COVID-19 testing site at Churchill Downs.  The lab running the site says it's administering between 800 to 12-hundred tests daily.  Bluewater Diagnostics says wait times can be as short as ten-to-20 minutes.  Those wanting to be tested at the site must register at BluewaterDX.com.
Etown Honored By Humane Society
(Louisville, KY)  –  The Humane Society of the United State is honoring Elizabethtown.   Elizabethtown was honored Tuesday night for banning the sale of cats and dogs in retail stores and public spaces.  Etown is the first city in Kentucky to enact the ordinance.  The ordinance also bans the sale of dogs and cats at roadside stands and flea markets.
Tennessee State News Brief
TDH Posts Weekly COVID Update
(Nashville, TN)  –  The Tennessee Department of Health is out with its weekly COVID-19 update.  TDH says there were over 16-thousand cases per day last week.  The positivity rate was 41 percent between January 9th and the 15th.  There have been over one-million-650-thousand COVID cases in Tennessee since the outbreak began.
Gov. Lee Among Republicans Seeking More Control Over Infrastructure Funds
(Nashville, TN)  –  Governor Bill Lee wants more flexibility in how Infrastructure Investment and Jobs Act money is spent.  Governor Lee is among 16 Republican governors who sent a letter to President Biden yesterday asking for more state control over the money.  The letter issued by the Republican Governors Association asks Biden and federal agencies to come up with regulations and guidance deferring to states to give them "maximum regulatory flexibility."  The governors from Alabama, Arkansas, Georgia and South Carolina were also among those who signed the letter.
Ethics Panel Finds Probable Cause To Remove State Senator
(Nashville, TN)  –  A Tennessee State Senator is expected to plead her case today against being removed from her elected position.  The Senate Ethics Committee says there's probable cause to remove Katrina Robinson after she was convicted of multiple federal charges last year.  The committee is expected to consider making a formal recommendation to the full Senate for Robinson's removal today.  The Memphis Democrat is scheduled to be sentenced in March for wire fraud.
KCS Closed Remainder Of Week
(Knoxville, TN)  –  Knox County Schools is closed for the rest of the week.  KCS announced it would be closed Tuesday due to staffing challenges brought on by illness.  The district was closed again yesterday for the same reason before saying it would shut down for the rest of the week.  KCS says while it can't implement district-wide virtual learning, online learning at individual schools may be required.
Senator Blackburn Wishes Dolly Parton Happy Birthday
(Undated)  –  Tennessee's senior senator is wishing Dolly Parton a happy birthday.  Dolly celebrated her 76th birthday yesterday.  Republican Senator Marsha Blackburn expressed birthday wishes to Dolly on social media, calling her "a true Tennessee treasure."  Dolly is a native of Sevier County in East Tennessee.
World/National Headlines
Biden Vows To Keep Fighting For Voting Rights
(Washington, DC)  —  President Biden says he's disappointed but not deterred after a voting rights bill was blocked in the Senate.  He vows to keep fighting to protect the right to vote at all costs.  Democrats echoed that, with Majority Leader Chuck Schumer saying they take inspiration from the late Dr. Martin Luther King Junior.  His oldest son reacted late last night, saying the voting rights secured by his father are under attack and they won't accept failure.
Fauci Predicts Omicron Peak By Mid-February
(Washington, DC)  —  The nation is closer to turning the corner on the latest COVID surge.  Top expert Dr. Anthony Fauci predicts most states will soon hit the omicron peak and see cases start to fall in the next three to four weeks.  It's already happening in New York and New Jersey and cities like Chicago, Cleveland and Boston.  But more rural areas that are less vaccinated will take a bit longer such as South Carolina, Oklahoma, Montana, Wisconsin and Idaho.
Maxwell Seeks New Trial Over Juror Comment
(New York, NY)  —  The woman convicted of helping sex offender Jeffrey Epstein abuse girls is officially asking for a retrial.  Ghislaine [[ GHEE-lane ]] Maxwell filed a motion after her lawyers said they would appeal.  They're citing comments by a juror who revealed during deliberations that he was sexually abused as a child.  Maxwell faces decades in prison for recruiting and grooming girls for Epstein, who took his own life in a New York jail cell in 2019.
NC Crash Kills Two Marines, Driver Charged
(Onslow County, NC)  —  New details are emerging about a military truck crash in North Carolina that killed two Marines.  Nineteen were on board and headed back to base Wednesday when the truck turned a corner and flipped over, throwing 17 Marines out from the back.  A second truck following behind hit one of them.  The governor tweeted he was proud of the heroes at Camp Lejeune and sent out prayers.  The driver has been charged with speeding.
Nearly 179K Immigration Arrests Last Month
(Washington, DC)  —  It looks like the immigration surge at the border isn't ending anytime soon.  New data from the Customs and Border Protection provided to a federal court shows nearly 179-thousand arrests last month.  That's up five-thousand from November and more than double from the year before.  Most of the migrants were either sent back or released into the U.S.  The CBP is expected to officially release its report before the end of the month.
TX Congressman's Home Searched By FBI
(Laredo, TX)  —  A Texas congressman is under investigation, it's just unclear what for.  The FBI confirms it conducted a "court-authorized" search of Henry Cuellar's [[ KWAY-arz ]] home Wednesday night.  Agents were seen taking cases and other items.  They also visited a building that reportedly houses his campaign office as well as private businesses.  Cuellar says he'll cooperate fully and is "committed to ensuring that justice and the law are upheld."
Sundance Film Festival Begins, Virtual Again
(Park City, UT)  —  The Sundance Film Festival opens today and is back online amid the COVID surge.  Organizers didn't want to cancel or postpone, so they decided to hold a virtual event for the second year in a row.  This is where independent movies make their world premiere.  Some of the high profile entries include the documentary "Luci and Desi" and the docu-series "We Need to Talk About Cosby."  The festival runs for 11 days.