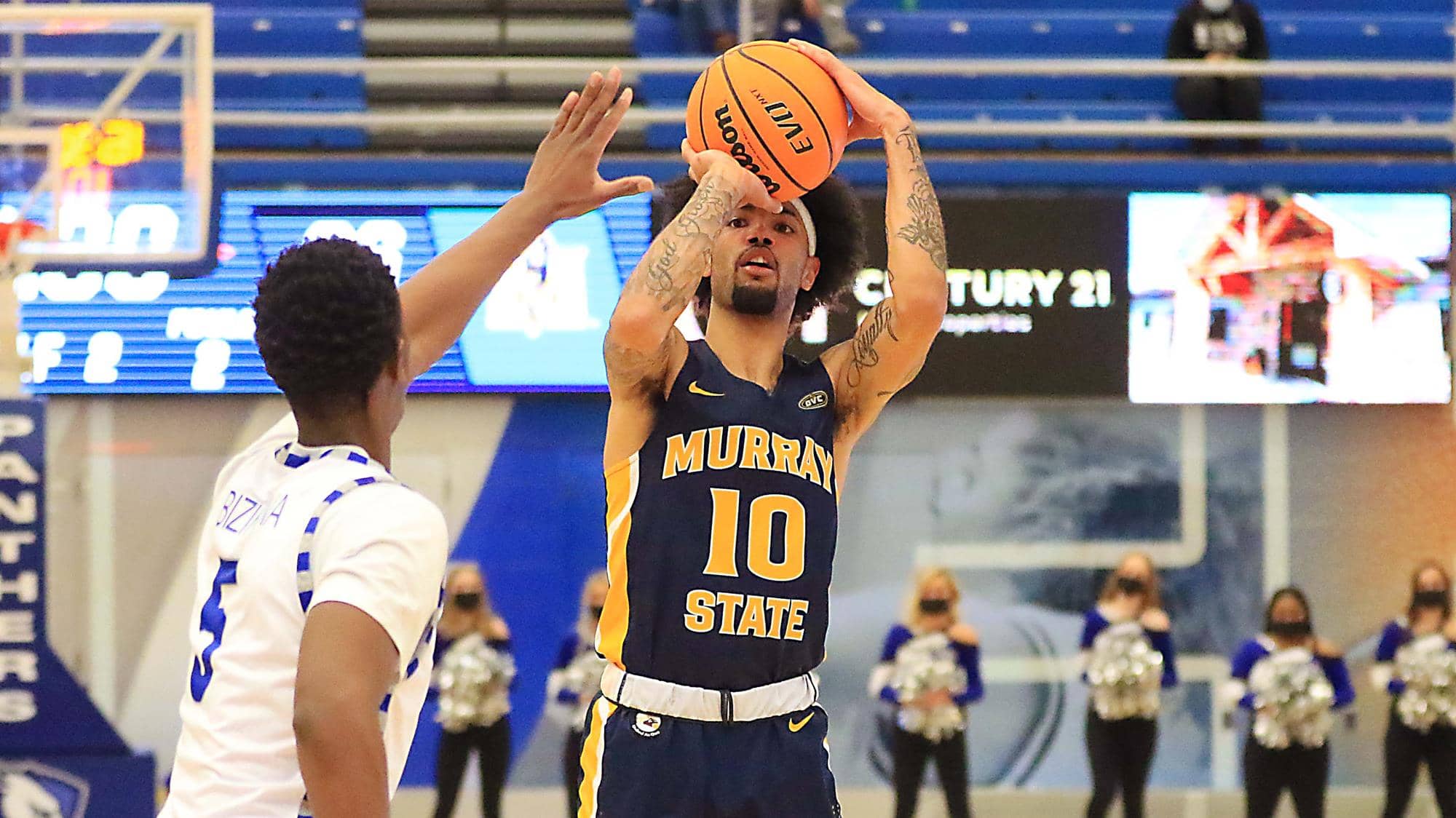 Murray Wins 2 over Eastern Illinois
Tevin Brown scored 19 points and broke the school record for career three pointers as Murray State moved to 5-0 in the OVC with a 72-46 win over Eastern Illinois last night in Charleston. Brown broke Isaiah Canaan's record of 304 career threes with 16:21 remaining on a 3-pointer from the top of the key. Brown called it an honor to surpass such a great player. With 307, Brown has the OVC record of 319 in his reach. The Racers improved to 15-2 as they begin a three game homestand with a 7 pm game on Thursday against Eastern Illinois.
In the women's game, Macey Turley and Katelyn Young had 18-point games as Murray State held off a fourth quarter charge in an 80-71 win over Eastern Illinois. With Turley's second assist of the game, she became just the second player in MSU history to score 1,500 career points and tally 400 career assists, matching a feat accomplished by current Racer assistant coach Amber Guffey. Murray State is now 12-5 on the season and 4-2 in OVC play. They welcome Eastern Illinois for a return game at 5 pm Thursday.
UK Rises In Coaches Poll
(Undated) – The Kentucky Wildcats are up five spots in the latest coaches basketball poll. The poll released yesterday ranks the Wildcats 12th. UK is 14-and-3 overall this season and 4-and-1 in the SEC. The 'Cats crushed Tennessee at Rupp Arena on Saturday and will play Texas A-and-M in College Station tomorrow night.
Grizzlies Top Bulls In Memphis
(Memphis, TN) — The Grizzlies have won 12 out of their last 13 games after taking down the Chicago Bulls 119-106 in Memphis. Ja Morant and Desmond Bane led the Grizzlies in scoring with 25 points apiece to lift their team to the win. Memphis improved its record to 31-and-15. The Grizzlies play the Bucks in Milwaukee tomorrow night.
Blues Rally Past Predators
(St. Louis, MO) — The Blues erased an early 2-0 deficit as they rallied past the Predators 5-3 in St. Louis. Brayden Schenn and Ivan Barbashev both scored twice and had two assists for the Blues, who have won six of their last eight. The Blues begin a three-game road trip on Friday in Seattle.
The Laker Boys traveled to CFS yesterday and came away with loopsided win, they defeated the warriors 91-57.
Murray Tigers playing a twin bill tonight against CFS, both games can be heard on WNBS with aitime at 5:30.
MONDAY'S SCOREBOARD
NFL Playoffs
——-
Los Angeles Rams 34, Arizona Cardinals 11 (Wild Card Round)
NBA
——-
Boston Celtics 104, New Orleans Pelicans 92
Charlotte Hornets 97, New York Knicks 87
Washington Wizards 117, Philadelphia 76ers 98
Cleveland Cavaliers 114, Brooklyn Nets 107
Memphis Grizzlies 119, Chicago Bulls 106
LA Clippers 139, Indiana Pacers 133
Atlanta Hawks 121, Milwaukee Bucks 114
Portland Trail Blazers 98, Orlando Magic 88
Miami Heat 104, Toronto Raptors 99
Dallas Mavericks 104, Oklahoma City Thunder 102
Phoenix Suns 121, San Antonio Spurs 107
Los Angeles Lakers 101, Utah Jazz 95
NHL
——-
Detroit Red Wings 3, Buffalo Sabres 2 (F/OT)
Colorado Avalanche 4, Minnesota Wild 3 (F/SO)
Arizona Coyotes 5, Montreal Canadiens 2
San Jose Sharks 6, Los Angeles Kings 2
Seattle Kraken 3, Chicago Blackhawks 2 (F/SO)
New York Islanders 4, Philadelphia Flyers 1
St. Louis Blues 5, Nashville Predators 3
Pittsburgh Penguins 5, Vegas Golden Knights 3
New Jersey Devils at Toronto Maple Leafs (Postponed)
Men's College Basketball (Top-25 Coaches Poll)
——-
#4 Purdue Boilermakers 96, #17 Illinois Fighting Illini 88 (2OT)
>Rams Crush Cardinals, Advance To Divisional Round
National Sports Headlines
(Inglewood, CA) — The Rams are moving on in the playoffs. Los Angeles crushed the Cardinals 34-11 in the NFC Wild Card Round in Inglewood. Matthew Stafford threw two touchdowns to earn his first career playoff victory. Stafford also rushed for a score. Odell Beckham Jr. caught a touchdown for the Rams, who will face the Buccaneers in the NFC Divisional Round on Sunday. Kyler Murray threw two interceptions in the loss for the Cardinals. James Conner rushed for a score for Arizona.
Raiders Fire GM Mayock
(Henderson, NV) — The Las Vegas Raiders are firing Mike Mayock as general manager after three seasons on the job. Over the course of his three years at the helm, Mayock's teams combined for a record of 25-and-24, including their first playoff appearance since 2016. The Raiders released a statement thanking Mayock for his contributions to form the foundation for the franchise to build upon in its future. Las Vegas has already begun its search for his replacement, after requesting an interview with New England Patriots director of player personnel Dave Ziegler.
49ers' Garoppolo Dealing With Shoulder Injury
(Santa Clara, CA) — The 49ers' leading man under center is dealing with another injury. Jimmy Garoppolo suffered a "slightly" sprained right shoulder in Sunday's playoff win over the Cowboys. The injury occurred in the second quarter, according to San Francisco head coach Kyle Shanahan. Garoppolo is expected to be fine in time for this weekend's game against the Packers in the NFC Divisional Round. The quarterback is already playing through a torn ligament in his right thumb.
Cowboys Front Office "Very Confident" McCarthy Will Return
(Frisco, TX) — Despite an early exit from the playoffs, the Cowboys seem comfortable with keeping their head coach. Dallas executive vice president Stephen Jones said Monday that the team feels "Very confident" that Mike McCarthy will return next season. That comes after the Cowboys were eliminated in the Wild Card Round by the 49ers, despite a 12-and-5 regular season finish. In two seasons under McCarthy, Dallas has a 18-and-15 record and no playoff wins.
Larry Ogunjobi Out For Bengals Playoff Run
(Cincinnati, OH) — One of the Bengals' best defensive linemen is out for the rest of the postseason. Cincinnati defensive tackle Larry Ogunjobi was placed on injured reserve Monday with a right foot injury. Ogunjobi suffered the season-ending setback in the Bengals' 26-19 Wild Card win over the Las Vegas Raiders on Saturday. The 27-year-old defensive tackle started 16 games this season and was third on the team with seven sacks.
Week 10 College Basketball Coaches Poll
(Undated) — The tenth week of the college basketball coaches poll is being released with a new order in the top five. Gonzaga is now the number one team in the nation after rising one spot in the rankings. Auburn moved up two spots to second, Arizona is up three spots to third, Purdue is now fourth, and Duke rose three spots to fifth. Among the largest drops in the rankings are USC, which is now 15th, and the Seton Hall Pirates who dropped out of the top 25. The Fighting Illini took the biggest leap in the rankings. Illinois rose seven spots and is now ranked 17th in the country.
Chubba Purdy Transfers To Nebraska From FSU
(Lincoln, NE) — The Cornhuskers have a new quarterback. Former Florida State signal-caller Chubba Purdy announced Monday that he is transferring to Nebraska. Previous Huskers starter Adrian Martinez transferred to Kansas State after the season, but once he left Nebraska added former Texas QB Casey Thompson to its quarterback room. Purdy and Thompson will compete for the Huskers' starting job after Nebraska went 3-and-9 last season.
Timo Meier Sets Sharks Record With Five Goals
(San Jose, CA) — Timo Meier is setting a new franchise record for the San Jose Sharks. The recently named All-Star scored five goals as the Sharks beat the Kings 6-2 in San Jose. Meier notched a hat trick in the first period, then followed it up with a pair of scores in the second period. His record-setting performance was backed by a strong day in net for James Reimer, who made 39 saves and allowed two goals.
Australian Open Day Two Recap
(Melbourne, AU) — The year's first Grand Slam continues at the Australian Open. On the men's side, Number-2 seed Daniil Medvedev and Number-3 seed Alexander Zverev each advanced with straight set wins. American Reilly Opelka also moved to the second round with a strong win over Kevin Anderson. On the women's side, top-seeded Ashleigh Barty made short work of Lesia Tsurenko with a two-set sweep. 3rd-seeded Garbine Muguruza was also victorious as she beat Clara Burel in straight sets. Madison Keys eliminated fellow American Sofia Kenin to punch her ticket to the next round.