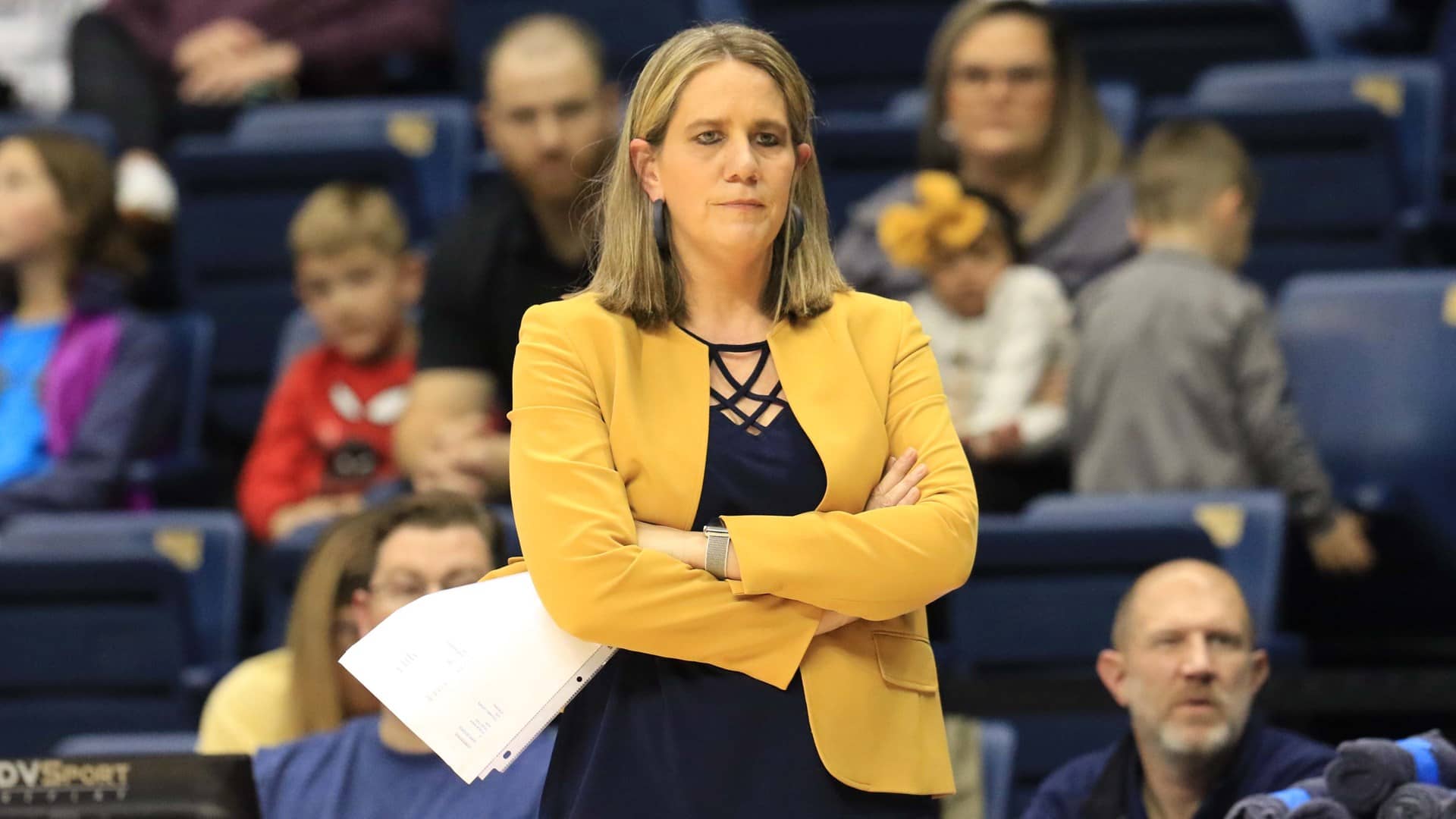 Racers Back to Court
After a week that saw its schedule in constant flux, the Murray State women's basketball team returns to the court Saturday at Tennessee Tech in a game that was moved up from Jan.27 due to postponements by each team's originally scheduled opponent. Tip-off from the Eblen Center in Cookeville is scheduled for 1 p.m., airtime 12:30 on WNBS
Racer Baseball Mentioned in Collegiate Baseball News Top 50
Murray State baseball has received votes for the Collegiate Baseball Newspaper Preseason Fabulous 50 poll presented by Big League Chew. The Racers are just one of two Ohio Valley Conference teams mentioned in the poll along with Southeast Missouri. The Racers will begin the 2022 season on February 18 against Butler at Johnny Reagan Field.
UK Hosting UGA
(Lexington, KY) – The UK basketball team is hoping to bounce back from a loss. The Wildcats will play the Georgia Bulldogs at Rupp Arena tomorrow evening. The 'Cats are 11-and-3 this season, including a 1-and-1 record in the SEC. The game is set for 6 o'clock.
Vols Seeking Road Win Against LSU
(Baton Rouge, LA) – The UT basketball team is hoping to string wins together. The Volunteers will try to win their second straight game tomorrow evening against LSU in Baton Rouge. The Vols are 10-and-3, including a 1-and-1 record in the SEC. The game is set for 6 o'clock.
Titans Look To Clinch AFC's Top Seed, Face Texans
(Houston, TX) — The Titans are hoping to lock up the AFC's top seed as they take on the Texans in Houston on Sunday. Tennessee controls its playoff destiny as it can clinch the Number-1 seed and a first-round bye with a victory. The Titans have regained their footing recently, winning three of their last four to improve to 11-and-5. There's even a chance star running back Derrick Henry can return in the postseason. Houston enters in a less than optimal position as it sits 4-and-12. The Texans have won two of their last three, but come off a 23-7 loss to the 49ers. Rookie Davis Mills looks to finish on a strong note as he's thrown 13 touchdowns and 10 picks in his first season.
Grizzlies Throttle Pistons
(Memphis, TN) — Memphis faced one of the worst teams in the NBA and beat them accordingly. The Grizzlies trounced the Pistons 118-88 in Memphis. Ja Morant led all scorers with 22 points, Dillon Brooks added 18, while Ziaire Williams and Tyus Jones each chipped in with 14 points. The Grizzlies improved to 26-and-14. Memphis plays the Clippers in Los Angeles tomorrow night.
Preds Start Fast, Beat Kings In LA
(Los Angeles, CA) — The Predators jumped to a 3-oh lead and didn't look back. Nashville beat the Kings 4-2 in Los Angeles. Filip Forsberg and Matt Duchene scored in the first period, followed by a goal from Matt Luff in the second. Yakov Trenin added an insurance score in the third period as Nashville improved to 22-11-and-2. Juuse Saros was excellent, stopping 46 shots and allowing just two goals. The Preds play the Coyotes on the road tomorrow.
High School Hoops
The Murray boys will be playing in Mustang Madness this weekend, they take on Curie Illinois tomorrow. Airtime at 10am, on WNBS. The Laker Boys, and girls teams are playing in union county in the 2A sectional, the Boys play Webster tomorrow at 1:30, and the girls play Hopkinsville Central at 5:30, both games on WBZB.
THURSDAY'S SCOREBOARD
NBA
——-
New York Knicks 108, Boston Celtics 105
Memphis Grizzlies 118, Detroit Pistons 88
New Orleans Pelicans 101, Golden State Warriors 96
Phoenix Suns 106, Los Angeles Clippers 89
NHL
——-
Minnesota Wild 3, Boston Bruins 2
San Jose Sharks 3, Buffalo Sabres 2
Tampa Bay Lightning 4, Calgary Flames 1
New Jersey Devils 3, Columbus Blue Jackets 1
Pittsburgh Penguins 6, Philadelphia Flyers 2
Dallas Stars 6, Florida Panthers 5 (SO)
Colorado Avalanche 7, Winnipeg Jets 1
Arizona Coyotes 6, Chicago Blackhawks 4
Vegas Golden Knights 5, New York Rangers 1
Nashville Predators 4, Los Angeles Kings 2
Detroit Red Wings at Anaheim Ducks (Postponed)
Toronto Maple Leafs at Montreal Canadiens (Postponed)
Ottawa Senators at Seattle Kraken (Postponed)
Men's College Basketball (Top-25 Coaches Poll) –
——
#5 UCLA Bruins 96, Long Beach State Beach 78
#8 USC Trojans 77, California Golden Bears 63
Indiana Hoosiers 67, #12 Ohio State Buckeyes 51
#23 Wisconsin Badgers 87, Iowa Hawkeyes 78
PGA
——-
Sentry Tournament of Champions (at Maui, HI)
1. Cameron Smith (-8)
T2. Jon Rahm (-7)
T2. Patrick Cantlay (-7)
T2. Daniel Berger (-7)
National Sports Headlines
Tampa Bay Buccaneers Officially Release Antonio Brown
(Tampa, FL) — The Tampa Bay Buccaneers are officially releasing wide receiver Antonio Brown. The Buccaneers said in statement while Brown was listed on the injury report leading up to the game, he was cleared to play by team doctors and never indicated to medical personnel he couldn't play. Brown has insisted on social media that he was injured and told Tampa Bay staff he couldn't return to the game, which led to him leaving the field.
Former NFL RB Clinton Portis Sentenced To 6 Months In Prison
(Ashburn, VA) — Former NFL running back Clinton Portis is being sentenced to six months in federal prison. Portis was involved in a scheme to defraud the health care benefit program for retired NFL veterans. The former Denver and Washington running back was also sentenced to six months of home confinement. Portis pleaded guilty in September after being involved with a ring of former players that filed false reimbursement claims that ran up to 2.9 million dollars.
Russell Wilson Says He Hopes To Stay In Seattle
(Renton, WA) — Russell Wilson is offering some light as to where he wants to be next season. At a press conference Thursday, Wilson said he hopes to stay in Seattle. He added that his goal is to win more Super Bowls and, "My plan is to win them here." Now this is hardly a guarantee since he never guaranteed he will stay with the Seahawks, but it appears he is considering them for the future.
Jazz Center Gobert Tests Positive For COVID-19
(Undated) — Jazz center Rudy Gobert has tested positive for COVID-19 once again. Gobert missed Utah's game against Denver on Wednesday with a non-COVID illness, but an overnight PCR test revealed he had COVID. The French center said in September that he's been vaccinated for the virus. Gobert was the first known NBA player to test positive for the coronavirus on March 11th 2020, which prompted the NBA to shut down the season.
Curry And Durant Lead NBA All-Star Fan Vote
(San Francisco, CA) — Warriors sharp shooter Stephen Curry is the top vote getter ahead of next month's NBA All-Star Game in Cleveland. League officials say as of Thursday, Curry has more than two-and-a-half million fan votes to lead all Western Conference guards. LeBron James leads all Western Conference front court players with about two-million votes. Kevin Durant leads all Eastern Conference players with nearly two-point-four million votes.
Mets Hire Eric Chavez As Hitting Coach
(Flushing, NY) — Yankees assistant hitting coach Eric Chavez is leaving his position in the Bronx to join the New York Mets as their hitting coach. Chavez was announced as part of Aaron Boone's staff back on December 20th, but came to a good faith agreement to join Buck Showalter's staff. The former Gold Glove third baseman will be joining Mets general manager Billy Eppler for the third time.
Report: College Football Playoff Championship Coming To Vegas, Miami
(Indianapolis, IN) — The College Football Playoff is adding some sites for future National Championship games. The Action Network reports Las Vegas will hosts the 2025 title game and Miami will host in 2026. That will mark 11 different cities to host a National Championship game since the CFP started in 2014. An official decision will be made once officials determine whether or not to expand the playoff.
Tennis Star Faces Deportation Over COVID Rules
(Sydney) — The number one men's tennis player is being told to leave Australia over a COVID vaccine mandate. Novak Djokovic arrived Wednesday night after being granted an exemption allowing him to play in the Australian Open tournament. But he was held at the airport for not having enough proof that he has a medical reason. His visa has been revoked and the 34-year-old is fighting deportation.
Smith Leads At Tournament Of Champions
(Kapalua, HI) — Cameron Smith leads the Sentry Tournament of Champions by one stroke after the first round at the Kapalua Resort. Smith shot a 65 and is eight under par through one round. Jon Rahm, Patrick Cantlay, and Daniel Berger are in a three-way tie for second-place at seven under par. Sungjae Im, Erik van Rooyen, and Kevin Na are in a three-way tie for fifth-place at six under. Defending champion Harris English is 35th out of 38 players after shooting a 73.
Report: New York Times To Buy The Athletic For $550M
(New York, NY) — The New York Times is reportedly buying sports journalism website The Athletic for 550-million-dollars. The Athletic provides national and local sports coverage in North American cities as well as in the United Kingdom. The Information reports the acquisition provides a new area of subscription customers to the New York Times, which had set a goal of reaching ten-million subscribers by 2025.