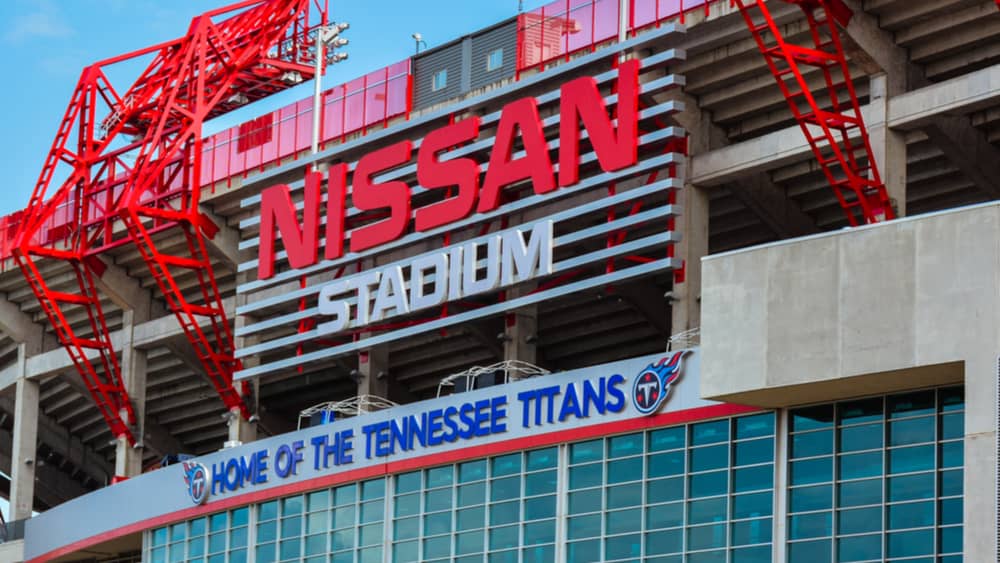 Titans Mulling A Derrick Henry Return
(Nashville, TN) — Derrick Henry has a chance to play in the Titans' regular-season finale. Tennessee head coach Mike Vrabel said Monday that they are considering designating Henry to return from injured reserve this week. That would allow him to practice this week for the Titans' Week 18 game at Houston. Vrabel said the decision will be made midweek. Henry fractured his foot in Tennessee's Week 8 road win over the Colts and had foot surgery the next day on November 1st. At the time of Henry's injury, he led the NFL with 937 rushing yards and 10 touchdowns.
Titans Activate Jones, Lamm And Brown From COVID List
(Nashville, TN) — The Titans are getting some reinforcements. Tennessee activated Julio Jones, Kendall Lamm and Jayon Brown of the COVID-19 list on Monday. The Titans play the Texans in Houston on Sunday with the AFC's top seed on the line.
Morant Scores 36 As Grizzlies Down Nets
(Brooklyn, NY) — Ja Morant played another spectacular game as Memphis picked up another win. Morant scored 36 points in the Grizzlies' 118-104 win over the Nets in Brooklyn. Desmond Bane helped out with 29 points, and Tyus Jones and Jarrett Culver each scored 12 points off the bench. Memphis improves to 24-and-14. The Grizzlies stay on the road to play the Cavaliers tonight.
Hoops Roundup
Murray State has a doubleheader against Eastern Illinois on Friday. Number-13 Kentucky plays 21st-ranked LSU in Baton Rouge tonight. The Murray High Boys lost only their 2nd game of the season last night in a 63-64 OT thriller falling to Graves . The Laker boys improved to 8-6 with a 54-51 win over Carlisle, The Laker girls also took down Carlisle last night 58-31.
Preds Play Golden Knights Tonight
(Las Vegas, NV) — The Predators hit the road to Sin City. Nashville is scheduled to play the Golden Knights in Las Vegas tonight. The Predators beat the Blackhawks 6-1 on Saturday to improve to 20-11-and-2.
Blues Visit Pittsburgh Tomorrow
(Pittsburgh, PA) — The Blues are headed to Pittsburgh to square off with the Penguins tomorrow night. The Blues will then return home for five straight in St. Louis. The Blues have won seven of their last nine following a 6-4 victory over the Wild on Saturday.
MONDAY'S SCOREBOARD
NFL
——-
Pittsburgh Steelers 26, Cleveland Browns 14
NBA
——-
Philadelphia 76ers 133, Houston Rockets 113
Washington Wizards 124, Charlotte Hornets 121
Memphis Grizzlies 118, Brooklyn Nets 104
Chicago Bulls 102, Orlando Magic 98
Detroit Pistons 115, Milwaukee Bucks 106
Utah Jazz 115, New Orleans 104
Dallas Mavericks 103, Denver Nuggets 89
Golden State Warriors 115, Miami Heat 108
Portland Trail Blazers 136, Atlanta Hawks 131
Minnesota Timberwolves 122, LA Clippers 104
NHL
——-
New York Rangers 4, Edmonton Oilers 1
Carolina Hurricanes at Toronto Maple Leafs (Postponed)
Minnesota Wild at Ottawa Senators (Postponed)
College Football Bowl Games (CFP Rankings)
——-
No Games Scheduled
Men's College Basketball (Top-25 Coaches Poll)
——-
#23 Wisconsin Badgers 74, #3 Purdue Boilermakers 69
#7 Arizona Wildcats 95, Washington Huskies 79
National Sports Headlines
Steelers Top Browns On Monday Night Football
(Pittsburgh, PA) — The Steelers are winners in what could be Ben Roethlisberger's final home game. Pittsburgh defeated the Cleveland Browns 26-14 at home on Monday Night Football. T.J. Watt recorded four sacks to move to 21-and-a-half on the season for the Steelers, who move to 8-7-and-1. Baker Mayfield threw for two touchdowns and two interceptions as the Browns fell to 7-and-9.
Ben Roethlisberger Celebrates Final Home Game
(Pittsburgh, PA) — Ben Roethlisberger is celebrating one final win at Heinz Field with a lap around the stadium and time with his family. Roethlisberger embraced fans in the front row of the stands before meeting his family in the endzone tunnel after the Steelers topped the Browns 26-14 on Monday Night Football. The Steelers quarterback spent 18 years with the black and gold, winning two Super Bowls, and indicated before Monday night's game that it would likely be his last at home.
Oklahoma QB Williams Enters Transfer Portal
(Undated) — Another high-prized college quarterback could be on the move. Oklahoma quarterback Caleb Williams announced on Twitter that he has entered the transfer portal. He added that he is keeping the Sooners as an option. Williams threw for 1,912 yards, 21 touchdowns and four picks as a true freshman with Oklahoma last season. The Sooners hired Clemson defensive coordinator Brent Venables as their new head coach.
Fans Say They Weren't Offered Aid After Railing Collapsed At FedEx Field
(Landover, MD) — Four fans are calling out the Washington Football Team after Sunday's collapsed railing incident. Four of the group who fell into the tunnel at FedEx Field have denied that the team offered on-site medical evaluation. The fans fell six feet after a railing on the side of the tunnel collapsed as Eagles quarterback Jalen Hurts was walking off the field. The WFT released a statement that "everyone involved was offered onsite medical evaluation".
Raiders' Nate Hobbs Arrested For DUI
(Las Vegas, NV) — Raiders cornerback Nate Hobbs is under arrest for DUI after being found passed out in his car. TMZ Sports reported that Hobbs was asleep at the wheel of his car on a parking lot exit ramp at the Cromwell Hotel early Monday morning. He was eventually arrested following poor field sobriety tests. Raiders interim head coach Rich Bisaccia said the team are aware of the arrest, but nothing has been determined about his status.
Tampa Bay Head Coach Has No Regrets About Antonio Brown's Tenure
(Tampa, FL) — Tampa Bay Buccaneers Head Coach Bruce Arians says he has no regrets over wide receiver Antonio Brown's time with the team. Arians said he wishes Brown well, that he cares about him, and if he needs help, he hopes he seeks some. Brown was upset on the sideline during Sunday's game against the New York Jets and stripped off his uniform before running down the field waving to the crowd and eventually exiting the field. Arians said Brown never told him he was injured and they "had a conversation and he left the field."
Kyrie Irving Returns To Nets
(Indianapolis, IN) — Kyrie Irving is rejoining the Brooklyn Nets on Wednesday for his season debut against the Indiana Pacers. Irving has yet to play during the regular season after refusing to get vaccinated for COVID. Brooklyn had decided that Irving could not be a part-time player, but after a recent outbreak across the league, the Nets have welcomed back the star point guard for road games.
Warriors Klay Thompson On Verge Of Return
(San Francisco, CA) — Golden State Warriors guard Klay Thompson is getting closer to returning to the lineup. Thompson, who has not played in an NBA game since June of 2019. The team is optimistic he could make his season debut at Chase Center as soon as this Sunday, against Cleveland. Thompson is coming back from a torn ACL in 2019, and a torn Achilles that he suffered in November of 2020.
NBA Announces 11 Rescheduled Games
(Undated) — The NBA is taking steps to reschedule games affected by COVID-19. The league announced Monday that 11 postponed games have been rescheduled. Those games will take place from this Sunday through March 31st. In total, 19 teams were affected by postponements and the Raptors topped the list with the most changes to their schedule.
Gabriel Commits To Oklahoma
(Norman, OK) — The Oklahoma Sooners have already seemingly filled Caleb Williams spot on the depth chart. Former UCF quarterback Dillon Gabriel announced Monday that he will be transferring to Oklahoma, less than three weeks after he committed to UCLA. The Sooners top-two quarterbacks in 2021, Williams and Spencer Rattler, have both left the program, with Williams entering the transfer portal just a few hours before Gabriel's announcement.