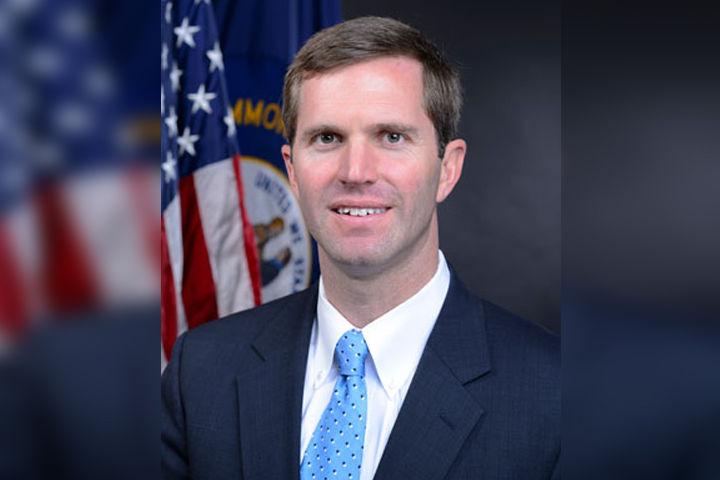 KY Gov Issues State Of Emergency For New Years Day Severe Weather
(Frankfort, KY) — Kentucky is dealing with more severe weather. Governor Andy Beshear issued a State of Emergency Saturday because of powerful storms that produced heavy rain, thunderstorms, hail, and tornadoes. Flash flooding was experienced in seven counties, and Casey and Owsley Counties have declared local states of emergency. Four areas experienced tornado damage. Beshear activated the State Emergency Operations Center and personnel from multiple agencies are on the ground monitoring and assisting with the situation.
Tornadoes Touch Down Across Kentucky
(Frankfort, KY) — The National Weather Service is confirming that four tornadoes touched down in Kentucky on New Year's Day. An EF-1 with 110 mile per hour winds hit Union City in Madison County. A slightly weaker EF-1 tornado was detected in Campbellsville. A less serious EF-1 tornado struck just northwest of Glasgow in Barren County. An EF-0 with 85 mile per hour winds blew through Bowling Green. Tornado surveys are still underway in several other counties.
Lamar Alexander's Son Passes
(Nashville, TN) – Former Tennessee governor and U.S. Senator Lamar Alexander is mourning the passing of his son Andrew. The Nashville music publisher died on Friday after a short illness. Andrew was a graduate of University School in Nashville. He was 52.
Sheriff Releases Year-End Activity Summary
The Calloway Co. Sheriff's department has relases their end of year summary. During the year 2021, Calloway County Sheriff's Deputies responded to over 17,000 calls for service. Deputies issued 261 felony citations, and 817 misdemeanor citations. Deputies also made 232 felony arrests, 429 misdemeanor arrests, and over 600 investigations.
CITY OF MURRAY PARTNERS WITH MCCH AMBULANCE TO RELOCATE
Murray Mayor Bob Rogers has signed an official agreement with Jerry Penner, CEO at MCCH, signifying a partnership for the MCCH Ambulance Department to relocate their main operations to the former downtown fire station located on Poplar Street. This facility will allow for additional bays and space to house the ambulances and a kitchen facility to better accommodate 24/7 operations, which will result in improved response time due to expansion, when Murray citizens need an ambulance.
Kentucky State News Brief
Union City In Madison County Hit By Tornado Damage
(Richmond, KY) — Madison County officials are evaluating the damage caused by a New Year's Day storm. Weather officials confirm that an EF-1 tornado struck Union City, destroying several barns and causing other damage in the city. Downed trees and branches blocked several roads for a time, but firefighters say the debris has been cleared. No injuries have been reported.
Taylor County Suffers New Storm Damage
(Taylor County, KY) — Taylor County is facing more storm damage just three weeks after a deadly tornado struck the area. Taylor County Emergency Manager Ronnie Dooley says the storm hit about two miles north of Campbellsville and at least ten structures were heavily damaged in the New Year's Day storm. Dooley says some power lines and trees are also down. Several injuries were reported following the storm, but none are believed to be life-threatening.
Casey County Experiences Weekend Flooding
(Casey County, KY) — Casey County is cleaning up after weekend flooding. County emergency manager Rick Wesley says the city of Liberty was the hardest hit. Wesley says several water rescues were made across the county Saturday from vehicles and homes. No reports of injuries.
Big Rivers Electric Breaking Ground In Owensboro
(Owensboro, KY) — Big Rivers Electric is set to break ground on its new headquarters in Owensboro. Groundbreaking is scheduled for tomorrow on the new 47-thousand square foot facility. The state has approved the plans for the facility that will be located off Second Street by Brew Bridge. The facility will replace its current Henderson headquarters.
Jefferson Co. Public Schools Set To Resume Classes During COVID Surge
(Louisville, KY) — The state's largest school district says its COVID-19 protocols will remain in place when students return to class for the spring semester tomorrow. The district's universal face mask policy remains and there are test-to-stay and test-to-play options. JCPS says its goal remains to have students attend classes in person despite rising cases.
Owensboro, Daviess Co. Leaders To Give Speeches On Thursday
(Owensboro, KY) — The annual State of the Community address will be given by Owensboro Mayor Tom Watson and Daviess County Judge-Executive Al Mattingly this week. It will be given during the Rooster Booster breakfast at the Owensboro Convention Center on Thursday. Mattingly isn't seeking re-election and is expected to give a reflective speech. Watson will give his tenth State of the City speech.
Kentucky Church Damaged Less Than A Month After Deadly Tornadoes
(Hopkinsville, KY) — A western Kentucky church is cleaning up following intense storms. The storm that hit Mount Olive Baptist Church in Hopkinsville over the weekend happened less than a month after tornadoes blew through the state killing nearly 80 people. The church sustained heavy damage to its roof and serious water damage inside.
Tennessee State News Brief
SCHD Updates COVID-19 Numbers
(Memphis, TN) — The state's largest county is updating its COVID-19 numbers. The Shelby County Health Department reported nearly 34-hundred new cases yesterday, bringing the total to over 172-thousand-600 since the outbreak began. Health department officials say there have been nearly 27-hundred COVID-19-related deaths since the start of the outbreak. There are about 19-thousand active cases in Shelby County.
TSU Pushes Back Start Of Spring Semester
(Nashville, TN) – Tennessee State is pushing back the start of its spring semester. TSU says the spring semester will start on Monday, January 24th. Classes had been scheduled to start on Tuesday, January 18th. The school citied rising cases of COVID-19 for the delay.
Knoxville Veteran Honored By South Korean Government
(Knoxville, TN) – A Knoxville veteran is being honored by the South Korea's government. William Harrison Gilley was awarded the Ambassador for Peace medal last week. The presentation was made last Wednesday at Morning Pointe Senior Living in Knoxville.
Staff Sergeant Gilley was deployed to Korea as part of the Air Force Airborne Air Control Squadron during the Korean War.
Estimated 200K Attend Nashville's NYE Celebration
(Nashville, TN) — Nashville is celebrating a successful New Year's Eve event. The Nashville Convention and Visitors Corp says attendance at the Big Bash at Bicentennial Park was near pre-COVID-19 levels. An estimated 200-thousand people attended the celebration. Attendance for the Music City Midnight in 2019 was over 200-thousand.
TSU Pushes Back Start Of Spring Semester
(Nashville, TN) — Tennessee State is pushing back the start of its spring semester. TSU says the spring semester will start on Monday, January 24th. Classes had been scheduled to start on Tuesday, January 18th. The school citied rising cases of COVID-19 for the delay.
Mega Church Going Virtual
(Nashville, TN) — A Nashville megachurch is moving its services online. Mt. Zion Baptist Church held its New Year's Eve service virtually and will do the same for the rest of its services this month. The church says the change is being made over surging COVID-19 cases. Mt. Zion Baptist Church has 33-thousand members.
Putnam Co. Schools Closed Today
(Putnam Co., TN) — Putnam County Schools are closed today. The district was expected to return to classes for the start of the spring semester today. PCS says schools are closed due to the winter weather advisory.
Davidson County To Open COVID-19 Community Assessment Centers Late Due To Weather
(Nashville, TN) — Davidson County is opening its COVID-19 Community Assessment Centers later than normal today due to cold weather. Officials said yesterday that both testing facilities will open at noon instead of 8 a.m. and operate until 3 p.m., an hour later than normal. No appointment is necessary, and walk-ups are welcome. The assessment centers are located on Murfreesboro Pike and 28th Avenue North, with more information available online at COVID-19-dot-TN-dot-gov.
Wrong Way Driver Charged In Fatal Crash On I-24 Over The Weekend
(Nashville, TN) — Officials say they are charging a man in connection to a fatal wrong-way crash on I-24 over the weekend. Police confirmed yesterday that 32-year-old Kelvin Meija-Romero is facing charges of vehicular homicide after a three-car crash Saturday morning near Lickton Pike. Meija-Romero was traveling eastbound in the westbound lanes of I-24 when he collided with a pickup truck and killed 66-year-old Samuel Dismuke Senior. Detectives said Meija-Romero had two previous DUI convictions before the incident, and he showed signs of impairment at the crash site.
City Opens Overflow Shelter As Temperatures Move Below Freezing
(Nashville, TN) — City officials are opening a cold-weather shelter to help those in need of escaping frigid temperatures. The Extreme Cold Weather Shelter on Brick Church Pike was opened last night after freezing temperatures moved across Davidson County. When open, Metro's overflow shelter operates from 7 p.m. to 7 a.m. for men, women, couples, and people with pets. Those in need of shelter when temperatures are above freezing can access resources for men and women at the Nashville Rescue Mission on Rosa L. Parks Boulevard and for men only at Room in the Inn on Drexel Street.
Airlines Cancel Thousands Of Flights Including Close To 50 At Nashville International Airport
(Nashville, TN) — Airlines say they were forced to cancel around two-thousand flights yesterday, including 48 at Nashville International Airport. Multiple airlines canceled around 23-hundred flights across the country and over 39-hundred worldwide. Southwest, United, American, SkyWest, Frontier, and Spirit blamed a mixture of COVID-19 issues and bad weather in Chicago. Several airlines are battling staff shortages with incentives, including United offering triple pay to pilots and Spirit giving cabin crews a special bonus to work on flights through Tuesday.
Tonight's Powerball Up To Half A Billion Dollars After No Jackpot Winner Over The Weekend
(Nashville, TN) — The second Powerball drawing of 2022 scheduled for later tonight is now worth 522-million-dollars or just over 371-million if taken as a cash sum. Over the weekend, there was no winner in the Multi-State Lottery Association's drawing, marking the 38th straight drawing where no one has matched the winning jackpot numbers. The last time the Powerball jackpot was awarded was on October 4th, when a grand prize of 699-million-dollars was given away. Tennessee joined the Powerball in 2004 with a 420-million-dollar winner in 2016 and a one-point-five-billion-dollar win that earned a Munford resident a share of 528-million-dollars.
National/World Headlines
Classes Resuming This Week Amid COVID Surge
(Undated) — School districts are taking steps to ramp up COVID-19 testing as students return to classrooms this week. States including California, New York, and Connecticut have sent millions of rapid antigen tests to schools and families before the restart of classes. Schools in Washington, DC and Baltimore are extending winter break by two days to test students and staff before reopening buildings. This comes as the FDA is expected to expand Pfizer's booster shots for use in 12 to 15-year-olds, possibly as soon as today.
Flight Delays, Cancellations Drag On Into The New Year
(Phoenix, AZ) — Chalk it up to COVID-19 related staffing issues or winter weather. Either way, airlines are still having a tough time getting planes off the ground. The flight tracking website FlightAware shows over 18-hundred flights within, into, or out of the United States already cancelled today. Nearly one-thousand more are delayed.
Search Continues For Fire Victims, Search Warrant Served
(Boulder, CO) — The search for answers, along with possible human remains, goes on today in Colorado after a massive wildfire destroyed around a thousand homes last week in Boulder County. Two people unaccounted for are feared dead. Investigators initially suspected downed power lines may have started the fire, but utility companies have found no evidence of that so far. Authorities confirmed over the weekend they did execute a search warrant on property owned by a religious organization in the neighborhood where it's believed the fire may have started. A member of the Twelve Tribes denied the fire started on their property when reached Sunday by the Denver Post.
Twitter Blocks Marjorie Taylor Greene's Personal Account
(Rome, GA) — Twitter says the personal account of a Georgia congresswoman will be permanently banned. The social media company announced yesterday it was blocking Republican Marjorie Taylor Greene for repeated violations of its COVID misinformation policy. Her congressional account remains open. Reacting to the ban, Greene said "Communist Democrats" can't stop the truth.
Verizon, AT&T CEOs Reject Government Request To Delay 5G Rollout
(Washington, DC) — Verizon and AT&T say this week's planned rollout of 5G wireless service is still a go. However, the CEOs of both companies said in a joint letter Sunday they won't deploy 5G around airports for six months. Transportation Secretary Pete Buttigieg [[ BOOT-edge-edge ]] and FAA Director Stephen Dickson had asked AT&T and Verizon to delay the start of 5G service for two weeks. They're concerned the technology might interfere with sensitive aircraft electronics and disrupt flights.