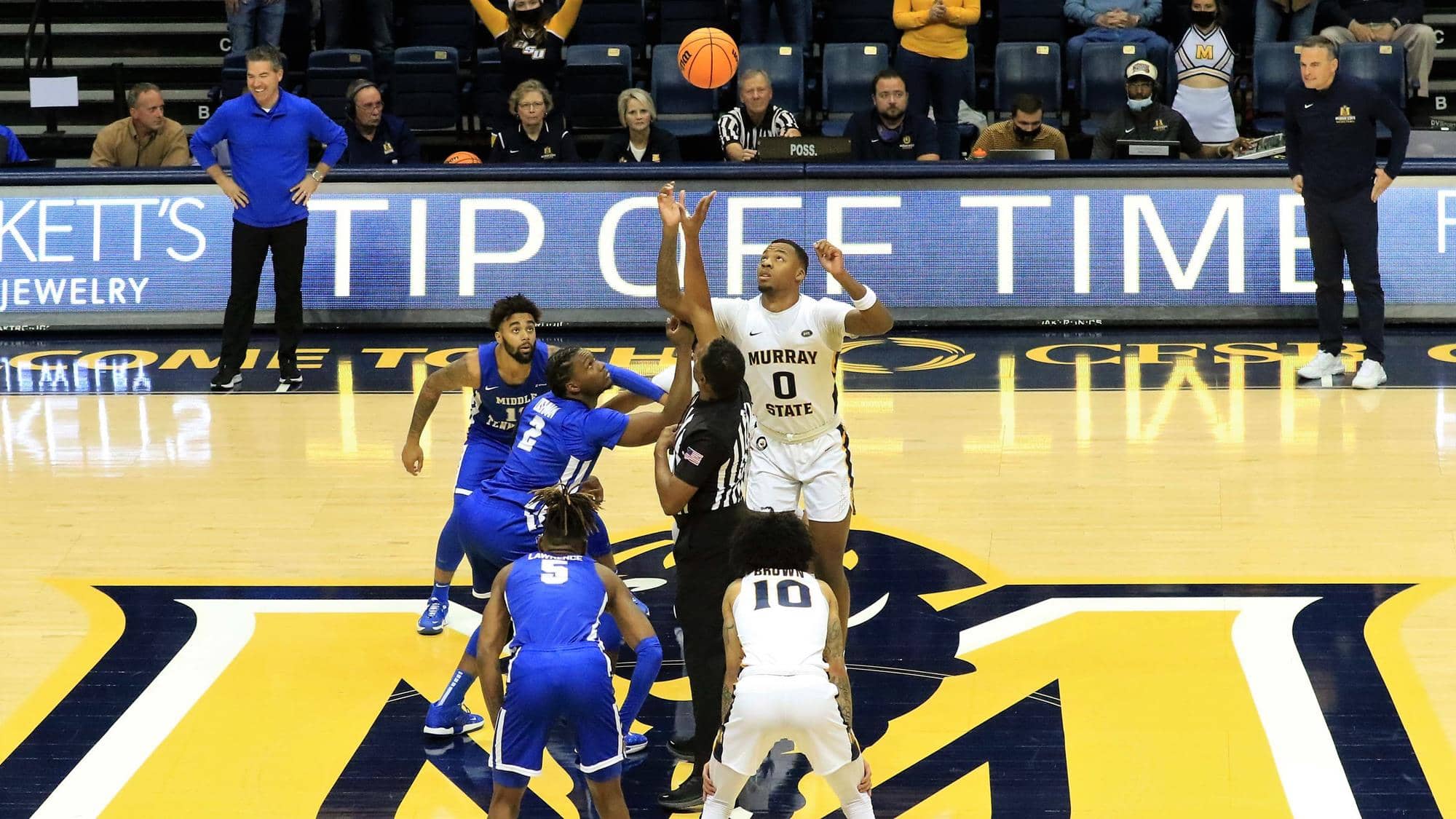 Local Hoops Round-up
The Racers are back in action Thursday with a basketball double header against SEMO. The Woman's game can be heard on WNBS with airtime at 4:30, the Men's game will be on Froggy 103.7 with airtime at 6:30.The Calloway County Boys basketball team is playing in the Asland invitational, they get underway tonight at 7. The Lady Lakers play Lincoln Co, in the ACS tourney, that game can be heard this morning starting at 8:45 on WBZB. The Murray Tigers beat Miller Academy from Missouri yesterday in the Calwell Co Classic 74-63. The Murray Boys are playing 2 games today in the Calwell Co Classic, the 1st game can be heard at 10:30 on WNBS, and the 2nd tonight at 7:30, also on WNBS. The Lady Tigers are hosting the Lady Tiger Classic, with 2 games today, with the 1st at noon. Number 17 Kentucky hosts Missouri tomorrow in Basketball, and Louisville hosts Wakeforest.
Morant Hits Late Layup To Top Suns
(Phoenix, AZ) — It's good to root for a team that has Ja Morant. Morant hit a contested layup with point-5 seconds left in the Grizzlies 114-113 win over the Suns in Phoenix. Morant led the way with 33 points and Desmond Bane was great with 32 points. Memphis improves to 21-and-14. The Grizzlies host the Lakers tomorrow night.
Hockey Round-Up
The Predators get back on the ice after some time off. Nashville plays the Capitals in Washington DC tomorrow night.
The Blues return from a league-wide holiday pause tomorrow to host the Oilers.
Cardinals To Face Air Force In First Responder Bowl Today
(Dallas, TX) — The UofL football team is hoping for its second consecutive bowl win. The Cardinals will play the Air Force Falcons this afternoon in the First Responder Bowl in Dallas. The Cards are a slight underdog against the Falcons. The game is set for 3:15.
MONDAY'S SCOREBOARD
NFL
——-
Miami Dolphins 20, New Orleans Saints 3
NBA
——-
Charlotte Hornets 123, Houston Rockets 99
Chicago Bulls 130, Atlanta Hawks 118
Minnesota Timberwolves 108, Boston Celtics 103
Utah Jazz 110, San Antonio Spurs 104
Memphis Grizzlies 114, Phoenix Suns 113
Dallas Mavericks 132, Portland Trail Blazers 117
Brooklyn Nets 124, Los Angeles Clippers 108
NHL
——-
Pittsburgh Penguins at Boston Bruins (Postponed)
New York Islanders at Buffalo Sabres (Postponed)
Detroit Red Wings at New York Rangers (Postponed)
Ottawa Senators at Washington Capitals (Postponed)
Florida Panthers at Carolina Hurricanes (Postponed)
Toronto Maple Leafs at Columbus Blue Jackets (Postponed)
New Jersey Devils at St. Louis Blues (Postponed)
Nashville Predators at Dallas Stars (Postponed)
Minnesota Wild at Winnipeg Jets (Postponed)
Los Angeles Kings at Arizona Coyotes (Postponed)
Edmonton Oilers at Calgary Flames (Postponed)
Seattle Kraken at Vancouver Canucks (Postponed)
Colorado Avalanche at Vegas Golden Knights (Postponed)
San Jose Sharks at Anaheim Ducks (Postponed)
College Football Bowl Games (CFP Rankings)
——-
Western Michigan Broncos 52, Nevada Wolf Pack 24 (Quick Lane Bowl in Detroit, MI)
Men's College Basketball (Top-25 Coaches Poll)
——-
No Games Scheduled
National Sports Headlines
Dolphins Clamp Down On Saints For Seventh Straight Win
(New Orleans, LA) — The Dolphins shut down the Saints offense to win their seventh game in a row. Miami took down the Saints 20-3 on Monday Night Football in New Orleans. Nik Needham put the Dolphins on the board early with a 28-yard pick-six in the first quarter. Tua Tagovailoa threw for 198 yards, one touchdown and one interception, and connected with Jaylen Waddle 10 times for 92 yards. Miami is now 8-and-7. Ian Book finished with 135 passing yards and two interceptions in his first start of the season as New Orleans was dealing with COVID-19 issues. The Saints drop to 7-and-8.
Report: 49ers' Garoppolo Dealing With Right Thumb Injuries
(Santa Clara, CA) — The 49ers could be losing their man under center. ESPN reports quarterback Jimmy Garoppolo is dealing with two injuries to the thumb of his throwing hand. Garoppolo reportedly suffered a torn U-C-L and a fracture in his right thumb in Thursday's loss to the Titans. The injury puts his status for Sunday's game against the Texans in doubt. San Francisco could turn to rookie Trey Lance, who started in Week 5 against the Cardinals.
NBA COVID Memo On Quarantine
(Undated) — According to a league memo distributed to NBA teams vaccinated players and coaches who are asymptomatic can now clear quarantine after six days if tests show they're no longer at risk to be infectious. The NBA and NBPA agreed to the changes that will replace a protocol that required league personnel to wait 10 days to test out of quarantine. The new protocol includes players, coaches, staff, and referees and will still allow individuals to test out of quarantine with two negative tests in 24 hours. As of Monday afternoon, 205 players have entered the league's health and safety protocols this season.
Ayton, Crowder Among Suns In COVID Protocols
(Phoenix, AZ) — The defending Western Conference champions are dealing with some COVID-19 issues. ESPN reported Monday that Suns center Deandre Ayton and head coach Monty Williams entered the NBA's health and safety protocols. This comes after forward Jae Crowder entered the protocols on Sunday. Guard Elfrid Payton was also added, but cleared after only one day. The Suns sit second in the Western Conference at 26-and-6.
No Change In Top Four Of Coaches Poll
(Undated) — The top four teams in the men's college basketball top-25 Coaches Poll remained the same this week, with undefeated Baylor holding on to the number one spot. Duke, Purdue and Gonzaga round out the unchanged top four. UCLA and Kansas each moved up one spot to fifth and sixth, respectively, while Arizona tumbled three spots to seventh after suffering its first loss of the season to Tennessee. Iowa State, USC and Michigan State complete the top ten. The Volunteers made the biggest leap in the poll, moving up four spots to 15th. Alabama slid the furthest, falling eight spots to 19th after losing to Davidson.
Boise State Withdraws From Arizona Bowl, Central Michigan Heads To Sun Bowl
(Undated) — The Boise State football team won't play in the Arizona Bowl due to COVID-19 issues in the program. As a result of the Broncos withdrawing, Central Michigan will head down I-10 to the Sun Bowl to play Washington State. Wazzu needed a new opponent in the bowl game after Miami withdrew because of COVID issues. The Sun Bowl will be played on Friday in El Paso, while the Arizona Bowl that was scheduled for Friday in Tucson is in doubt.
Steelers O-Line Coach Leaves For Oregon
(Pittsburgh, PA) — Steelers' offensive line coach Adrian Klemm is leaving the organization immediately to accept a position on the Oregon football staff. Klemm will become the Ducks new offensive line coach, run game coordinator, and assistant head coach under Dan Lanning. The move comes after head coach Mike Tomlin and the Steelers granted him an early release from his contract. This marks the second time in two years that Pittsburgh will be searching for a new offensive line coach. Assistant offensive line coach Chris Morgan will take over the responsibilities.
Report: Duke Latest Program To Deal With COVID-19 Issues
(Durham, NC) — Another top men's basketball program is having to postpone games due to COVID-19. ESPN reports Duke is expected to postpone its conference games this week due to COVID issues within the program. The 2nd-ranked Blue Devils were scheduled to face Clemson on Wednesday and Notre Dame on Saturday. With the ACC modifying its rescheduling policy, postponed games that can't be played at a later date will result in a no contest.