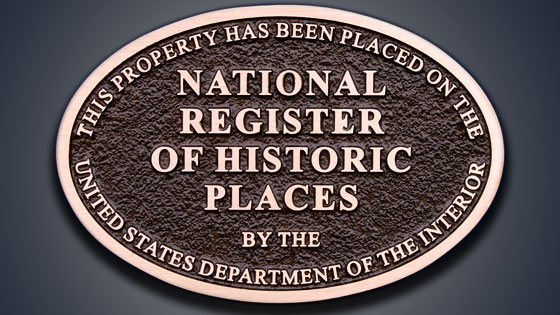 HAZEL NOMINATED FOR NATIONAL HISTORIC REGISTER
The Kentucky Historic Preservation Review Board is meeting Tuesday to review the nominations for the Central Hazel Historic District and Dayton City Hall in Campbell County. Hazel is being nominated for its significance in being a railroad town, and its support to the agriculture environment. The period of significance is between 1890-1960, and structures of that era would be included in the registry. The nomination has been presented to the Kentucky Preservation Review Board. If they agree, they will make a recommendation to the National Park Services in Washington which will have 45 days to issue a final determination. Kentucky has the fourth-highest number of places that are on the national register with more than 537 historic districts in the commonwealth.
MSU DEDICATES MAKERSPACE AREA
Murray State University and University Libraries dedicated the new Makerspace area inside Waterfield Library as part of the University's many events and celebrations associated with Homecoming 2021. Students, as well as faculty and staff, can gain hands-on experience through design and artistic expression. The new space also includes 12 dual-monitor workstations with cutting-edge software for 3D modeling, sound production, video editing, game creation, along with other digital editing tools and maker technology. The Makerspace area is available to the students, faculty and staff free of cost, and is located on the lower level of Waterfield Library. The area is currently open from 8 a.m. until 4:30 p.m. Monday through Friday.
CALLOWAY POSITIVITY RATE HOLDS STEADY
Calloway County's latest reported COVID-19 positivity rate is .9% which is lower than the state rate of 5.7%. The next county case report will be released on Friday. As of Tuesday, Calloway County was one of 77 of the state's 120 counties outside of the red zone for COVID-19 Incidence Rates. The state reported 231 confirmed new cases and 36 confirmed new deaths Tuesday. There are currently 669 hospitalized, which is 107 less than last Tuesday, including 171 in ICU, which is 67 less than a week ago.
KDA OFFERING GRANTS TO SHOW APPRECIATION FOR FARMERS
The Kentucky Department of Agriculture is focusing its newest effort on the mental health of the state's agriculture community by providing a number of grant opportunities to groups that create and conduct local projects to show appreciation for farmers and farm families. The grants are funded by part of a $500,000 grant awarded by the U.S. Department of Agriculture to KDA this year. The overall scope of the $500,000 grant will allow KDA to expand on the new campaign – "Raising Hope – Supporting Healthy Lives on Kentucky Farms." A total of $75,000 of the overall funds is available for small grants, up to $5,000 each, to be awarded to create and conduct local farmer-appreciation projects that will promote the many contributions of farmer and their families and to appreciate the various challenges farmers face working in agriculture.
FRNP RAISES FUNDS FOR EASTER SEALS TELETHON
Four Rivers Nuclear Partnership partnered with United Steel Workers Local 550 and Security Police Fire Professionals of America to coordinate a campaign that included the company's employee payroll deduction and an employee-led fundraiser. In all, the campaign raised $11,664. Those funds are presented at the Annual Lions Club/WPSD Local 6 Telethon of Stars to benefit Easter Seals West Kentucky. FRNP was awarded the Paducah Deactivation and Remediation Contract at the Paducah Gaseous Diffusion Plant in May 2017.
IN AND AROUND KENTUCKY
FRANKFORT— Governor Andy Beshear is working with Kentucky State Police and the Justice and Safety Cabinet to propose a historic investment in public safety. Beshear, along with KSP and JSC officials announced recommendations yesterday to raise the starting pay for troopers by 15-thousand dollars and dispatchers by eight-thousand dollars. KSP Sergeant Michael Murriell says the agency is seeing its most diverse applicant pool ever, adding to recruiting progress. The Governor is also requesting first-of-its kind budget funding of over 12-million to go toward an integrated video recording system, which could include body, weapon, and in-car cams.
FRANKFORT—Kentucky officials are advocating for more children to get vaccinated for COVID-19 and for others to get boosters as a decline in virus cases plateaus. Governor Andy Beshear says the quick drop in COVID-19 cases Kentucky was experiencing has slowed from just a few weeks ago. More than 345-thousand Kentuckians have gotten booster shots. Officials want to see more children five- to eleven-years old get vaccinated as school districts and health clinics across the commonwealth are planning vaccination events
UNDATED—A Kentucky man is wanted in connection with the disappearance of his son and niece. Three-year old Noah Clare's mother Amanda Ennis dropped Noah off with his father Jacob Clare for a weekend visit Friday in Gallatin, Tennessee and hasn't heard from either since. Police were able to act on Ennis' report that Noah Clare was missing once his father failed to return him at the end of the weekend. Jacob Clare's 16-year-old niece Amber Clare is believed to have left her home Friday night and to be with Jacob Clare and his son.
LAUREL COUNTY—The man a teen girl accuses of holding her against her will is back in court. James Brick appeared yesterday, where a kidnapping charge was added to initial counts of unlawful imprisonment and possession of matter of a sexual performance by a minor. The teen girl in the case was rescued after a driver saw her give a hand gesture popularized on TikTok indicating that she needed help. A detective testified that Brick knew the girl's family and had threatened to kill her animals, her pet dog, and himself in front of her if she tried to run away.
DAVIESS COUNTY—Authorities are investigating after a teen was shot in Daviess County. The shooting happened yesterday afternoon in the area of Keenland Parkway and Pimlico Court in the Colony Estates subdivision. The 15-year-old victim was taken to the hospital with non-life-threatening injuries. The Daviess County Sheriff's Office says it appears the victim was the only intended target, but the investigation is continuing.
LOUISVILLE—The state's largest city is back in the COVID-19 red zone. Over 16-hundred cases and 13 deaths were recorded in Louisville last week. Doctors say there may be several reasons for the increase, including Halloween parties and activities during fall break for students. Louisville health officials say nearly 900 children between the ages of five-to-eleven have been vaccinated since the CDC approved the Pfizer vaccine for that age group last week.
OWENSBORO—There might still be a Christmas parade in Owensboro this year. The Owensboro-Daviess County Christmas Parade was canceled earlier this month over financial issues and a lack of volunteers. Owensboro officials say a group that isn't being identified yet has expressed interest in putting on a parade to fill the void for this year. Board members of Friday after Five have also expressed interest in helping to organize the replacement Christmas parade.
TENNESSEE—The Memphis-area Kroger that was the site of a deadly mass shooting is reopening today. It's been over a month since the shooting in Collierville. One person was killed and over a dozen others were injured when a gunman opened fire inside the store on September 23rd before killing himself. Kroger officials say security and Collierville police will be there when the store reopens this morning.
TENNESSEE—There are over eleven-hundred new coronavirus cases in Tennessee. The Tennessee Department of Health reported the new cases yesterday, bringing the total since the outbreak began to over one-million-290-thousand. Nearly 50 additional COVID-19-related deaths were also reported, with the total number standing at nearly 17-thousand. There are about 750 COVID-19 hospitalizations in Tennessee.
TENNESSEE—Tennessee drivers are being warned to watch for deer. November is the peak season for crashes involving deer as it's the height of deer mating season. As of yesterday, there had been nearly 45-hundred deer-related crashes in Tennessee so far this year. Tennessee Department of Safety and Homeland Security data shows crashes involving deer more than triple statewide in November.
TENNESSEE—The director of UT's Pride of the Southland marching band is retiring. Dr. Don Ryder says he'll retire at the end of the academic year. Ryder has been teaching music and leading college and high school bands for 38 years, including 23 at UT. Ryder says he's looking forward to spending more time with his grandchildren and going fishing.