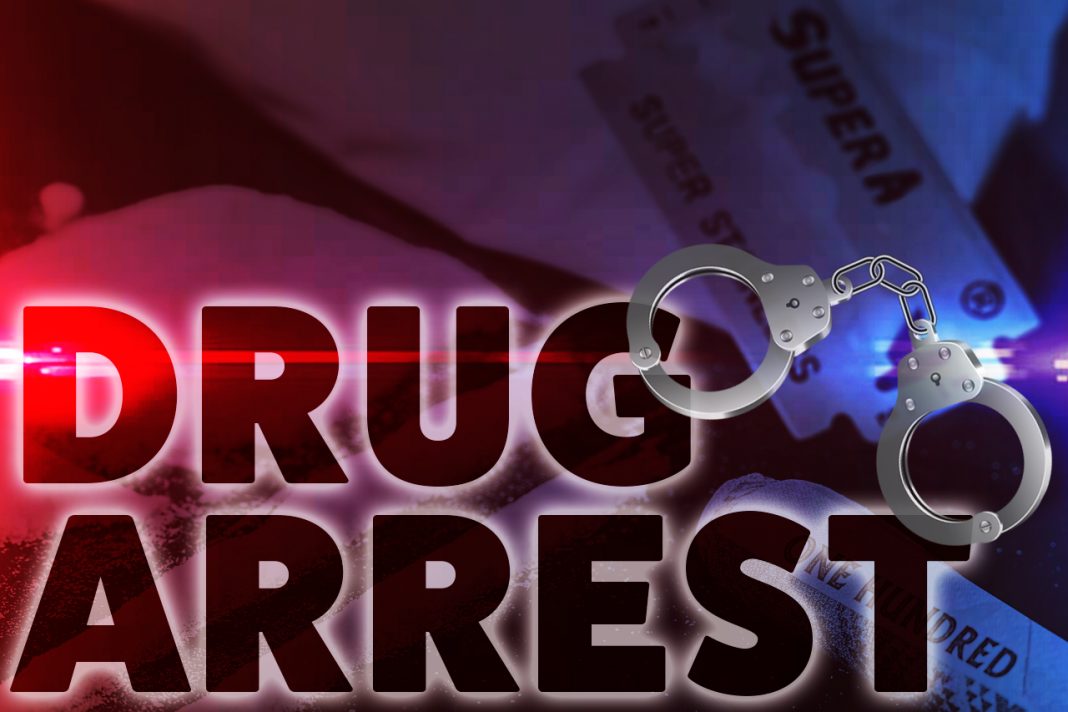 Two Arrested for Trespassing and Drug Charges 
On Monday, October 4, 2021 at approximately 10:00 p.m., Calloway County Sheriff's  Deputies responded to a residence on Rolling Acres Lane for a report of people trespassing in a residence. Upon their arrival, Deputies located two people inside the residence. During their interaction with the two people, numerous items of drugs and  paraphernalia were also located.
James M. Horner, age 59, of Dyer, Tennessee was arrested and charged with 2nd Degree  Criminal Trespassing, 1st Degree Trafficking in Controlled Substance
(Methamphetamine), 2nd Degree Possession of Controlled Substance, Possession of  Marijuana, and Tampering with Physical Evidence. He was lodged in the Calloway  County Jail.
Linda M. Call, age 51, of Medina, Tennessee was arrested and charged with 2nd Degree  Criminal Trespassing, 1st Degree Possession of a Controlled Substance
(Methamphetamine), and Possession of Drug Paraphernalia. She was lodged in the Calloway County Jail.
Emergency Road Aid Funds Awarded to Ballard County
PADUCAH, Ky. (Oct. 4, 2021) – The Kentucky Transportation Cabinet (KYTC) has awarded $4,520 in County Road Aid Emergency Funds to Ballard County.The award, authorized on Sept. 27, is to assist with emergency replacement of a drainage structure on Albert Hook Road (CR1101).
The 24 ft. X 36 inch culvert, which carries a tributary of Little Humphreys Creek under the roadway, has deteriorated to a point where the roadway surface requires constant repairs.
"The Transportation Cabinet is pleased to approve this emergency funding request from Ballard County to assist with the repair and maintenance of safe connections in the community," said Transportation Secretary Jim Gray.
Albert Hook Road runs between KY 802/LaCenter Road and KY 358/Hinkleville Road just south of LaCenter.  The damaged culvert is along Albert Hook Road 1.183 miles east of KY 802.
The Ballard County Road Department plans to replace the existing culvert as soon as weather allows once the new culvert is delivered.
The KYTC Division of Rural and Municipal Aid holds a portion of city and county road funds to help cover such emergencies.  A check will be issued to the Ballard County Fiscal Court which will be responsible for administering the funds.
AAA: Gas Prices Steady in Western Kentucky; Crude Prices Continue to Climb
Gas prices in West Central Kentucky are stable this week at $2.866, according to AAA East Central's Gas Price Report.
This week's average prices: Western Central KY Average                        $2.866
Average price during the week of September 27, 2021                              $2.863
Average price during the week of October 5, 2020                                     $1.968
Average prices of unleaded self-serve gasoline in various areas: 
$2.966        Bowling Green
$2.728        Elizabethtown
$2.916        Louisville
$2.824        Owensboro
$2.897        Paducah
Trend Analysis:
Nationally, gas prices rose two cents to $3.20, a level not seen since October 2014. The probable causes for the increase are a slight uptick in demand and the high price of crude oil, which is stubbornly staying above $73 per barrel.
Global economic uncertainty and supply chain concerns caused by the lingering COVID-19 pandemic could be playing a role in keeping crude oil prices elevated. However, there may be some relief on the horizon due to the news that OPEC and its allies might ramp up production increases faster than previously agreed.
According to new data from the Energy Information Administration (EIA), total domestic gasoline stocks increased slightly by 200,000 barrels to 221.8 million barrels last week. Gasoline demand also rose from 8.90 million barrels per day to 9.4 million barrels per day, more than a 5% increase. However, according to the EIA, oil and natural gas production was lower than pre-pandemic levels during the same quarter in 2019. This tightened supply is helping keep crude prices above $73 per barrel and preventing pump prices from taking their usual seasonal drop.
Today's national average of $3.20 is two cents more than a month ago and is $1.02 more than a year ago.
At the close of Friday's formal trading session, West Texas Intermediate increased by 85 cents to settle at $75.88. Crude prices increased on the week due to a stronger dollar and despite EIA's recent report showing that total domestic crude inventories increased by 4.5 million barrels to 418.5 million barrels. For this week, prices could decline if OPEC+, which comprises the Organization of the Petroleum Exporting Countries (OPEC), Russia and their allies, moves forward with an agreement to produce an additional 400,000 barrels per day in November.
Motorists can find current gas prices nationwide, statewide, and countywide at GasPrices.AAA.com
Kentucky State Police Post 1 to Conduct Traffic Safety Checkpoints
Mayfield, KY (October 4 , 2021) – The Kentucky State Police (KSP) will be conducting traffic safety checkpoints throughout the Post 1 district, to check motorists for compliance with motor vehicle laws including driving under the influence statutes. KSP utilizes traffic safety checkpoints to promote safety for motorists using the public roadways and to provide a deterrent for those who violate laws contained in the Kentucky Revised Statutes.
The intent of a traffic safety checkpoint is to provide for a high visibility, public safety service, focusing on vehicular equipment deficiencies, confirming appropriate registration and insurance of vehicles, and the valid licensing of drivers. Violations of law or other public safety issues that arise shall be addressed.
Traffic safety checkpoints will allow the Kentucky State Police the opportunity to periodically concentrate its efforts in checking for violations of Kentucky traffic and regulatory laws that will ultimately increase the safety of the citizens within the Commonwealth. Drivers encountering a traffic safety checkpoint are requested to have their operator's license, vehicle registration receipt and proof of insurance readily accessible. Drivers with this information in hand, those with no violations of law and minimal roadway congestion can reasonably expect to be delayed for no more than 30 seconds to a few minutes.
Work Zone Lane Restrictions on I-24 from 31 to 38mm for Maintenance Patching This Week
PADUCAH, Ky. (Oct. 4, 2021) – A contractor for the Kentucky Transportation Cabinet (KYTC) plans asphalt maintenance patching along sections of Interstate 24 in Lyon County and Livingston County this week.
This spot paving project to improve areas with persistent potholes runs from the KY 453 Grand Rivers Exit 31 Interchange in Livingston County extending eastward to about the 38 mile marker near the KY 93 Overpass in Lyon County.
The contractor plans work zone lane restrictions for milling and paving at various locations along this section of I-24 on the following schedule:
Monday, Oct 4
Eastbound driving lane between Exit 31 and the 38 mile marker
Tuesday, Oct 5
Eastbound Scales at 37mm closed for milling and paving of ramps
Westbound driving lane from 38mm to Exit 31
Wednesday, Oct 6
Eastbound passing lane from Exit 31 to 38mm
Begin paving along Westbound lanes from 38mm to Exit 31
Westbound Scales at 37mm closed for milling and paving
Thursday, Oct 7
Paving along the left-hand or passing lane between Exit 31 and 38mm- both directions
Friday, Oct 8
Finish work and/or completion of work due to possible rain delays
Appropriate caution is required where equipment, flaggers, and maintenance personnel are along the roadway in close proximity to traffic flow.  Some delays are possible during the movement and placement of equipment to facilitate the work.
Jim Smith Contracting of Grand Rivers is the prime contractor on this maintenance patching project along I-24.
Kentucky News Brief
All Fort Campbell Civilian Employees Ordered To Get COVID-19 Vaccination
(Fort Campbell, KY)  —  All of Fort Campbell's civilian employees are being required to get vaccinated against COVID-19.  The Pentagon said yesterday that all civilian Department of Defense employees must be fully vaccinated by November 22nd.  Fort Campbell has an estimated 64-hundred civilian employees.  The DOD previously ordered all active-duty soldiers be vaccinated by September 22nd.
Fall Festival Being Held At Dugan Best Recreation Center In Owensboro
(Owensboro, KY)  —  The Dugan Best Recreation Center in Owensboro is hosting a fall festival.  The week-long celebration started yesterday and will run through Friday.  Daily activities include arts and crafts, relays, and a scavenger hunt.  The festival ends at 6 o'clock Friday evening with a teen dance and snacks.
GRDHD To Update Coronavirus Numbers
(Owensboro, KY)   —  The Green River District Health Department is expected to update its coronavirus numbers today.  On Friday, the GRDHD reported 395 additional confirmed cases with 201 in Daviess County, 78 in Ohio County, 46 in Henderson County, 28 in Webster County, 17 each in McLean and Union counties, and eight in Hancock County.  There have been over 34-thousand-580 cases in the seven-county District since the outbreak began.  There have been over 520 COVID-19-related deaths in the district since the outbreak began.
UK Fined By SEC For Postgame Celebration
(Lexington, KY)  —  The celebration that followed UK's win over Florida is costing the school.  UK is being fined 250-thousand dollars by the Southeastern Conference for violating the league's access to competition area policy.  Fans stormed Kroger Field after the Wildcats upset Florida, 20-13, on Saturday night.  It was the first time the 'Cats have beaten Florida in Lexington since 1986
Kentucky Total COVID-19 Cases Hits 700K
(Frankfort, KY)  —  Over 700-thousand Kentuckians have tested positive for COVID-19.  The milestone was reached after over 37-hundred new cases were reported over the weekend, along with an additional 76 deaths.  Governor Andy Beshear says many of the newly reported deaths were people in their 40s and 50s.  Yesterday's numbers show a drop in hospitalizations, ICU bed usage, and ventilator rates for COVID-19 patients.
Beshear Arguing For Essential Worker Bonuses Using ARP Money
(Frankfort, KY)  —  Governor Andy Beshear is proposing that the commonwealth use 400-million dollars in American Rescue Plan funds to give bonuses to essential workers who stayed in their positions through the pandemic.  Beshear says the bonuses would be a "reward or hero bonus" to compensate workers for the time spent in risky situations as the pandemic has dragged on.  The governor says he plans to send his recommendation and a plan to execute it to the General Assembly in the coming days.  He says lawmakers and the executive branch will have to work through the details of the plan together.
McConnell Defends Debt Limit Stand In Letter To Biden
(Washington, DC)  —  Senate Minority Leader Mitch McConnell is defending the refusal among Republicans to agree to an extension of the federal debt limit.  The Kentucky Republican wrote a letter to President Biden yesterday, saying Democrats control the Senate, House and White House and can do it alone.  He argued Democrats have pursued an aggressive and expensive go-it-alone strategy all year and can raise or extend the debt ceiling without Republican support.  That would require Democrats to pull the lever on a parliamentary move known as reconciliation, which allows budget-related items to pass with a simple majority vote in the Senate, rather than the usual 60-vote threshold for legislation.
FCPS Bomb Threat Investigation Ends Without Arrest
(Lexington, KY)  —  Fayette County Public Schools officials say an investigation into bomb threats at four Lexington high schools has reached a dead end.  A spokesperson says investigators have exhausted all leads.  The threats were made September 21st and were accompanied by a ransom demand of 500-thousand dollars in Bitcoin, which was not paid.  No bombs were found, and no arrests have been made.
Reward Being Offered In Laurel County Murder Case
(Laurel County, KY)  —  A ten-thousand-dollar reward is being offered in a Laurel County murder case.  An anonymous donor has put up the money to help investigators find the answers they need to solve the murder of 62-year-old Bryan McCarty.  Sheriff's deputies performing a welfare check found McCarty inside his home with gunshot wounds after he has failed to show for an appointment with the bank.  Investigators have found no known witnesses and are hoping someone will come forward with information that could crack the case.
Atmos Replacing Some Pipelines, Infrastructure In Owensboro
(Owensboro, KY)  —  Atmos Energy is replacing a stretch of aging pipelines in Owensboro.  Work began yesterday and is expected to be finished in late March 2022.  The effort is part of a years-long project to update some of the infrastructure across the commonwealth.  The Pipeline Replacement Program was approved in 2009.
Downtown Homeless Encampments To Be Cleared Today
(Louisville, KY)  —  Several downtown Louisville homeless encampments are expected to be cleared out today.  A 21-day notice of the clear out was posted on September 14th.  Around 70 people were living in the encampments when the notice was posted.  Since then, nearly 50 people have been sheltered and relocated.
Congressman Yarmuth Announces Support For Louisville Organizations
(Louisville, KY)  —  Congressman John Yarmuth is announcing more than 500-thousand dollars will be awarded to some Louisville organizations.  The money for the Kentucky Science Center, the Frazier History Museum and the Filson Historical Society was announced by the Louisville Democrat yesterday.  The money was awarded by the National Endowment for the Humanities.  The support is part of American Rescue Plan funding meant to help cultural organizations and educational institutions negatively impacted by the COVID-19 outbreak.
Regional Driver's Licensing Office Open In West Louisville
(Louisville, KY)  —  A new regional driver's license office is open in west Louisville.  The site is located on West Broadway at the Nia Center.  The Kentucky Transportation Cabinet is taking over operations from the Circuit Clerk's office.  It's the fourth regional driver's license office to open in Jefferson County.
Kentucky Humane Society Participating In National Adoption Event
(Louisville, KY)  —  The Kentucky Humane Society is participating in a national event to help shelter pets find new homes.  The Empty the Shelters adoption event started yesterday.  The adoption push is held four times a year.  Adoption fees are being dropped to 25-dollars or less per dog or cat through next Sunday, October 10th.
Bats Season Comes To Unceremonious End
(Undated)  —  The season is over prematurely for the Louisville Bats.  It ended with the cancelation of Sunday's game against the Clippers in Columbus due to rain.  The Bats finished the regular season with a record of 55-and-73.  The Bats had 35 players who also suited up with the Cincinnati Reds during the 2021 season.
Tennessee State News Brief
TDH Updates State Coronavirus Cases

(Nashville, TN)  —  There are nearly eleven-hundred new coronavirus cases in Tennessee.  The Tennessee Department of Health reported the new cases yesterday, bringing the total since the outbreak began to over one-million-238-thousand.  An additional 35 COVID-19-related deaths were also reported, with the total number standing at more than  15-thousand-300.  There are nearly 22-hundred COVID-19 hospitalizations in Tennessee.
$2-Million Powerball Ticket Sold In Tennessee
(Undated)  —  Tennesseans are checking their Powerball tickets today.  Powerball officials say a ticket sold in Tennessee for last night's drawing is worth two-million dollars.  The ticket matched all five white balls but not the Powerball.  However, the player selected the Power Play option, doubling the one-million-dollar prize to two-million.  A winning ticket for the nearly 700-million dollar jackpot was sold in California.
Accused Killer Of College Student On TBI's Most Wanted List
(Memphis, TN)  —  The alleged killer of a college student in Memphis is being added to the Tennessee Bureau of Investigation's Most Wanted list.  Rainess Holmes is wanted for first-degree murder, murder in the perpetration of aggravated burglary and other charges.  One person was killed and another injured during a home invasion near the campus of Rhodes College on Sunday morning.  The 36-year-old Rainess is described as Black, six-foot-two, 165 pounds with black hair and brown eyes.
NWS Confirms Tornado In Wilson Co.
(Wilson Co., TN)  —  A tornado is being confirmed in Wilson County.  The National Weather Service in Nashville says an EF-0 tornado touched down on Sunday afternoon.  The NWS Nashville described the tornado that formed in western Wilson County as weak and brief.  No structural damage was reported.

Tennessean Playing President Biden In First Season With SNL
(Undated)  —  A Tennessean is playing President Biden on Saturday Night Live this season.  Nashville native Austin Johnson made his debut as Biden on the season premiere of SNL this past Saturday.  The 32-year-old Johnson was born in Nashville and attended high school in Davidson County.  Johnson went on to graduate from Trevecca Nazarene University in Nashville before moving to Los Angeles in 2013 to pursue comedy and acting.