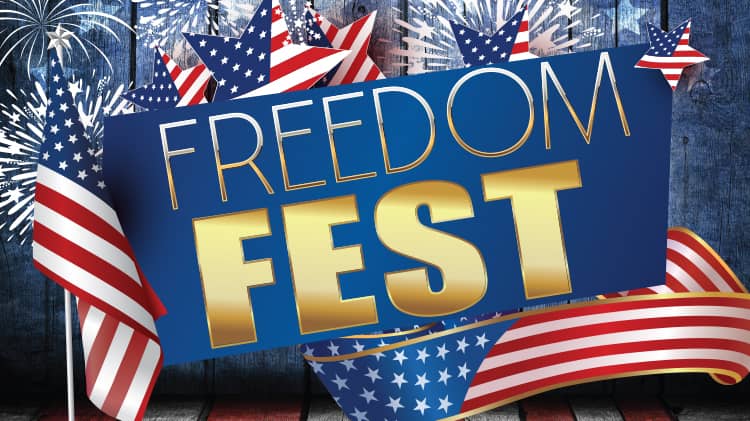 PORTION OF MAIN STREET TO BE CLOSED FOR PARADE
The City of Murray plans to close a section of Main Street in Downtown Murray on Saturday morning. The street will be closed between North 12th Street and Industrial Road starting at 7 am Saturday for the Freedom Fest Parade and is expected to reopen to traffic around 11 am. There will be no marked detour. The Murray Police Department and Calloway County Sheriff's Department will provide traffic control during the event. For additional info on the Freedom Fest please contact the Murray Convention & Visitors Bureau at 270-759-2199.
TOWN AND GOWN CONCERT IS SUNDAY
The Murray State University Town & Gown Community Band will present its Freedom Fest Concert of American Music at 6:30 Sunday night on the lawn in front of Lovett Auditorium. The band is in its tenth season under the direction of Dr. Todd E. Hill, professor of music at Murray State. The program is free and the public is cordially invited. The forty-minute program will dismiss in time for attendees to get to favorite viewing locations for the Freedom Fest Fireworks display in Murray following the concert. Our national march, John Philip Sousa's "Stars and Stripes Forever" will close out the program.
ONE INJURED IN TWO-CAR ACCIDENT
At 5:30 pm Tuesday, Murray Police responded to North 12th Street at Arcadia Circle in reference to a two-vehicle injury collision. 73-year old Mark Kennedy of Almo told police he was pulling onto 12th Street from Arcadia when a vehicle traveling north on 12th Street stuck his. 21-year old Justin Tucker of Madisonville told police he was traveling north on 12th Street when he struck a vehicle that pulled out in front of him. A passenger in Kennedy's vehicle, 72-year old Jackie Kennedy of Almo was transported to the emergency room by EMS for treatment of possible injuries.
CCHD REPORTS 2 NEW COVID CASES
The Calloway County Health Department reported 2 new cases of COVID-19 yesterday. Currently, 6 cases are isolated at home, and none are hospitalized. The county positivity rate as of Wednesday was 1.8% which was higher than Tuesday's rate of .73. The state's current positivity rate is 1.92%. At yesterday's COVID-19 update for Kentucky, 351 new cases and 3 new deaths were reported. There are 180 Kentuckians hospitalized which is 16 less than last Wednesday, including 51 in ICU, which is 4 less than one week ago. 70.1% of Calloway County residents 65 and older have been vaccinated, which is lower than the 83% total of Kentuckians in that age group.
SPAY/NEUTER GRANTS AVAILABLE
The Kentucky Animal Control Advisory Board is inviting county and metropolitan governments in Kentucky to apply for grants to spay and neuter dogs and cats. The board will award up to $3,000 to each government on a competitive basis. No match is required, but preference will be given to applicants offering more matching dollars. Governments may partner with non-profit organizations to obtain the best use of resources. Kentucky county and metro governments interested in applying for spay/neuter grants can download the application at kyspayneuter.com. Emailed or scanned applications must be received by July 15.
IN AND AROUND KENTUCKY
LEXINGTON—All Lexington police officers will now wear body cameras. Lexington Police Chief Lawrence Weathers says the change becomes effective today and is intended to increase transparency and create public trust. Community members pushed for the cameras after police-involved killings of Black people across the country. The city spent around 200-thousand dollars to purchase about 160 cameras for officers who didn't have them.
GARRARD COUNTY—A boating crash on Lake Herrington is under investigation. Authorities are looking for a man in a Sea Ray Runabout who crashed into a pontoon carrying four people Saturday night on the lake before taking off. The pontoon sustained enough damage it had to be towed back to the dock. No one was seriously hurt.
WOODFORD COUNTY—An East Tennessee man is in the ICU after a hit-and-run at a Kentucky rest stop. Angela Taylor says a semi driver backed into her father Gerald Sapp at the rest stop on I-64 in Woodford County last week, pinning him against a truck. Sapp was crushed and is in critical condition, having undergone a 22-hour surgery. Taylor wants the semi driver to come forward and claim responsibility.
KNOTT COUNTY—Kentucky State Police are investigating a deadly Knott County shooting. The shooting happened Tuesday evening in the community of Kite. Officials say 22-year-old Kolby Hall was pronounced dead at the scene from a gunshot wound. No charges have been filed yet after investigators say Kolby Hall got into an argument at the home of 67-year-old Larry Hall, which led to his death.
OWENSBORO—An Owensboro woman is rallying in Washington D.C., backing a bill that would impact residents of long-term care facilities. Marla Carter advocated for the Essential Caregivers Act yesterday on the steps of the Capitol. The act would allow an essential caregiver for long-term residents to enter a facility, even during medical emergencies such as the pandemic. Carter says long-term facility residents like her mother-in-law should be able to have someone there to speak up for them, even during times of medical isolation.
MADISONVILLE—A service group is providing a Madisonville homeowner with some needed assistance. Volunteers from the World Changers painted Geraldine Fluellen's home yesterday. The group is made up of members from the Silent Run Missionary Baptist Church. Fluellen says she is thankful for volunteers who step up when needed most.
LOUISVILLE—Former state Rep. Charles Booker is expected to make a public announcement today. The "special announcement" will be made at the Kentucky Center for African American Heritage in Louisville. The Democrat has been considering running for the U.S. Senate in 2022 against Republican Rand Paul. Booker's hopes to run against Senator Mitch McConnell in 2020 ended with a loss to Amy McGrath in the Democratic primary.
OLDHAM COUNTY—A test by the Kentucky Department of Public Health is confirming the presence of a deadly virus in Oldham County. The Oldham County Health Department says a bat found in La Grange has tested positive for rabies. It's the first time a bat has been confirmed for rabies in Oldham County in nearly a decade. OCHD says it's doing everything it can to protect people and pets.
HARDIN COUNTY—A Hardin County town will have a fireworks show this Independence Day weekend thanks to a generous private donation. A ten-thousand-dollar anonymous donation is paying for this weekend's fireworks show in Radcliff. The only thing known about the donor is that they've lived in Radcliff a long time and wanted to do something for the entire community. Thanks to the donation, Saturday's show is expected to be bigger than ever.
TENNESSEE—It's now legal to carry a gun in Tennessee without a permit. The law that went into effect today allows Tennesseans 21 and over and members of the military over 18 to carry open or concealed handguns without training. Those who carry without a permit can't have any felony convictions, current orders of protection, pending charges or convictions for domestic violence or stalking, or have been adjudicated as a mental defective. The constitutional carry law also increases penalties for gun-related crimes.
TENNESSEE—Dozens of new laws are going into effect today. Several of them are intended to protect children. Among them is Truth in Sentencing legislation that will ensure parole and probation aren't options for anyone found guilty of certain violent crimes typically targeting women and children. Another law named for East Tennessee toddler Evelyn Boswell could charge parents with a Class A misdemeanor if they don't report children missing to law enforcement within 24 hours.
TENNESSEE—There are over 120 new coronavirus cases in Tennessee. The Tennessee Department of Health reported the new cases yesterday, bringing the total since the outbreak began to over 866-thousand-960. There have been over 12-thousand-560 COVID-19-related deaths in the state since the outbreak began. There are over 200 people with COID-19 hospitalized in Tennessee.
TENNESSEE—Tennesseans are buying gun-safety equipment tax free. As of today, Tennesseans have a year-long opportunity to save on gun safety equipment. It's the state's first-ever tax-free sales event for gun safety. Tax-free shopping on gun safes and other equipment will last until 11:59 on the night of June 30th of next year.
TENNESSEE—Today is the first day of competition in the 2021 Miss Tennessee pageant. The pageant is being held in Memphis for the first time in nearly 70 years. The competition will be held in downtown Memphis over the next three days with a winner to be crowned on Saturday. There are 30 contestants from across the state competing in the pageant, which was first held officially in 1938.
ILLINOIS—Sexual assault survivors are now able to track the progress of their rape kit processing. A new law allows survivors to log into an online portal to check the status of their evidence package. Test results will not be included in the database, only dates when procedures are started and completed. The movement of the evidence is also tracked.