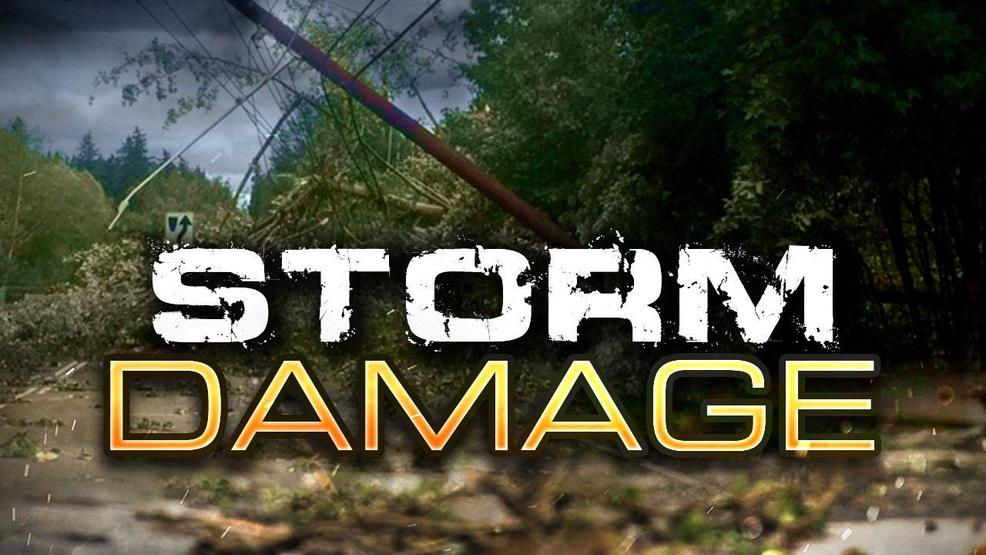 SEVERE STORMS DOWN TREES, KNOCK OUT POWER
A powerful storm rolled through the area this morning between 3 and 5, downing trees and causing numerous power outages. The storm prompted a Severe Thunderstorm Warning and a Tornado Warning for Calloway County which expired at 4:30 this morning. Part of the area remains under a Severe Thunderstorm Watch. West Kentucky RECC says about 14,700 members are without service with about half of those are in Calloway County. In addition, a TVA transmission line that serves three of West Kentucky RECC's substations is also out. The utility says is too early to anticipate when power will be restored to members. They remind you to stay away from all downed lines and prepare for lengthy restoration times due to the large amount of damage.
MAYFIELD MEN CHARGED AFTER ASSAULT
Graves County Sheriff's Department deputies responded Sunday to an assault complaint on Pritchett Road. Deputies were able to locate a vehicle that was reportedly involved in the assault which was occupied by 45-year-old Jason Garber and 22-year-old Dynique Powell, both of Mayfield. Deputies report that Garber entered the Pritchett Road home without permission and began stealing items. Police said the property owner and Garber then got into a fight, which resulted in the property owner being injured. Earlier in the day, Garber had also allegedly taken the victim's vehicle without permission. Garber was charged with assault, burglary, theft by unlawful taking, possession of marijuana, and possession of drug paraphernalia. Powell had an active parole violation warrant and was also arrested. Both were arrested and lodged in the Graves County Jail.
KSP WORKS FATAL ACCIDENT
The Kentucky State Police are investigating a fatal collision in McCracken County Saturday afternoon that left one person dead and two others injured. Shortly after 4 pm Saturday, State Police responded to a two-vehicle collision near the intersection of KY 286 and KY 62 in West Paducah. Initial investigation shows 20-year old Guillermo Miranda of Cedar Creek, Texas was traveling east on US HWY 62, while 44-year old Sanjeev Joseph of Clovis, California was traveling west on KY 62, operating a semi. For unknown reasons, Miranda traveled across the center line into the opposite lane of travel. Joseph attempted to brake, but was unable to avoid colliding with Miranda who was pronounced dead at the scene by the McCracken County Coroner's Office. A juvenile passenger in Miranda's vehicle was airlifted by Air Evac to Skyline Medical Center in Nashville. Joseph was transported to Mercy Health Lourdes Hospital in Paducah for treatment of injuries sustained during the collision.
CALLOWAY COUNTY COVID REPORT
The Calloway County Health Department reported 1 new case of COVID-19 from Saturday through Monday, bringing the county case total during the pandemic to 3,477. Of that total, 3,413 have recovered, 15 are isolated at home, and none are hospitalized. There have been 49 COVID-19 related deaths in the county. As of yesterday, 25.5 percent of Calloway County residents have been fully vaccinated including 62.6% of those 65 and older. Calloway County's COVID-19 positivity rate as of Monday was 2.14%, which is lower than Sunday's rate of 2.39%. Neither the Murray Independent School District, Calloway County School District, or Murray State University have reported new cases this week.
KENTUCKY COVID REPORT
At Monday's COVID-19 update for Kentucky, 313 new cases and 5 new deaths were reported, raising the total to 6,525 Kentuckians who are listed as Covid deaths. As of Monday, there have been over 5.57 million coronavirus tests performed in Kentucky with a positivity rate of 3.45%, which is higher than last Monday's rate of 3.15%. There are 414 Kentuckians hospitalized which is the same as last Monday, including 102 in ICU, which is 6 less than one week ago. At least 51,517 Kentuckians have recovered from the virus.
KENTUCKY VACCINATION REPORT
The total number of Kentuckians vaccinated as of Monday is 1,833,652 which is up over 73,000 from Friday's total. Approximately 667,000 Kentuckians need to get at least their first dose to meet the Team Kentucky Vaccination Challenge which Governor Andy Beshear said will trigger him to lift more restrictions. At the current rate, that will not happen for 74 days, which would be around July 13. Additionally, the Governor has given no timetable or benchmark that will trigger lifting of his mask mandate.
KSP SEARCHING FOR BURGLARY SUSPECTS
The Kentucky State Police are investigating a burglary that occurred on April 25 at a residence in the 100 block of Tom Doom Road in Grand Rivers. According to video surveillance footage, two black males came on the residential property around 10:36 am and left the property around 10:56 am. Video surveillance also shows a black, 4-door, passenger sedan in the immediate area at the time of the burglary. The unknown suspects reportedly stole over $10,000 of collectable coins, bills, and a set of knives from the residence. Kentucky State Police, Post 1 is requesting the public's assistance in identifying the suspects and the suspicious vehicle. If anyone has any, please contact Post 1 at 270-856-3721.
RACERS ADD ORIENTATION SCHEDULE
Murray State University has added a new in-person session date of June 4 to its Racer Nation Orientation schedule. Formerly known as Summer Orientation, Racer Nation Orientation is the required new student program for incoming freshmen and transfer students, and is available both in-person and in a virtual format. Murray State continues to actively plan for a more normal and traditional 2021-22 academic year. There is still time for soon-to-be graduating high school students to apply for admission for this fall. Students can schedule an on-campus or virtual visit at admissions.murraystate.edu.
GAS PRICES HIGHER
Gas prices in West Central Kentucky are five cents higher this week at $2.69 per gallon, according to AAA East Central's Gas Price Report. At the start of May, the national gas price average is $2.90 per gallon, which is three cents more than a month ago. Pump prices in April saw minimal movement compared to March, which increased 15 cents from start to finish. Stable crude oil prices amid fluctuating demand helped keep the national average price jumps nominal last month. While April saw slight fluctuations, May is likely to see much larger increases alongside demand spikes, especially closer to Memorial Day weekend. Compared to May 2019, U.S. gasoline demand is down only 4% and gas prices are on average just two cents more. On the week, the national average increased two cents. Ten states saw averages increase between five and eight cents, but the majority of states saw increases of one to three cents. Prices could continue to climb this week if the market remains optimistic
IN AND AROUND KENTUCKY
FRANKFORT—Most of Kentucky's workers who are receiving unemployment will soon be required to prove they are searching for work at least once a week. Governor Andy Beshear recently announced that the change will take effect Sunday. Groups exempt from the job search requirement are members of unions that find work for them, students in training programs, and those laid off with a recall date within 12 weeks of their initial claim date. Those on temporary leave of absence and people who are part of a mass electronically filed claim are also exempt from the reporting requirement.
FRANKFORT—One person is dead after a crash at a Frankfort intersection. The crash happened yesterday afternoon at the intersection of U.S. 127 and U.S. 60. Kentucky State Police say the driver of an SUV rear-ended the driver of a car on U.S. 60. The driver of the SUV was killed in the crash. The driver of the car wasn't injured.
LEXINGTON—An old Lexington movie theatre is set to be used as a studio for a reality court TV show. The live 150-episode show will be shot at the vacant theatre on Codell Drive. Relative Justice will premiere this fall and will focus on family legal disputes. Wrigley Media Group is producing the show.
LOUISVILLE—Kentucky's senior Senator says he expects "zero" Republicans will support President Biden's four-trillion-dollar infrastructure package. Speaking at a University of Louisville facility yesterday, Mitch McConnell called Biden's plan a "grab bag." He did indicate that GOP lawmakers are open to a roughly 600-billion-dollar bill. However, McConnell said Republicans are not willing to pay for it by undoing the 2017 tax bill signed by former President Trump.
FRANKFORT—Despite the CDC relaxing guidence for mask use outdoors for anyone fully vaccinated, Governor Andy Beshear is addressing the lack of masks worn by some who attended the Kentucky Oaks and Derby. Governor Beshear said yesterday hosting the races over the weekend after the Derby was delayed last year gave the nation a lot of hope. However, Beshear said too many people violated Churchill Downs rules and took their masks off. Among those who were spotted without a mask at the Kentucky Oaks was Louisville Mayor Greg Fischer. Beshear was roundly booed during his televised Derby presentation.
TOMPKINSVILLE—Storm damage in Tompkinsville is being blamed on a tornado. The National Weather Service says an EF-1 tornado caused yesterday morning's damage. The NWS says the tornado had wind up to 90-miles-per hour. A funeral home is among the buildings that were damaged.
TENNESSEE—There are over 430 new coronavirus cases in Tennessee. The Tennessee Department of Health reported the new cases yesterday, bringing the total since the outbreak began to over 849-thousand-430. A couple of additional COVID-19-related deaths were also reported, with the total number of coronavirus-attributed deaths standing at more than 12-thousand-200. Over 800 coronavirus patients are hospitalized statewide.
TENNESSEE—Senator Bill Hagerty wants President Biden to focus on what Republicans are calling 'traditional infrastructure.' Senator Hagerty spoke to workers at the Vulcan Quarry in West Nashville yesterday about the President's two-trillion-dollar infrastructure package. Hagerty said the country should only be putting projects in place that are going to have a real benefit and a payback for taxpayers. He identified roads, highways, bridges, and waterways as those types of projects.
TENNESSEE—Governor Bill Lee says Tennessee is open and welcoming visitors. Governor Lee says the state's tourism industry will play a key role as Tennessee's economy rebounds from the effects of coronavirus shutdowns. On social media yesterday, Lee urged travelers to visit Tennessee this summer and fall. Tourism is the state's second leading industry.
TENNESSEE—Dollywood is celebrating its 35th anniversary. It opened to the public on May 3rd, 1986. A small theme park in Pigeon Forge called Silver Dollar City already existed before the Sevier County native added her name. Dollywood employs over four-thousand people and is the largest ticketed attraction in the state, bringing in around three-million visitors to East Tennessee annually.
ILLINOIS—Congresswoman Cheri Bustos is not seeking re-election, but says her decision was not influenced by Illinois' loss of a congressional seat. The Democrat says the redrawn district she currently represents will likely be favorable to someone in her party. Rockford University Professor and political expert Bob Evans says the redistricting process will be highly political and will tend to favor Democrats, who control the Governor's seat and the General Assembly.