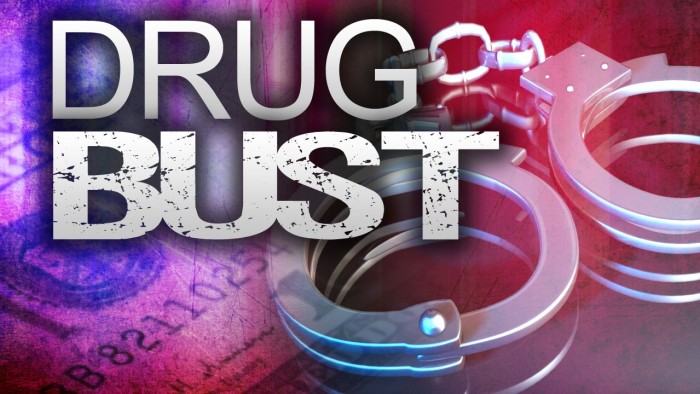 MURRAY MAN FACING DRUG CHARGES
At 1 pm Tuesday, a detective with the Murray Police Department was on Sycamore Street investigating a case. While conducting the investigation, a search of the residence resulted in the seizure of methamphetamine, approximately one pound of marijuana, as well as other narcotics and illegal items. 34-year old Chris King of Murray was charged with Possession of Meth, Possession of a Controlled Substance, Possession of Drug Paraphernalia, and Possession of Marijuana. King was lodged in the Calloway County Jail.
MURRAY BOUND PLANE CRASHES IN TENNESSEE
The Haywood County Sheriff's Office has confirmed that investigators have found the site of a plane crash in the area of Bonds Ferry Road west of Brownsville, Tennessee. The wreckage was spotted by a Tennessee Highway Patrol helicopter at around 7:30 Wednesday morning. According to online tracking services, the flight left Pearland, Texas near Houston and was bound for Murray. The name of the pilot is being withheld pending notification of next of kin. Sheriff Billy Garrett confirmed that two people were aboard, and are believed to be a mother and son from Houston, Texas. Neither survived. The NTSB will be in charge of the investigation, according to the FAA.
MURRAY CITY COUNCIL MEETS TONIGHT
The Murray City Council will meet in regular session tonight. On the agenda is the Mayor's Report, a Report from Public Safety Committee Chair, Wesley Bolin, a Report on Main Street from Deana Wright, and the Council will hear Bids for Surplus Property. This meeting will be streamed on the government access channels of Murray Electric Cable and Spectrum, a YouTube link on the City's website, and a link on the City's Facebook page. Tonight's meeting begins at 6:30.
CCHD REPORTS 3 NEW COVID 19 CASES
The Calloway County Health Department reported 3 new cases of COVID-19 on Wednesday, bringing the county case total during the pandemic to 3,456. Of that total, 3,395 have recovered, 12 are isolated at home, and none are hospitalized. There have been 49 COVID-19 related deaths in the county.
CCSD REPORTS NEW STUDENT CASES
The Calloway County School District reported 2 new student cases this week and 13 quarantined students. The Murray Independent School District and Murray State University have reported no new cases this week. Calloway County's COVID-19 Incidence Rate per 100,000 on Wednesday was 6.2%, which is higher than Tuesday's rate of 5.5%. There are currently 11 red zone counties for COVID-19 cases in the state.
STATE POSITIVITY RATE HOLDING STEADY
At Wednesday's COVID-19 update for Kentucky, 785 new cases and 7 new deaths were reported, raising the total to 6,373 Kentuckians who are listed as Covid deaths. As of Wednesday, there have been over 5.36 million coronavirus tests performed in Kentucky with a positivity rate of 3.39%, which is slightly higher than last Wednesday's rate of 3.33%. There are 417 Kentuckians hospitalized which is 3 less than last Wednesday, including 113 in ICU, which is 2 less than one week ago. At least 50,923 Kentuckians have recovered from the virus.
MHS GUIDANCE OFFICE ANNOUNCES GOVERNOR'S SCHOLARS
The Murray High School Guidance Office has announced this year's Governor Scholar Program Recipients. Murray High's 2021 Governor's Scholars are Isaac Bourne, Emily Burditt, Luke Cross, Caroline Koenig, Andrew Orr, Amanda Peiffer, and Eliana Purcell. They were selected from a pool of 1,700 applicants. This year's Governor Scholars will meet at one of three Kentucky universities this summer: Centre College, Morehead State University, or Bellarmine University. Students will receive a packet of detailed information from the Governor's Scholars Program late next month and will be notified of their respective campus and focus area assignments.
MILLER PRESENTS AT ACS SPRING SYMPOSIUM
Murray State senior Rose Miller was selected to give an oral presentation at this year's American Chemical Society's spring symposium. Miller is a student in Murray State University's pre-veterinary medicine program and a McNair Research Scholar. The presentation was held yesterday, and focused on her project in organic polymer chemistry. This study is her second project and was published last semester in the American Chemical Society Applied Polymer Materials Journal. Miller has been accepted into the University of Georgia's Integrated Life Sciences Program, where she will work to receive her PhD in Infectious Diseases.
PHILANTHROPY WEEK CONTINUES THROUGH FRIDAY
Philanthropy Week is a celebration of generosity in Murray-Calloway County, recognizing successful approaches to giving of time, talents, and treasures that help make this a wonderful community in which to live and thrive. Hosted by Murray State University's Nonprofit Resource Center, Philanthropy Week recognizes and advances the historic partnership among the public, nonprofit, and business sectors. Philanthropy Week concludes on Friday with the presentation of the Donna Herndon Award for Civic Engagement which recognizes a resident of Calloway County who has exhibited a lifetime of civic engagement to others in our community.
IN AND AROUND KENTUCKY
FRANKFORT—Yesterday, Kentucky Auditor Mike Harmon released Volume Two of the Statewide Single Audit of Kentucky for Fiscal Year 2020. One finding in the audit will be referred to the Office of the Attorney General. The audit identifies almost $671 million in questioned costs, including the $665 million in unemployment insurance benefits paid out by the Commonwealth that stems from the Office of Unemployment Insurance's decision to implement an auto-pay system, which failed to ask key eligibility questions before issuing UI payments. Auditor Harmon said they are not saying the entire $665 million was wrongly paid, only that there were no controls in place to properly determine and certify claimants' eligibility, which is a violation of federal law.
WASHINGTON DC—Senate Minority Leader Mitch McConnell is slamming President Biden's sweeping infrastructure plan. The Kentucky Republican said yesterday that very little in the more than two-trillion-dollar proposal would actually go toward improving highways and bridges. He accused the White House of pushing "left wing social engineering." McConnell also argued the "DNA of the Green New Deal" is all over the President's plan and attacked a proposal to raise the corporate tax rate.
CLARK COUNTY—The Clark County Schools Board of Education is removing the district's superintendent, citing his lack of communication on COVID-19-related issues. The board voted Monday night not to renew Paul Christy's contract, with some saying he refused to communicate with the public or the board on the issue. Christy says the situation was evolving daily and that directives were constantly changing, making early communication of issues difficult. The board evaluated the superintendent before the meeting.
LEXINGTON—Prosecutors say the death penalty is off the table for three men charged in the murder of a University of Kentucky student. Justin Smith, Roman Gonzalez, and Efrain Diaz Jr. all face murder and robbery charges in connection with the 2015 death of Jonathan Krueger. A jury trial was set to begin in May, but has been pushed back to April 2022.
UNDATED—A family is making new connections after finding a 30-year-old message in a bottle. The Stanfield family told The Jackson Sun they were recently treasure hunting near Ripley, Tennessee when they found the bottle with a message inside it. The message revealed that "John and Trina" put the bottle in the Green River in Kentucky in 1990. The bottle traveled at least 250 miles over the last three decades. The Stanfield family shared their story and were connected to Trina Hollander within the hour. Hollander said she and her husband put the bottle in the river because they always thought it would be cool to find one. The two families intend to stay in contact.
HARDIN COUNTY—The Hardin County Sheriff's office is asking for help finding a missing woman. HCSO says 20-year-old Breanna Ford was last seen getting into a dark, Dodge truck with an unidentified male on Monday night. Breanna is described as white, five-five, 130 pounds with blue eyes and blonde hair. Her mother says Breanna has been diagnosed with mental health issues in the past.
TENNESSEE—None of the Knoxville police officers involved in the deadly shooting of an Austin-East Magnet High School student will be charged. District Attorney General Charme Allen said yesterday that based on the evidence it's reasonable for KPD Officer Jonathon Clabough to have believed his life was in danger, as well as the other officers involved. A single bullet fired from 17-year-old Anthony Thompson, Jr's gun went through a trash can. Of the two shots fired by Officer Clabough, one hit School Resource Officer Adam Wilson and the other killed Thompson in a bathroom at the school on Monday, April 12th.
TENNESSEE—Students at a Knox County high school that was the site of a deadly officer-involved shooting of a student are returning to classes today. Austin-East Magnet High School students returned for 90-minute sessions yesterday, but today will be the first day of in-person learning since 17-year-old Anthony Thompson, Jr. was killed by a Knoxville police officer last week. Police responding to a call about a possibly armed male on campus found Thompson in a bathroom with a gun.
TENNESSEE—There are 13-hundred new coronavirus cases in Tennessee. The Tennessee Department of Health reported the new cases yesterday, bringing the total since the outbreak began to over 837-thousand-830. Over a dozen additional COVID-19-related deaths were also reported, with the total number of coronavirus-attributed deaths statewide standing nearly 12-thousand-100. There are over 13-thousand active cases in the state.
TENNESSEE—A Middle Tennessee church is applying the parable of Jesus feeding five-thousand people to using thousands of dollars to pay off millions in medical debt. Working with RIP Medical Debt, Clarksville's Madison Street UMC raised 24-thousand dollars. The money was used to clear over two-million dollars in medical bills in Tennessee and Mississippi. Church leaders said they didn't want people to have to decide between feeding their families and paying bills during what they called "the biggest medical crisis of our lifetime."
TENNESSEE—A Tennessee House joint resolution is honoring Dolly Parton. The resolution recognizes the Sevier County native for her efforts to support children's literacy in Tennessee. Governor Bill Lee said yesterday he was honored to sign the resolution. Governor Lee said since 1995, Parton has helped distribute over 152-million books to nearly two-million kids.
ILLINOIS—Illinois House members are at odds over redistricting plans. Democrats say they intend to use data from the American Community Survey to draw legislative maps. They want to complete the process by the state's June 30th deadline. Republicans believe 2020 Census data should be used, even though it is delayed because of the pandemic. GOP lawmakers say the ACS data is incomplete and will not be representative of all Illinoisans. If the June 30th deadline isn't met, the matter goes before a bipartisan commission.