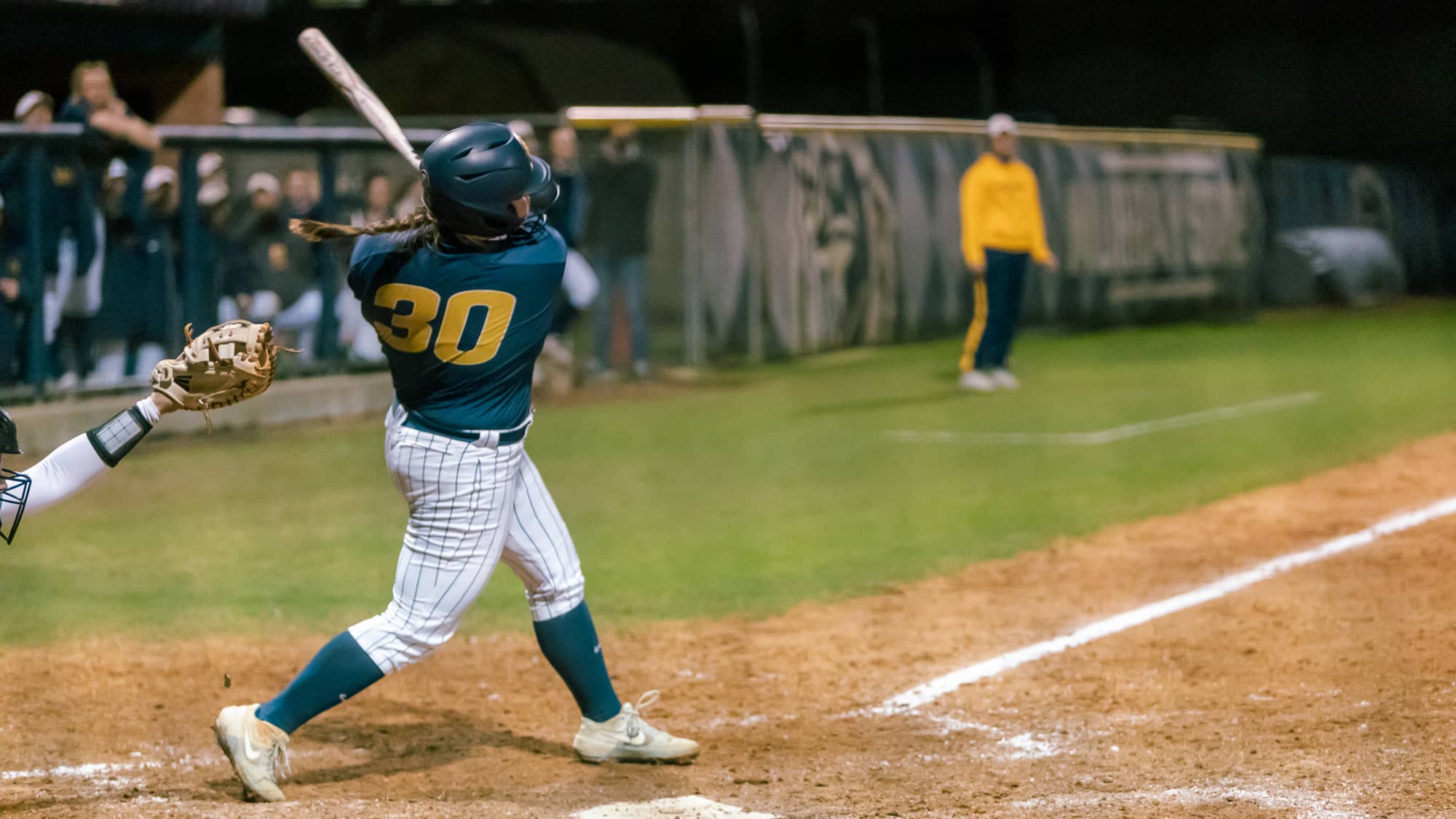 Photo by Dave Winder, MSU Athletics
RACER SOFTBALL BESTED BY MIDDLE TENNESSEE
Murray State softball concluded its six-game homestand yesterday with a 3-1 loss in ten innings to Middle Tennessee at Racer Field. Jensen Streigel and Jordan Childress paced the MSU offense with 2 hits each, with Sierra Gilmore driving in the lone run. The Racers will begin a five-game road trip on Friday when they head to Jacksonville State to kick off a three-game weekend set with the Gamecocks.
MSU WOMEN PLACE 11TH IN CHATTANOOGA
The Murray State women's golf team finished with a final round of 320 for a spot in 11th place at the Chattanooga Classic at Black Creek Golf Club in Chattanooga, Tennessee. Payton Carter was the Racers' top finisher with a 20th place finish at 229. East Tennessee won the title with an 887. The Racers will host the Jan Weaver Invitational beginning April 9 at Miller Memorial Golf Course.
FORMER RACER HEAD COACH ADVANCES TO FINAL FOUR
The Final Four is set and for the first time it includes a former Murray State head coach at the helm of one of the particapants. Number-11 seed UCLA upset top-seeded Michigan 51-49 to advance to its first Final Four since 2008. The Bruins head coach is Mick Cronin who won 2 OVC championships with Murray State during his four year tenure in Murray from 2003 through 2006. In addition, former Racer T.J. Wolf is the Director of Player Personnel for UCLA. The Bruins will battle Gonzaga on Saturday.
BAUM NAMED NATIONAL SPECIALIST OF THE WEEK
Murray State kicker Aaron Baum has been named both the OVC and STATS PERFORM National Specialist of the Week. Baum went 4-for-4 on field goals and 3-for-3 on extra points with his 58-yard field goal, the second-longest in school history. That gave Baum two 50-plus yarders this season, making him just the sixth Racer in school history to kick two or more of 50 yards or more in their career. Baum also took a direct snap after the Racers final touchdown and passed it to long snapper Chandler Moody who caught it for the two-point conversion. On Saturday, the 14th-ranked Racers play a 2 pm game at Austin Peay in the final road game of the regular season.
IT'S OFFICIAL: CARTER TRANSFERRING TO MURRAY STATE
Murray State men's basketball officially announced the signing of Carter Collins for next season. The 6-3 guard out of Chapel Hill, North Carolina, joins the Racers as a graduate transfer from Davidson and will have one season to play for Murray State. Racer head coach Matt McMahon called Collins a strong lead guard who has been a very efficient offensive player at Davidson. This season, Collins scored 10.9 points per game and dished out a team-leading 59 assists while making 76 percent from the free throw line. He ranked third in the Atlantic 10 Conference with an assist/turnover rate of 2.23. Collins had four games of 20 or more points, with a season-best 24 points against La Salle.
RACER WOMEN NAMED OVC TEAM SPORTSMANSHIP AWARD WINNER
On Tuesday the Ohio Valley Conference announced that the Murray State women's basketball team is the recipient of the 2020-21 Team Sportsmanship Awards for women's basketball. Voted on by the student-athletes and coaches of the respective sports, the team awards are bestowed upon the Conference squads deemed to have best exhibited the standards of sportsmanship and ethical behavior as outlined by the OVC and NCAA. Included in the areas for evaluation are the conduct of student-athletes, coaches, staff and administrators and fans. Belmont was named the men's award winner.
GIBSON SIGNS LOI WITH REND LAKE
Murray High's Kade Gibson has signed a Letter Of Intent to play baseball at Rend Lake Community College, in Ina Illinois. Rend Lake plays in the Great Rivers Athletic Conference. In 2019, Gibson was 1-0 with 2 saves and a 3.28 ERA as a pitcher while batting a team leading .392 as a hitter.
RAIN POSTPONES THREE LOCAL GAMES
Rain wiped out yesterday's spring sports slate including softball games for both Calloway County and Murray High and a Laker baseball game.
LOUISVILLE WOMEN BOUNCED IN ELITE EIGHT
Second-seeded Louisville is not going the Women's Final Four at the Alamodome. Stanford beat the Cardinals 78-63 in the Elite Eight to end their season. Dana Evans led Louisville with 24 points, but she was the only Cardinal in double-figures.
PREDS WIN
The Nashville Predators picked up a 3-2 win over the Stars in Nashville. The Preds won their sixth straight and will host Dallas again tomorrow night.
MEMPHIS HOSTS UTAH TONIGHT
The Grizzlies will be looking for revenge tonight when they host the Jazz. Memphis lost two games last week at Utah. The Grizz are coming off a road win at Houston on Monday to even their record at 22-and-22.
BOYS SWEET 16 BEGINS TODAY
The opening round of the KHSAA Boys Sweet 16 begins today in Lexington with four first round games airing on WNBS. Coverage begins this morning at 9:45 with Elizabethtown facing Knott County Central. At 12:45 you can hear Bowling Green battle University Heights. Coverage of game three begins at 3:45 as Madison Central squares off against Louisville Ballard. Opening day action concludes George Rogers Clark vs Oldham County game, with coverage beginning at 6:45 pm. Four more first round games are on tap tomorrow including the McCracken County vs Bullitt East game at 1 pm.
WILSON TRANSFERRING TO NEW MEXICO
Former Kentucky quarterback Terry Wilson has a new address. He is transferring to New Mexico after going 17-and-8 in 25 starts with the Wildcats. Wilson came to Kentucky from Garden City, Kansas Junior College.
UK PRO DAY IS TODAY
Kentucky football will hold its annual NFL Pro Day for draft eligible players today. The event will be held at the Nutter Indoor Field House at 11 o'clock this morning. It will be streamed live on UKathletics.com and SEC Network plus. The event is expected to be attended by scouts and player personnel from nearly every NFL team.
CARDS PREPPING FOR THURSDAY OPENER
The Cardinals are in Cincinnati to face the Reds on Opening Day tomorrow. Jack Flaherty takes the mounds for St. Louis against Cincinnati's Luis Castillo. The last time the two teams met on Opening Day was 2014. A limited number of fans will be allowed at Great American Ball Park. Coverage on WNBS begins at 3 pm
NATIONAL SPORTS BRIEFS
Gonzaga and UCLA are filling the last two spots in the Final Four. Top-seeded Gonzaga torched USC 85-66 and UCLA upset top-seeded Michigan 51-49 in the Elite Eight at Indianapolis. Gonzaga will face UCLA and Baylor will battle Houston in the Final Four this Saturday.
Referee Bert Smith is alert after collapsing on the court during the Gonzaga-USC matchup in Indianapolis. The NCAA said he left with a medical issue, but would not be taken to a hospital. The TBS broadcast crew said Smith felt lightheaded and was tended to in the locker room.
The NFL is adding a 17th regular-season game this year. League owner approved the measure yesterday. Players agreed to the additional game as part of the 2020 collective bargaining agreement. The preseason is now three games and the Super Bowl will be pushed back a week.
NFL commissioner Roger Goodell is ready to welcome back fans in full around the league. He told reporters yesterday football is simply not the same without fans and they expect to have full stadiums in 2021. Most would still need approval from local government and health officials.
The Blue Jays are adding their third homestand to the list of games they'll play in Florida. Toronto had previously announced that its first two homestands would be played at its spring park in Dunedin due to COVID-19 restrictions. The Jays hope to return to Toronto at some point.
TUESDAY'S SCOREBOARD
NBA
——
Charlotte Hornets 114, Washington Wizards 104
Denver Nuggets 104, Philadelphia 76ers 95
Orlando Magic 103, LA Clippers 96
Phoenix Suns 117, Atlanta Hawks 110
NHL
——
Boston Bruins 5, New Jersey Devils 4 (SO)
New York Rangers 5, Washington Capitals 2
Columbus Blue Jackets 3, Tampa Bay Lightning 1
Florida Panthers 4, Detroit Red Wings 1
Montreal Canadiens 4, Edmonton Oilers 0
Chicago Blackhawks 2, Carolina Hurricanes 1
Nashville Predators 3, Dallas Stars 2 (OT)
MLB Grapefruit League
——
Pittsburgh Pirates 1, Minnesota Twins 1 (F/7)
Tampa Bay Rays 5, Detroit Tigers 0 (F/7)
Atlanta Braves 5, Boston Red Sox 3 (F/7)
MLB Cactus League
——
Colorado Rockies 2, Chicago White Sox 1 (F/7)
MLB Exhibition
——
Milwaukee Brewers 6, Texas Rangers 3
Arizona Diamondbacks 3, Cleveland Indians 2
Los Angeles Dodgers 6, Los Angeles Angels 4
[[ End of Spring Training ]]
NCAA Tournament
——
#1 Gonzaga Bulldogs 85, #6 USC Trojans 66 (Elite Eight at Indianapolis, IN)
#11 UCLA Bruins 51, #1 Michigan Wolverines 49 (Elite Eight at Indianapolis, IN)
WEDNESDAY'S SCHEDULE (All times are Eastern)
NBA
——
7:00 p.m. – Portland Trail Blazers at Detroit Pistons
7:00 p.m. – Miami Heat at Indiana Pacers
7:30 p.m. – Dallas Mavericks at Boston Celtics
7:30 p.m. – Houston Rockets at Brooklyn Nets
8:00 p.m. – Utah Jazz at Memphis Grizzlies
8:00 p.m. – New York Knicks at Minnesota Timberwolves
8:00 p.m. – Toronto Raptors at Oklahoma City Thunder
8:30 p.m. – Sacramento Kings at San Antonio Spurs
10:00 p.m. – Milwaukee Bucks at Los Angeles Lakers
10:00 p.m. – Chicago Bulls at Phoenix Suns
NHL
——
7:30 p.m. – Philadelphia Flyers at Buffalo Sabres
7:30 p.m. – Toronto Maple Leafs at Winnipeg Jets
9:30 p.m. – Arizona Coyotes at Colorado Avalanche
10:00 p.m. – Los Angeles Kings at Vegas Golden Knights
10:30 p.m. – Calgary Flames at Vancouver Canucks
10:30 p.m. – Minnesota Wild at San Jose Sharks
MLB
——
No Games Scheduled
NCAA Tournament
——
No Games Scheduled