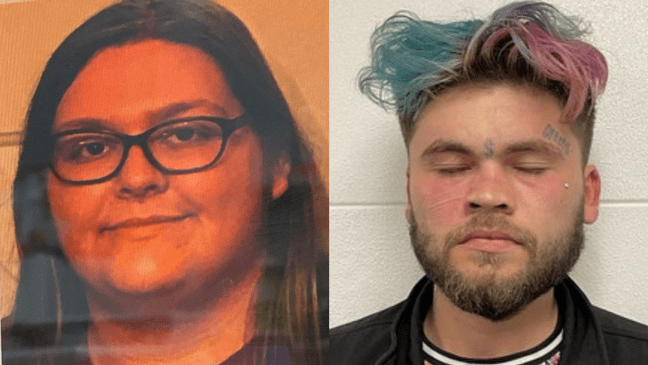 DEXTER MAN CHARGED WITH MURDER OF MSU STUDENT
The body of a Murray State University student was found in a ditch Friday morning in southern Calloway County, and a Dexter man has been charged with her murder. Originally from Farmville, Virginia, 21-year old Sarah Townsend's preliminary autopsy report shows that she died from multiple gunshot wounds. KSP investigators learned Friday night that Murray State University Police were asked to conduct a welfare check on Townsend after she failed to report to work that afternoon. Investigators began interviewing friends and relatives once Townsend was identified, and state police said that allowed them to determine her last known whereabouts. State Police discovered that Townsend's vehicle had been observed by traffic cameras in central Georgia and further investigation led to the development of a suspect who also had ties to that area. By early Saturday morning, Townsend's car had returned to Kentucky and 22-year-old Julius Sotomayor was arrested at his home in Dexter with the vehicle found nearby. Sotomayor has been charged with murder, theft by unlawful taking, and tampering with physical evidence. He is lodged in the Calloway County Jail.
VACCINATION APPOINTMENTS AVAILABLE FOR THIS WEEK'S CLINIC
The Murray Regional Vaccination Collaboration is administering vaccines to the community by scheduling online appointments which are now available for first doses at the Murray Regional Vaccination Site on Thursday and Friday from 8 am until 2 pm. Priority is being given to Phases 1A-1C and those age 50 and older but those 18 years of age and older will be allowed to schedule in order to meet the Governors goal of 90% of all vaccines allocated being administered within 7 days. Visit MurrayKYvaccine.org to schedule an appointment. Make sure you select April 1st or 2nd to see available appointments. You may also go to kyvax.com/KYdam to schedule appointments for the Regional Site at KY Dam Village State Park Convention Center in Gilbertsville. You can also search vaccinefinder.org to find local pharmacies with available appointments in the area. If you, or a loved one, are homebound, please contact the Calloway County Health Department at 270-753-3381. A small weekly allocation of vaccines is available to administer to those who are homebound, do not have internet access, or who are otherwise vulnerable.
CCHD REPORTS 1 NEW COVID-19 CASE
The Calloway County Health Department reported 1 new case of COVID-19 over the weekend, bringing the total number of cases in the county to 3,406 during the pandemic. Of that total, 3,348 cases have recovered, 8 are isolated at home, 1 is hospitalized, and there have been 49 deaths reported. Calloway County's COVID-19 Incidence Rate per 100,000 on Sunday was 2.2%, which was lower than Friday's rate of 2.6%. Ballard County, Carlisle County, Fulton County, and Hickman County all have COVID-19 Incidence rates of 0. Lyon County's rate is now down to 26.1%. It is one of just five red zone counties for COVID-19 cases in the state.
STATE COVID POSITIVITY RATE UNDER 3%
At Sunday's COVID-19 update for Kentucky, 361 new cases and 8 new deaths were reported, raising the total to 5,031 Kentuckians who are listed as covid deaths. As of Sunday, there have been over 4.89 million coronavirus tests performed in Kentucky with a positivity rate of 2.88%, which is lower than last Sunday's rate of 3.97%. There are 381 Kentuckians hospitalized which is 82 less than last Sunday, including 96 in ICU, which is 15 less than one week ago. At least 49,529 Kentuckians have recovered from the virus.
MSU ANNOUNCES HOMECOMING AND FAMILY WEEKEND DATES
Murray State University has announced that the University will celebrate Family Weekend the weekend of October 1-3, while Homecoming will take place the weekend of October 22-24. As announced by Murray State athletics last week, the football team hosts Eastern Illinois on October 2 of Family Weekend, while the Racers host Austin Peay on October 23 of Homecoming weekend. Additional details will be available as confirmed at murraystate.edu as well as on the University's social media platforms.
MARION MAN CHARGED WITH MURDER
Shortly after 5:00 pm Saturday, Detectives with Kentucky State Police Post 1 responded to a residence on Lola Road near Smithland. Livingston County Sheriff's Deputies initially responded to the residence for a disturbance. Upon arrival, deputies located an unresponsive female who had suffered multiple stab wounds and requested KSP to respond. Initial investigation shows 24-year old Claude Brown of Marion entered the residence of 56-year old Karla Haley of Smithland without permission. After an altercation, Brown stabbed Haley multiple times. Haley was transported to Livingston County Hospital where she later died. Brown was arrested and charged with Murder and Burglary. He was lodged in the McCracken County Regional Jail.
MSU TO HOST VIRTUAL RACER DAY
Murray State University will host a virtual Racer Day event on Tuesday. Geared toward prospective students and families, the event will provide helpful information through live, interactive sessions with admissions staff, financial services, housing and more. Attendees can also attend a virtual session with their academic area of interest and take a virtual tour of campus. Both morning and afternoon sessions are available. Registration for the free event is available at murraystate.edu/racerdays. Those with questions can call 270-809-2896. Students interested in joining the Racer Family can learn more, schedule a virtual or on-campus visit and apply for admission at admissions.murraystate.edu.
IN AND AROUND KENTUCKY
FRANKFORT—Secretary of State Michael Adams announced Friday that, for the third consecutive month, Kentucky removed more voters from its rolls than it added. In February, 3,069 new voters registered, and 5,106 voters were removed – 4,274 deceased voters, 632 voters who voluntarily de-registered, 198 felony convicts, and 2 mentally disabled voters. There are 2,037 fewer voters on the rolls as of February 28 than on January 31, a 0.06 percent decrease. Democratic registration dropped by 2,247 since January 31 while Republicans saw a decrease of 512 registered voters from January 31. In addition, 9 percent of voters are listed under other affiliations, which saw an increase of 724 registrants.
HAZARD—Weekend flooding is leading to power outages in the mountain areas of Kentucky. Over 19-hundred customers were without power yesterday evening near Hazard. Crews from Kentucky Power, Big Sandy RECC, Jackson Energy, Kentucky Utilities-Old and Dominion Power are working to restore service in the area.
LEXINGTON—Asian American groups are coming together to demonstrate against hate crimes. Chinese American, Japanese American, Korean American, and other groups gathered Saturday at Courthouse Plaza in Lexington. Organizer Changzheng Wang with the Kentucky Chinese-American Association says the goals of the rally were to stand up against Asian hate crimes and to remember the victims of the anti-Asian crimes in Atlanta and other parts of the country. Speakers at the rally shared their own stories. Chanzheng Wang says real change will happen when people join against hate every day.
OHIO COUNTY—Officials say a man is in the hospital after a homeowner shot him while he allegedly tried to break in. Authorities responded early Saturday morning to the 32-hundred-block of Livermore Road in Hartford after a person attempted to break into a residence. Authorities say Joe Snooks was shot in the knee by a homeowner trying to protect himself and his family. Officials say Snooks appeared to be under the influence at the time. Snooks was taken to the hospital for treatment. An investigation is continuing.
OWENSBORO—The Owensboro Riverport Authority is partnering with a local company on the purchase of a crane barge. The new Sennebogen 875 material handler should arrive in April or May. The contract for construction of the accompanying spud barge was let out to Yager Marine, an Owensboro company. The new barge is expected to be delivered in June 2022.
PADUCAH—Two illegal alligators are in the custody of the Kentucky Deparment of Fish and Wildlife after being seized from a McCracken County home. A 55-year old Paducah man showed the animals to conservation officers at his home Thursday. It is illegal to import alligators and caimans, which are considered inherently dangerous wildlife. The two five-foot long alligators were taken to the Kentucky Reptile Zoo in Slade.
FRANKFORT—Kentucky lawmakers start the final two days of this year's legislative session today. The Republican-led legislature is expected to take up override votes on Governor Andy Beshear's vetoes of some bills, including scholarship tax credits and how a U.S. Senate seat is filled if there's a vacancy. Bills to limit non-knock search warrants, relax early voting rules and protect businesses from COVID-related lawsuits have yet to pass the legislature and could be considered by lawmakers. The legislative session ends tomorrow.
FRANKFORT—All Kentuckians 40 and older are eligible to sign up for the COVID-19 vaccine today. The state is currently in Phase 1C of its vaccination plan. Phase 1C includes essential workers and anyone 50-years-old and older. Governor Andy Beshear says all Kentuckians 16 and older should be eligible for the vaccine by April 12th.
TENNESSEE—Nashville Mayor John Cooper is announcing a state of emergency due to deadly flooding. Mayor Cooper signed the executive order yesterday. Cooper said he's also seeking state and federal resources to help Davidson County. At least four people have died as a result of the flooding.
TENNESSEE—Nashville Fire is reporting at least 130 people have been rescued from flooding following over seven inches of rain. Special Operation Swift Water Rescue Teams continue to answer emergency calls, rescuing people from vehicles, apartments and houses. Nashville Fire also rescued dozens of dogs from a daycare company. Emergency officials say if you must go out, don't drive through standing water.
TENNESSEE—A MNPD officer is recovering after being swept away by flood waters. Officer Hendrik Kruger was driving home from work Saturday night when his personal vehicle was swept away by flood waters near Milner Drive and Milner Court in South Nashville. Officer Kruger and a man who was trying to help him had to cling to trees before crews were able to rescue them with a boat. Officer Kruger suffered a leg injury and is recovering in the hospital.
TENNESSEE—Wilson County Schools are closed today. The district announced yesterday it's closing due to hazardous road conditions caused by this weekend's flooding. However, the district says that Kids Club activities will remain open.
TENNESSEE—There won't be any WeGo Star service today. WeGo Public Transit says the service has been canceled for the day following flooding. WeGo says the cancelation is due to an excess of debris along the tracks. Local and regional routes will run on their regular schedules.