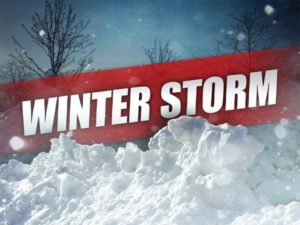 WINTER STORM WARNING CONTINUES
A Winter Storm Warning remains in effect until 6 tonight. A glaze of ice is possible as the precipitation ends later today. Accumulating snow should be over by Noon. Plan on very hazardous travel conditions that will likely impact this morning's and possibly this evening's commute. If you must travel, keep an extra flashlight, food, and water in your vehicle in case of an emergency.
SO SCHOOL FOR MISD AND CCSD
There will be no school in the Murray Independent School District today. No NTI or In-Person Instruction will be provided. This day of instruction will be made up at a later date. Calloway County Schools are also closed with no NTI scheduled and a make-up day set for May 13. Schools in Graves County, Marshall County, and Trigg County will use NTI today. Murray State University and WKCTC are both operating remotely for the remainder of the week.
NEXT VACCINE CLINIC SET FOR SUNDAY
Calloway County's next vaccination clinic at the CFSB Center will be this Sunday for those 70 and older. Appointments are being made via a phone call from the waiting lists. To be placed on the list to be called for COVID vaccinations, please go to callowayhealth.org and click on the COVID Vaccine Sign-Up.
CCHD REPORTS 48TH COVID-RELATED DEATH
The Calloway County Health Department announced 1 new COVID-19 case yesterday, bringing the county's total number of cases during the pandemic to 3,296. Of that total, 3,225 have recovered, 23 are isolated at home, and none are hospitalized. There have been 48 covid-related deaths in the county, including one reported yesterday. The Graves County Health Department reported 6 new cases, while the Marshall County Health Department reported 6 new cases and five deaths, raising the county total to 50. The Purchase District Health Department reported 9 new cases in McCracken County, 5 Ballard County, and 1 in Hickman County.
CALLOWAY INCIDENCE RATE FALLS AGAIN
Calloway County's COVID-19 Incidence Rate per 100,000 on Wednesday was 4%, which is lower than Tuesday's rate of 7.3. Of the 11 counties in far west Kentucky, only Livingston County at 26.4 is in the red zone for COVID cases per 100,000. There have been no new COVID cases reported by either local school system this week. Murray State University has reported 1 faculty case.
STATE POSITIVITY RATE DOWN SINCE LAST WEDNESDAY
At Wednesday's COVID-19 update for Kentucky, 1,017 new cases and 18 deaths were reported, raising the total to 4,336 Kentuckians who are listed as covid deaths. As of Wednesday, there have been over 4.32 million coronavirus tests performed in Kentucky with a positivity rate of 6.99%, which is lower than last Wednesday's rate of 7.5%. There are 934 Kentuckians hospitalized which is 67 less than last Wednesday, including 259 in ICU, which is 77 less than one week ago. At least 46,225 Kentuckians have recovered from the virus.
PADUCAH MAN FACING CHILD SEX CHARGES
At approximately 9 am Wednesday, Kentucky State Police Troopers arrested 53-year old Kelly Setters at his residence in Paducah. He was taken into custody on indictment charges stemming from an investigation that began in September. Setters was arrested in November on charges of Incest and Prostitution Solicitation after it was alleged he had a sexual relationship with a family member in exchange for drugs. Setters was indicted by a McCracken County Grand Jury this month on multiple counts of Sodomy, Sexual Abuse, and Rape of a Victim Under 12 Years of Age, and Incest. Setters was lodged in the McCracken County Regional Jail.
PTHS WINS SCIENCE BOWL, CCHS FINISHES SECOND
Earlier this month, Paducah Tilghman High School won the Department of Energy's virtual West Kentucky Regional Science Bowl. The five-member PTHS team will compete in DOE's National Science Bowl Finals which will be conducted virtually the week of April 29. Calloway County High School finished second and McCracken County High School finished third in the regional competition. The Regional Science Bowl tournament is a quick-recall, fast-paced, question-and-answer contest. Other high schools competing in this year's virtual event were Ballard Memorial High School, Marshall County High School, Union County High School and Madisonville North Hopkins High School.
REGISTRATION FOR RACER NATION ORIENTATION BEGINS
Murray State University's Racer Nation Orientation sessions are open for fall 2021 incoming freshmen and transfer students at murraystate.edu/orientation. A required event, Racer Nation Orientation provides new students the opportunity to register for classes, meet faculty, staff and students, receive their student ID card as well as meet fellow incoming students. To register for Racer Nation Orientation, admitted students must log in to myGate, click on the "Academics" tab and look for the Racer Nation Orientation link, then follow the step-by-step instructions. At this time, Murray State is planning both virtual and in-person orientation sessions. In-person sessions will be hybrid sessions which incorporate elements of both the in-person and virtual modules while following all safe and healthy guidelines. Individuals with questions may call 270-809-2896.
IN AND AROUND KENTUCKY
FRANKFORT—Parts of Kentucky are under the third winter storm warning in recent days. The warning was issued yesterday evening and expires Friday morning. Between three and five inches of snow are possible in some areas, with some isolated higher totals. A "light glaze" of ice accumulation is also possible. Travel is expected to be hazardous.
FRANKFORT—Governor Andy Beshear is discussing the ongoing storms in Kentucky, as well as recovery efforts. Beshear said yesterday that crews are continuing around the clock efforts to clear roads. He advised Kentuckians to limit or avoid travel if possible. The governor says the State Emergency Operations Center is activated at level three and is assisting with the response to power outages and storm recovery. The third in a series of storms is expected to continue through Friday.
JACKSON COUNTY—Jackson County and other areas are facing continued power outages as the third storm in recent days brews. Downed tree limbs and heavy ice have led to power outages across the state. About three-quarters of Jackson County was without power at one point during storms earlier this week and about four thousand are still experiencing outages. Utility crews are working consistently to clear debris from power lines and restore service.
LEXINGTON—Lexington is getting new federal funding to expand rent and utility relief for residents impacted by the COVID-19 pandemic. Mayor Linda Gorton announced yesterday that the city's Housing Stabilization Program had received a nine-point-six-million-dollar grant. The funds will go to assist people eligible under federal guidelines with overdue rent and utility payments, as well as possible future payments.
WASHINGTON DC—Kentucky's U.S. senators are remembering longtime conservative radio talk show host Rush Limbaugh. The 70-year-old passed away yesterday from lung cancer. Senator Mitch McConnell called Limbaugh a generational media trailblazer who gave a voice to millions of conservative Americans ignored by the mainstream media. Senator Rand Paul called Limbaugh a legend and a patriot.
LOUISVILLE—The state's largest school district will hold a virtual town hall about its plan for reopening schools for in-person learning. The question and answer session by Jefferson County Public Schools is set for tonight at 6 o'clock on the JCPS YouTube page. The district's plan includes a hybrid model for middle and high school students and a five-day weekly in-person schedule for elementary school students.
TENNESSEE—There are nearly 800 new coronavirus cases in Tennessee. The Tennessee Department of Health reported 780 new COVID-19 cases yesterday, bringing the total since the outbreak began to over 760-thousand-300. It's just the second time since October that the daily increase of new cases was below one-thousand. Many testing sites have been closed this week due to winter storms.
TENNESSEE—State offices in Middle and West Tennessee are closed today. Governor Bill Lee announced the offices are closed due to continued hazardous winter weather and travel conditions. All Tennesseans are being urged to use caution and avoid non-essential travel if possible today. It's the third straight day of closures of offices in Mid-State and West Tennessee counties.
WASHINGTON DC—Tennessee's U.S. Senators are remembering longtime conservative radio talk show host Rush Limbaugh. The 70-year-old passed away yesterday from lung cancer. Senior Senator Marsha Blackburn said Limbaugh was an inspiring and important voice for the conservative movement. Senator Bill Hagerty called Limbaugh an American icon and patriot.
ILLINOIS—Governor J.B. Pritzker is promising no income tax hikes as part of a proposed 83 billion dollar Illinois fiscal year 2022 budget. Pritzker shared his budget proposal in an address yesterday, saying he hopes to generate over 41-billion dollars to offset the state's deficit by closing corporate tax loopholes. Republican leaders responded with criticism that Pritzker is backpedaling on tax incentives promised in 2019. GOP leader Jim Durkin says the plan to close loopholes amounts to a tax increase on already struggling businesses.